Oklahoma City Thunder News: Durant Is Down Now, But He'll Be Back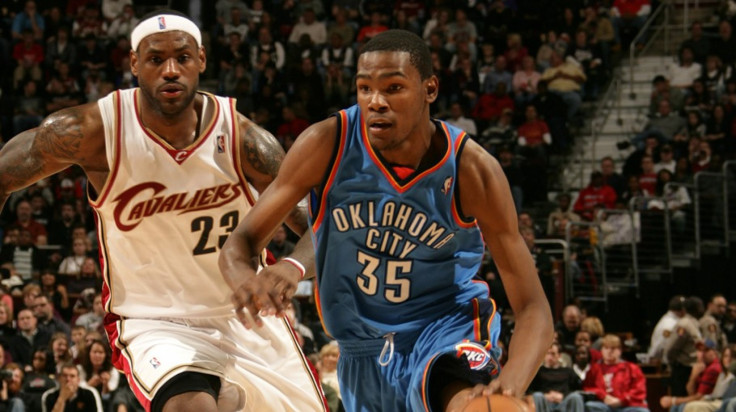 On Thursday night, the Miami Heat, led by Lebron James, prevented the Oklahoma City Thunder from winning a title in their first appearance since moving to Oklahoma City from Seattle in the 2008-09 season.
Despite historic efforts by the team's star players, Russell Westbrook and Kevin Durant, the Thunder couldn't pull off a single victory in South Beach and the Heat swept the last three games of the series in Miami to finally deliver James his first, long awaited, ring.
But on the opposite side of the court, the three time NBA scoring champion Kevin Durant's efforts to will his team to a championship will now be remembered as an effort that could not match James. Despite defeating the past three champions in the first three rounds of the playoffs, the Mavericks, the Lakers, and the Spurs, and completely dominating at home, posting a 10-0 record in the playoffs, Durant's 28.5 points per game average just didn't match James' 30.3 points per game.
So what's next for the Thunder's super star? He is already showing signs of maturity far greater than his years.
I'm going to find the positives and the negatives, Durant said. It was tough losing the finals. We got to the finals, had a tough road to get here. But we've just got to move past it, I guess, man. It's going to hurt for a little bit. We've got to move past it.
Durant came up just short this year, but he is only 23. He, Westbrook and James Harden will be together for at least two more years giving the current Thunder team more time to learn from this defeat and get better.
Watching his deadly three point accuracy, his hard, acrobatic drives to the basket, and the indescribable air of confidence that surrounds him, it is hard to think he won't be back in the NBA Finals with another chance to have his own champagne soaked moment.
© Copyright IBTimes 2023. All rights reserved.