Oklahoma Tornado 2013: Photos And Footage Of The Twister's Devastation [PICTURES, VIDEO]
The Oklahoma tornado, one of the most devastating tornadoes to hit the U.S. in memory, has resulted in the tragic loss of at least 51 lives. It struck almost two years to the day from the May 22, 2011, tornado in Joplin, Mo., that killed 158 people and injured some 1,100.
In the Oklahoma City area Monday, roofs were blown off houses as if they were peelable lids, walls crumbled like paper and neighborhoods were left flattened to the ground. In the grimmest development to emerge, an elementary school in Moore was demolished. Children at Plaza Towers Elementary School tried to take shelter as the storm ripped their building to shreds. At 10:45 p.m. EDT, CNN and ABC posted tweets that reported 20 children were among the 51 dead.
The death total from the Oklahoma tornado is expected to rise as rescue workers sift through the rubble. For those who want to help, donations are being accepted by the Red Cross.

Take a look at a YouTube video showing the massive tornado in Oklahoma: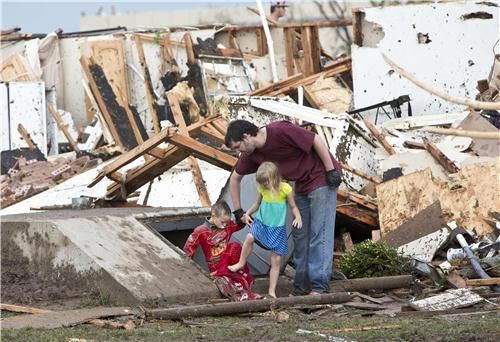 © Copyright IBTimes 2023. All rights reserved.