'Old, Fat And Ugly' Russian Flight Attendant Sues Airline For Discrimination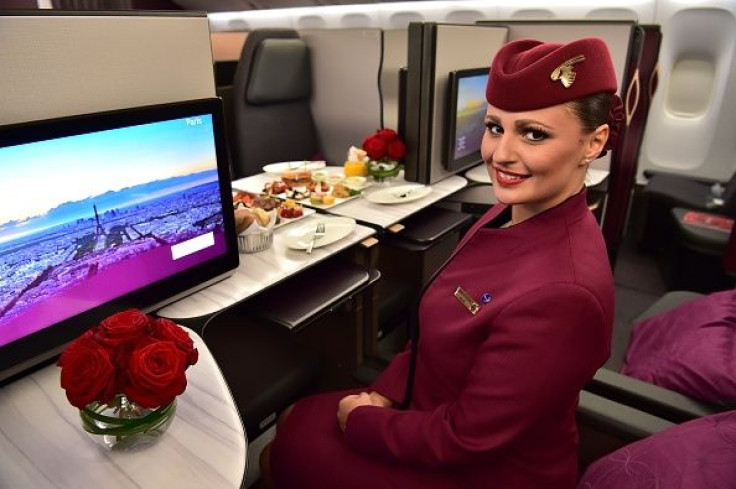 A Russian flight attendant is suing for discrimination after she claimed she was given less prestigious job opportunities at Russia's top airline Aeroflot because of her looks, the Associated Press reported Monday. Yevgeniya Magurina joked about the fact she was in the "old, fat and ugly" group, but was serious about not getting to work on international flights because of her physical appearance. Two other women took Aeroflot took court, too.
"Right now there's a policy that a flight attendant has to be sexually attractive," Magurina told the AP. "But our role onboard is different: it's to ensure safety, not to be an object of sexual desire. This is wrong and hurtful."
The first hint Magurina, 42, got from Aeroflot that she wasn't "fit" for her job was when she tried to get a new uniform last year. They didn't carry her size anymore, a Russia size 48, which translates to a size 10 in U.S. clothes. While a size 48 fits Magurina in the waist, it does not in the bust. Before, she would just order a size lager and get it tailored.
Next, any flight attendant who wanted to a chance to staff a "special business class crew" had to be weighed and photographed.
Ultimately, Magurina, who previously held a title of a senior attendant, was downgraded to a lower-ranking role. She wasn't briefed about the demotion. Instead, she found out at the airport when she was getting ready for one of her flights. "You scan your pass, the names of the crew light up and you see your position. No one [had] even told me," she told the AP.
Magurina argued the only reason she was demoted was because of her age and physical appearance. "No one cares about professionalism — you have to be young, slim and pretty," she said.
Aeroflot didn't take Magurina's accusations seriously, saying the lawsuit was "a routine employee vs. employer dispute that has been deliberately inflated to the scale of a public campaign aimed at tarnishing the airline's reputation," Vladimir Alexandrov, the company's deputy CEO for legal matters, told the AP.
When the publication asked Alexandrov why they did not carry larger sizes, he argued a flight attendants job is "physically and psychologically demanding" and added Aeroflot does not reveal their "internal rules and regulations."
Local courts were also dismiss missive of the flight attendant's suit. Russia's higher court will reportedly make a ruling on the case Tuesday.
It wasn't that long ago the U.S. held unfair physical standards, too.The ideal flight attendant was described as "petite; weight 100 to 118 pounds; height 5 feet to 5 feet 4 inches; age 20 to 26 years," according to a New York Times article in 1936. This rule remained steadfast until the 1970s and the weight requirement wasn't officially dropped until the 1990s.
American Airlines suggested their flight attendants maintain a "fresh appearance" in the section titled "Female Uniform" of their September 2011 "Flight Attendant Image Standards." The airline said, "makeup should be freshened as necessary, but never in view of the customer."
Follow me on Twitter @mariamzzarealla
© Copyright IBTimes 2023. All rights reserved.