One Card To Rule Them All: Coin Combines Credit, Debit Cards And More Into One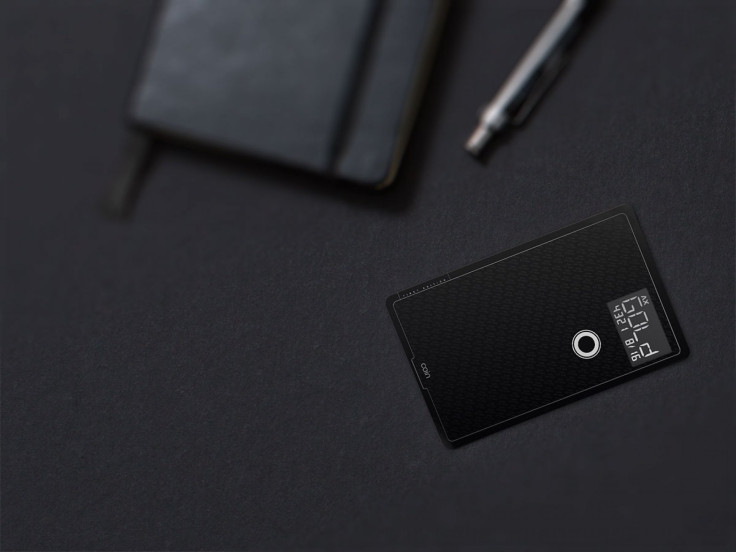 Electronic payments are supposed to be convenient, but between debit cards, credit cards, rewards cards, membership cards and gift cards, it's a pain to keep track of them all or even fit them into a wallet. And let's not even discuss how terrible it is when one of your primary cards gets lost.
A San Francisco company has introduced a situation that is so simple, yet so brilliant, that it's one of those "why didn't I think of that?" inventions. Their product, Coin, is a device that stores up to eight other cards and can be used just like a normal charge card to pay with any of them. For example, one Coin can be used to expense a business lunch to a company card, use a gift card at a department store and use a personal card for dinner. Coin can be used any place where cards are accepted and even at ATMs, and will continue to accumulate points and rewards the same way as the original card.
Coin has a small screen that displays some information about each card (name, last four digits, expiration date and CVV) and a button to toggle among cards.
To get cards into Coin, users plug a small device into the headphone jack of their smartphone (Coin provides the device), swipe the card, then use the Coin app to take a picture of the card to identify it. The app supports Apple Inc. (NASDAQ: AAPL) iOS and Google Inc. (NASDAQ: GOOG) Android, and Coin said it will consider adding Windows Phone if there is demand. Though the Coin device can only store eight cards, the Coin app can store an unlimited amount of credit card data.
Coin was also designed with security in mind. It uses a low-power Bluetooth signal to communicate with a smartphone, and the phone will send a notification if the card gets too far away from the owner.
Coin said the button was designed to make it difficult to accidentally change which credit card is used, and that the servers, mobile apps and Coin card are all encrypted. Users can deactivate Coin from their phone if Coin is lost or stolen.
One concern is that Coin can be synced with someone else's cards, making it a tool for easy credit card fraud. Coin requires physical possession of a card to sync it, but that doesn't really prevent someone from quickly grabbing a card and syncing it with Coin.
"As an additional safeguard, the coin app will only allow you to add cards you own," Coin's website says, but it isn't clear what this means.
Coin will cost $100 for each card, but the company is accepting pre-orders now for $50. Coin is hoping to ship in summer 2014.
Coin hasn't yet responded to questions from IB Times, but this article will be updated with additional information.
© Copyright IBTimes 2023. All rights reserved.