'Only God Can Fix This In Time': Brazilian Airports In Chaos, Too Late For 2014 World Cup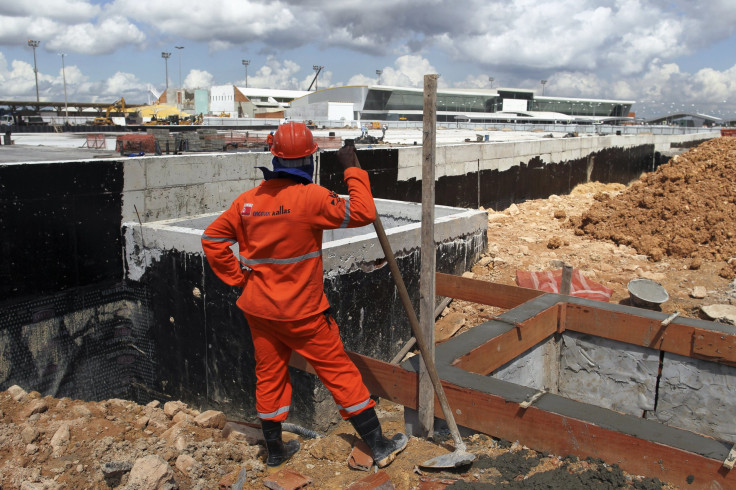 Airports in several Brazilian World Cup host cities are not ready for the sports competition and will not be before kickoff on June 12, Brazilian newspaper Folha de Sao Paulo said. Folha reporters toured the facilities on Monday, just 10 days ahead of the June 12 kickoff, and they found chaotic situations in several airports. The worst, according to Folha, were in Belo Horizonte (where six games will be played, including a semi-final), and Manaus, in the Amazon jungle (four games.)
"Only God could fix this in time," said Francisco Araujo, a technician working on one of the construction sites at the Belo Horizonte airport.
Even arriving at the airport "is an adventure," Folha said, citing open work sites, a maze of walkways and an incomplete food court, as workers and vehicles swarm around the facilities in clouds of dust.
Citing state-owned Brazilian airport authority Infraero, Folha said airports will rely on temporary structures to function during the cup. To minimize passenger discomfort, work will stop in the terminals during heavier traffic times. Infraero said it is confident that traffic during the World Cup would not be affected.
The consultancy PricewaterhouseCoopers expects 500,000 visitors to descend on Brazil during the monthlong event, which will take place in 12 host cities, and traveling to all of them can only be done by air.
In Manaus, located 1,200 miles or 2,000 km away from the capital Brasilia, Folha reporters found that passengers have to queue for check-in amid dusty work sites and swarming workers. Dozens of trucks and construction vehicles surround the airport. Yet, Infraero said it will be functional during the competition and can meet its projected demand of 4 million passengers per year.
In Curitiba, capital of the state of Paraná, Folha found temporary structures made of canvas and wood, in an airport that won't be ready for another two years.
Illegal drivers known as taxistas clandestinos are common at several airports, as local authorities are unable to stop them or turn them into licensed operators.
A bright spot is that in Brasilia, the capital, the airport is ready. In the country's largest city, Sao Paulo, work is also concluded, but the recently inaugurated terminal 3 is operating at just 25 percent of capacity, resulting in passenger overloads at older terminals. In other cities, the aiport situation is as follows:
Curitiba
Infraero says the airport will be ready in March 2016. The authority says terminal renovations and runway repaving are already done, but there will be makeshift structures including temporary jetways to board planes .
Recife
Infraero said elevators will not be ready. Some notices are only written in Portuguese. Illegal taxi drivers are numerous. A walkway between the airport and the subway will only be finished on Saturday, six days before kickoff.
Salvador
Only one out of three major planned renovations is complete: an enlarged parking area for aircraft. A new control tower and passenger terminal renovation have not been finished, and Infraero has not said when they will be. International arrivals are separated from domestic ones only by temporary barriers. Here too passengers are harassed by illegal taxi drivers, but Infraero said it is the responsibility of local authorities to deal with them.
Fortaleza
A remote terminal will be built out of canvas. According to Infraero, this is similar to temporary structures built in London for the 2012 Olympics.
Porto Alegre
Infraero said it has initiated legal proceedings against the contractor working on enlarging terminal 1, but the airport is able to meet projected demand.
© Copyright IBTimes 2023. All rights reserved.