Brazil World Cup 2014: Soccer Stadium Updates With 2 Weeks Remaining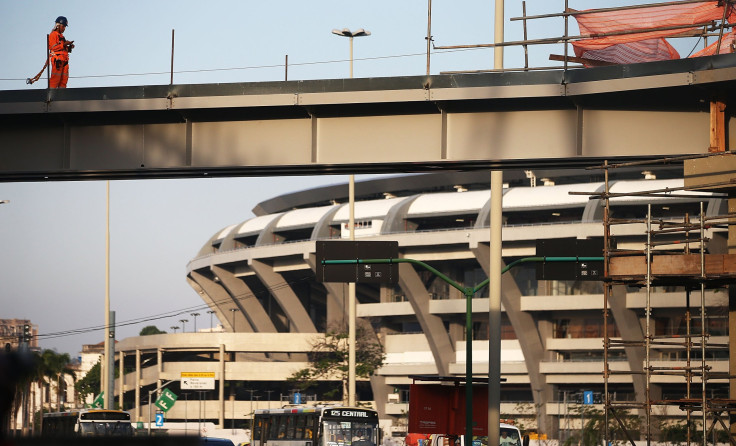 Brazil and Croatia will kick off the 2014 World Cup with their Group A match on June 12 at Arena de Sao Paulo in what promises to be a particularly exciting tournament given the exotic and vibrant atmosphere. No country in the world oozes the passion for the game like Brazil, and the squad's talent-rich roster will be energized to perform in front of home fans and with hundreds of millions of television viewers glued to their flat screens.
But there is a slight problem. The stadium isn't quite finished, and neither are three others as construction workers scramble to wrap up production with just two weeks remaining.
Throughout its preparations, Brazil has been accused of overreaching, specifically preparing 12 stadiums even though organizing body FIFA recommended eight.
When Brazil was awarded the World Cup in 2007 -- its first since 1950 -- it was a joyous occasion for the soccer-obsessed country. The Brazilians have dominated the quadrennial event with five titles. Yet seven years and $11.5 billion later, Brazil faces criticism from FIFA for its failure to meet construction deadlines and from protesting citizens infuriated by the loss of funds originally earmarked to improve the country's infrastructure, including transportation, schools and hospitals.
After months of delays and the controversial infusion of $3.6 billion of taxpayers' money, Arena de Sao Paulo, Arena da Baixada, Estadio Beira-Rio and Arena Pantanal are the four venues that remain unfinished amid worker strikes and deaths, lack of financing or failure to meet deadlines. Many of the projects have promised to be more environmentally sound with advanced telecommunications, but those additions appear to be what's holding up most of the construction.
Three workers have died, the latest in March, during renovations to Arena de Sao Paulo, also know as Arena Corinthians for the famous Brazilian club team, but work has continued around the clock. According to the Wall Street Journal, thousands of seats have yet to be installed and $367.5 million has already been spent. There are also issues involving cell phone and internet service for an arena that is expected to seat more than 61,000.
Located in Curitiba, Brazil's eighth largest city with a population of roughly 1.7 million, Arena de Baixada was nearly pulled from host duties by FIFA for missing deadlines. The renovations are supposed to include a retractable roof and installation of solar panels, all for $146.4 million. Curitiba officials have reportedly said construction will be done by the end of May. Workers have a bit more time than the others with the first match scheduled for June 16 between Iran and Nigeria.
Estadio Beira-Rio in Porto Alegre fell behind schedule after financing fell through for the $147.9 million renovation. It's already the home to SC International, but the add-ons include more parking lots, a new roof, and more seats in the lower tier. Reports indicate there is still debris being cleared around the site.
Then there is Arena Pantanal, a stadium built from scratch and nestled in Cuiaba, population of a half-million with no club soccer team and near the border with Bolivia. On May 9, a worker was killed during an electrical accident, upping the number of deaths to nine throughout Brazil during construction.
The $255.4 million project is expected to have a capacity of slightly less than 40,000, but its use following the World Cup in such a small community without a local team remains a huge question. Cuiaba officials also have a narrow window with Chile and Australia meeting in their Group B match on June 13.
All the setbacks have even raised questions over whether Brazil can host the 2016 Summer Olympics in Rio. Reports indicate the International Olympic Committee also has concerns regarding facilities. There is no back-up plan or host country for the games, but the IOC has taken the extra step of providing experts to the local organizing committee to help with preparations.
© Copyright IBTimes 2023. All rights reserved.