Opening Day Baseball 2012: Schedule, Start Times, Pitching Matchups and Where to Watch the Games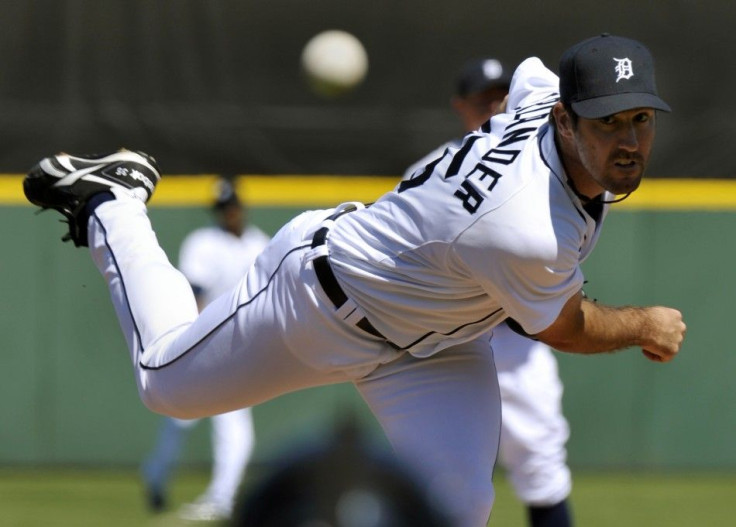 The Mariners and Athletics officially started playing regular season games last week when they two teams faced off in Japan. The Cardinals and Marlins had a one-game series Wednesday in what was dubbed baseballs opening night.
Opening day for most of the Major Leagues will be take place on Thursday or Friday. Many of the games will be in the afternoon. A few will be nationally televised, including the first game scheduled to get underway, the Red Sox and Tigers.
Here's a complete list of all the opening day games, start times, pitching matchups and which ones can be seen on national TV.
Thursday
Boston at Detroit 1:00 p.m. ET Lester vs Verlander ESPN 2
Atlanta at NY Mets 1:10 p.m. ET Hanson vs Santana
Philadelphia at Pittsburgh 1:35 p.m. ET Halladay vs Bedard
Washington at Chicago Cubs 2:20 p.m. ET Strasburg vs Dempster
Toronto at Cleveland 3:05 p.m. ET Romero vs Masterson
Miami at Cincinnati 4:00 p.m. ET Buehrle vs Cueto ESPN2
LA Dodgers at San Diego 7:05 p.m. ET Kershaw vs Volquez
Friday
Chicago White Sox at Texas 2:05 p.m. ET Danks vs Lewis
Minnesota at Baltimore 3:05 p.m. ET Pavano vs Arrieta
NY Yankees at Tampa Bay 3:10 p.m. ET Sabathia vs Shields
St. Louis at Milwaukee 4:10 p.m. ET Garcia vs Gallardo
San Francisco at Arizona 7:00 p.m. ET Lincecum vs Kennedy ESPN 2
Colorado at Houston 7:05 p.m. ET Guthrie vs Rodriguez
Kansas City at LA Angels 10:00 p.m. ET Chen vs Weaver ESPN2
Seattle at Oakland 10:05 p.m. ET Hernandez vs McCarthy
© Copyright IBTimes 2023. All rights reserved.