Oregon Campus Carry Gun Laws Scrutinized After Umpqua Community College Shooting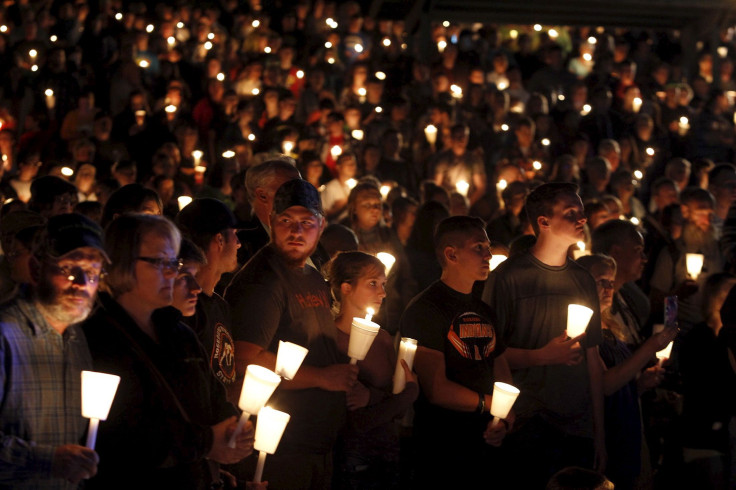 Thousands of Americans directed their outrage -- and questions -- toward gun control policies as news of the devastating, fatal shooting at Oregon's Umpqua Community College spread Thursday. Aren't there laws in place to prevent these tragedies, either by forbidding the gunman from bringing a weapon on campus or by allowing licensed students to protect themselves? The short answer is yes. And no.
Oregon has a complex history with campus carry laws, a legislative trend that's gathered strength in recent years as gun rights activists argue they need weapons to keep their peers safe during shootings like Thursday's. According to the National Conference of State Legislatures, 19 states outright forbid people from bringing concealed weapons on campus, while 23 allow each institution to make its own call on whether to ban guns. Oregon is one of the remaining eight states that legally permit concealed weapons to be carried on campus.
Oregon officials first banned guns on campus in the 1970s and updated the policy in 1991, the Associated Press reported. But in 2009, a Marine Corps student veteran was arrested and suspended from Western Oregon University for possessing a firearm in a public building. The student had a concealed weapons permit, so the Oregon Firearms Educational Foundation filed a lawsuit on his behalf arguing that the school system didn't have the authority to overrule state law that allows licensed guns on public property.
Mass Shootings in the United States | FindTheBest
In 2011, the Oregon Court of Appeals agreed with the foundation's case. It let permit holders carry on public college grounds. The state higher education board then voted a year later to use a legal loophole to ban guns in university buildings, classrooms, residence halls and sports events, according to the Oregonian.
But that policy didn't cover Umpqua Community College, which has its own governing board. Nevertheless, Umpqua had its own rule prohibiting guns. Vocativ reported the regulation read: "Possession, use or threatened use of firearms (including but not limited to BB guns, air guns, water pistols and paint guns), ammunition, explosives, dangerous chemicals or any other objects as weapons on campus property, except as expressly authorized by law or college regulations, is prohibited."
Police said Thursday's gunman, later identified as 26-year-old Chris Harper-Mercer, fatally shot nine people on campus before dying in a confrontation with police. Harper-Mercer owned 13 guns, all of which were purchased legally, authorities said Friday at a news conference.
CNN military analyst Lt. Col. Rick Francona reportedly suggested Thursday that Harper-Mercer targeted Umpqua because he knew about its no-guns rule. "The gun-free zones are the areas that tell licensed gun owners that you are not allowed to carry your weapon in this facility," Francona said, according to Raw Story. "So, they do serve a purpose to let everyone know that this is a 'gun-free zone.' If you're going to perpetrate some act, you know that most people are not going to be armed [there]."
Gun Laws vs. Gun Deaths | FindTheBest
His message echoed one of campus carry advocates' main arguments for looser laws: that they could help in the event of a shooting. John Parker, an Air Force veteran, told reporters he had a gun on campus Thursday at Umpqua and intended to guard the group in the classroom where he was hiding. Parker, 36, ended up not intervening.
The Oregon shooting came as several states were weighing or waiting to implement campus carry laws. Two such bills were moving slowly through the Florida legislature, and Texas Gov. Greg Abbott signed one into law in his state in June. Thursday's massacre coincided with meetings on various Texas university campuses on how to handle the new law, which takes effect in August 2016, CBS11 reported.
The debate also continued on Twitter:
© Copyright IBTimes 2022. All rights reserved.
FOLLOW MORE IBT NEWS ON THE BELOW CHANNELS