Oscar De La Hoya Calls Floyd Mayweather Jr. The Fastest Fighter He's Ever Faced
KEY POINTS
Oscar De La Hoya says Floyd Mayweather Jr. is the fastest fighter he has ever faced
Mayweather defeated De La Hoya via a split decision in their WBC Light Middleweight title bout in 2007
De La Hoya took a swipe at Mayweather's domestic abuse case after he was called the "Golden Girl" by the latter in 2018
Oscar De La Hoya had been on the receiving end of some of the vicious exploits from several household names in the sport during his heyday. But as he took a trip down memory lane, the Golden Boy admittedly said that Floyd Mayweather Jr. is second to no one in the list of the fastest fighters he has ever faced.
"I would have to go with Floyd Mayweather (as the fastest fighter)," De La Hoya told Fight Hub TV. "I mean, Floyd Mayweather was a fighter who was very intelligent, very smart, very calculated. And the reason why I will says he was the fastest — because Pernell Whitaker was the fastest — but his timing of punches was precise. And that's where I would have to give Floyd Mayweather the most credit and the most respect."
De La Hoya faced Mayweather in May 2007 in a bout that most boxing followers consider as the fight that made the latter a superstar.
The fight went the distance with Mayweather edging out De La Hoya via a close split decision to seize the WBC Light Middleweight title.
"It was a good fight, it was a very emotional fight. It was one of those events that will obviously never forget," said De La Hoya as he recalled the blockbuster event. "I will always appreciate who I went up in the ring with, including Manny Pacquiao, including Floyd Mayweather, including the very best of my era. I was very proud of my whole career, win or lose."
Raving about Mayweather's legacy is said to be a proof of De La Hoya's love-hate relationship with the American legend. More than a decade has already passed since their only encounter inside the ring, but the history of aversion between both boxing icons is still not to be denied.
In 2018, Mayweather mocked De La Hoya as "the Golden Girl" as he posted a leaked photo of the Mexican-American in fishnet stockings. De La Hoya then fired back as he took a shot at Mayweather's domestic violence issue.
"Good thing we will never resort to hitting women," the six-division world champion wrote.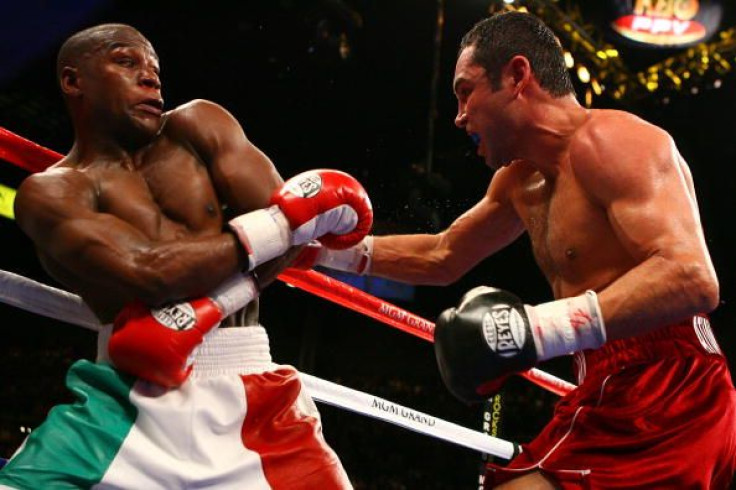 © Copyright IBTimes 2023. All rights reserved.