Ousted American Apparel CEO Dov Charney Gives Power To Hedge Fund: Report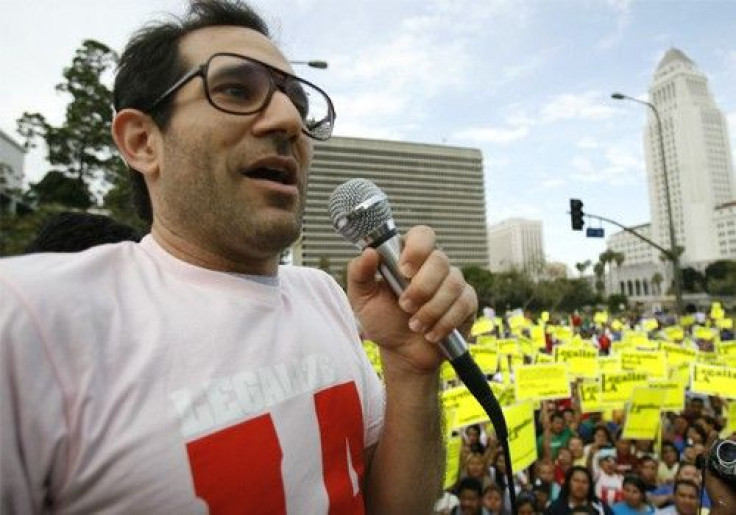 Ousted American Apparel Inc. (NYSEMKT:APP) CEO Dov Charney has handed over his entire stake and voting rights in the clothing retailer he founded to a hedge fund, Standard General LP, according to a Reuters report.
The move enables the little-known investment firm to negotiate directly with independent directors over American Apparel's future, two sources who requested anonymity told Reuters Wednesday. Charney is accused of misusing corporate funds and helping disseminate nude photos of a former employee. The American Apparel founder has also given up the battle to recover his CEO role until an investigation led by FTI Consulting is finished, according to the sources.
Attempting to reclaim the top spot at American Apparel, Charney, 45, entered into a partnership with the investment firm last week that gave him a 43 percent stake in the company, according to the New York Times. However, according to the agreement's terms, he can't make any moves unless Standard General gives him the go-ahead.
"I handed over my ownership control to Standard General so they could protect the company and all of its stakeholders, particularly the employees," Charney said, according to the Times. "The least important thing was me. I know that will be dealt with fairly later."
According to regulatory documents, Standard General had loaned its American Apparel shares to Charney, which enabled him to increase his stake in the company from about 27 percent, Reuters reported. He was hoping to secure majority control, yet American Apparel countered with an anti-takeover plan that sent Charney back to the drawing board.
So Charney handed over all his holdings to the New York-based fund, according to the sources, Reuters reported. Meanwhile, American Apparel has agreed to negotiate with Standard General, the sources noted.
The news agency said American Apparel declined to comment and Standard General officials weren't available for comment.
Meanwhile, Allan Mayer, the new co-chairman of American Apparel's board, told the Times: "We've said from the beginning that our goal is to find new leadership for American Apparel that's not only smart about the business, but also committed to the principles on which the company was built. If Standard General truly fits the bill, that would be great. So far, we have every indication they do fit the bill, but we're still exploring."
Regulatory filings earlier this week said Charney was planning to pursue talks with the board and had called for a special shareholder meeting on Sept. 25.
Several days before that, American Apparel had adopted a "poison pill" takeover defense that would go into effect when shareholders who own more than 15 percent of the stock get another 1 percent or more, Reuters noted.
Amid the public showdown between American Apparel and Charney, Reuters continued, employees of the retailer have revealed their concern about what could occur in the future -- perhaps a buyout, the sources added.
© Copyright IBTimes 2023. All rights reserved.