Packers' Aaron Rodgers: Unlike NBA, NFL Contracts Don't Give Players Leverage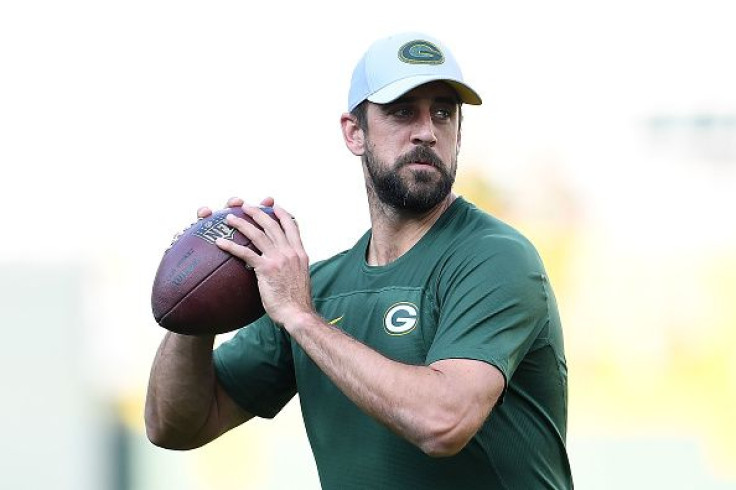 Despite signing a $134 million contract extension, Green Bay Packers quarterback Aaron Rodgers lamented the lack of leverage NFL players receive from their contracts compared to the NBA.
With his contract set to expire in 2019, Rodgers and the Packers finally put an end to contract negotiations that started all the way back in the 2017 season, as he signed a record-breaking four-year deal, potentially worth up to $180 million in total money, that will keep him with the team until 2023. Of the contract, almost $103 million is guaranteed.
But during the negotiations for the deal, Rodgers revealed he and his agent David Dunn tried exploring non-traditional contract structures, for example, working in opt-out clauses or as the salary cap increased, his pay would also increase as a percentage of it.
In the end, it wasn't possible for his contract to have those structures.
"Ultimately, I don't think the NFL is ready for those type of contracts and willing to go in some of those directions," Rodgers said on a conference call Thursday, as per ESPN. "The number of players on the active roster and counting on the salary cap is definitely a hindrance to some of that stuff."
"There's language in guaranteed contracts that need to change in the next CBA [Collective Bargaining Agreement] in order for those to become more standard across the league or more opportunities for those. But there's just not the movement in that area on franchise sides to want to do contracts that allow players to have more of the leverage that NBA players have. Instead, they would rather go traditional routes with the usual large signing bonuses prorated over the duration of the deal up to five years in order to minimize the cap hit in certain years. That's the desired approach of teams, and there wasn't a lot of wiggle room in that area."
Compared to the NFL, NBA players definitely have it much better when it comes to power and control over their future. LeBron James was able to join the Los Angeles Lakers last month due to the player option in his contract that allowed him to opt out this summer.
Rodgers wasn't just exploring those structures for himself. The 34-year-old was also hoping by striking such an agreement, it would set a precedent for future contracts in the league.
"It was definitely something that Dave and I talked about and why we were exploring a non-traditional type of deal that could help change some of the future contracts," Rodgers explained. "As you look at some of the contracts around the league, even with a guy like Odell [Beckham Jr.] who obviously reset the market for the receivers, teams want to go the traditional route and limit non-traditional language in deals."
"So there just wasn't a lot of leeway to do some of that stuff. But it was something that Dave and I did talk about, how this contact will affect other players at my position and other positions and eventually, we came to a deal that I think both sides feel good about. As much as we were interested in the idea of a non-traditional, ultimately the most important thing is the Packers feel like this is a partnership and that I feel like it's a partnership and we can get 19, 20 years and feel good about the relationship and the career that I had in Green Bay."
© Copyright IBTimes 2023. All rights reserved.