Pacquiao May Fight Khan In Dubai: Bob Arum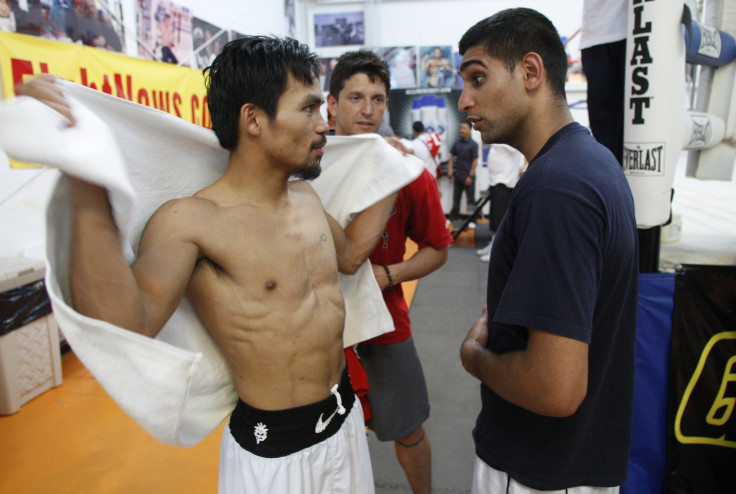 Just weeks after his May 2 bout with Floyd Mayweather Jr., Manny Pacquiao could land in another lucrative fight. Top Rank Promotions President Bob Arum said there's a possibility that the Filipino fighter's next ring appearance could happen in Dubai, United Arab Emirates, against Britain's Amir Khan.
"I just had a delegation in from Dubai trying to talk to me about a Manny Pacquiao fight sometime early next year in Dubai. That would be interesting," the 83-year-old Arum told Gareth A. Davies of the Telegraph. "One of the names they suggested as an opponent is Amir Khan. That would be a possibility. We'll have to see. I would think that Manny, if everything goes right with the surgery, would look to be back in early 2016, maybe in Dubai. I don't want to rush him."
Pacquiao suffered a shoulder injury before the Mayweather fight and is out of commission for about six to nine months.
Despite his loss to Mayweather in Las Vegas, Pacquiao (57-6-2, 38 KOs) remains one of the top draws in the sport. Meanwhile, Khan (30-3-0, 19 KOs) is one of the top contenders in the welterweight division -- along with Keith Thurman (25-0-0, 21 KOs), Kell Brook (34-0-0, 23 KOs) and Marcos Maidana (35-5-0, 31 KOs).
Mayweather defeated Pacquiao via a 12-round unanimous decision with judges' scores of 118-110, 116-112 and 116-112. A Mayweather-Pacquiao rematch remains a possibility but would largely depend on the demand for the return bout.
It's unlikely that the proposed Pacquiao-Khan pairing would outdo the Mayweather-Pacquiao fight in terms of overall revenue, as the latter's take of around $500 million shattered all previous records. However, both Pacquiao and Khan have a large following -- and the prospective bout could demand respectable pay-per-view and attendance numbers.
Arum is confident that should Pacquiao take on Khan in Dubai, they would have no problem selling the fight. "Apparently there's great interest from Dubai in doing big-time boxing there. With the Emirates airline making regular flights from the U.K. to Dubai, it's a great place for British fight fans to watch a fight," Arum added.
"Nobody has ever seen numbers like we did on this last fight [Mayweather-Pacquiao]. The people from Dubai today were astounded. Every restaurant, every club, every cinema in Dubai was packed with people watching the event."
Pacquiao and Khan were former sparmates at Freddie Roach's Wild Card Gym and trained together in the past.
Khan's next fight will be Saturday, against Chris Algieri, a former opponent of Pacquiao.
© Copyright IBTimes 2023. All rights reserved.