Pacquiao Vs. Bradley 2: Prediction, Betting Odds And Preview For Saturday's Fight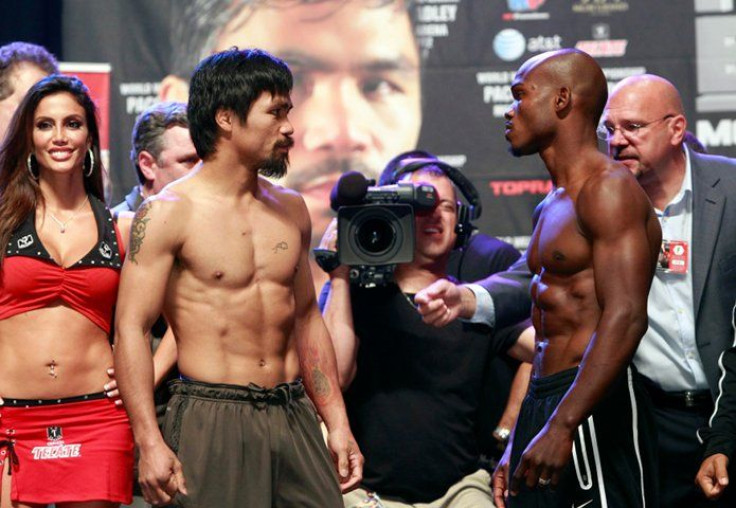 Two years ago, Manny Pacquiao was robbed of the WBO welterweight title, when Timothy Bradley beat him in a controversial split decision. On Saturday, Pac-Man looks to get payback, as the two boxers finally step in the ring for their rematch.
A lot has changed since Pacquiao-Bradley I. At 34 years old, Pacquiao was considered to be the No.1 competitor in his sport, other than Floyd Mayweather. Bradley had a bright future ahead of him, but was still looking for a marquee win on his resume.
After losing to Bradley, it would be 17 months before Pacquiao picked up another victory. In December 2012, he was knocked out but Juan Manuel Marquez, and it had become clear to most that he had lost a step. In November, he finally got another victory, defeating Brandon Rios. With a second fight against Bradley, Pac-Man is looking to re-establish himself as one of boxing's elite fighters.
Bradley's win over Pacquiao may have been controversial, but he hasn't been slowed down since. He retained the belt in a difficult fight with Ruslan Provodnikov. In October, he topped Marquez in a split decision, just 10 months after the 40-year-old had beaten Pacquiao. Bradley enters the 2014 fight unbeaten, with 31 career wins.
"Bradley really established himself and differentiated himself from the pack with the Provodnikov and Marquez wins and he really wanted this rematch. So did Manny," Top Rank president Todd duBoef said, when the fight was first agreed upon. "They both wanted the fight. Manny wants to set the record straight about the first fight and Timmy wants to erase the thought that he was given a gift. He thinks he won legitimately the first time and he says he will do it again."
Despite what's transpired in the last two years, Pacquiao is the favorite, once again. At Bovada.lv, his betting odds have been set at -230. The underdog Bradley comes in at +180. The gap between the two boxers has closed significantly, since 2012. In their first bout, Pacquiao was a -450 favorite.
Both boxers have been guaranteed a purse of $6 million for their fight at the MGM Grand. However, Top Rank CEO Bob Arum tells ESPN.com that Pacquiao will actually make more than three times that amount. According to the promoter, Pacquiao is guaranteed $20 million for the pay-per-view.
There's a chance Saturday's PPV will generate over one million buys. The first meeting between the two produced 890,000 buys.
It won't be easy for Pacquiao to get his revenge on Bradley. Two years later, Bradley is much more seasoned, and has proven himself with a few big wins. However, Bradley has had some close calls, surviving multiple knockdowns against Provodnikov, and a judge who ruled in favor of Marquez. Against the power punching of Pacquiao, Bradley might not be as fortunate to come away with the victory.
Prediction: Pacquiao by unanimous decision
© Copyright IBTimes 2023. All rights reserved.