Pacquiao vs. Thurman Update: Arum Fears Pacquiao May Incur Brain Damage
Bob Arum is concerned about the dangers ahead for Manny Pacquiao now that the veteran fighter is in his 40's.
Boxing promoter Bob Arum may no longer be associated with Pacquiao in his fights, but he seems to be still concerned about the future of the Filipino boxing legend. Arum, 87, told reporters in a recent interview that he fears Pacquiao could end up with a brain damage just like what happened to another veteran boxer, Zab Judah, recently.
The veteran promoter revealed what he truly feels about Pacquiao still being an active fighter at 41 years old, hinting that he thinks it may be time for Pacman to hang up his gloves, Channel News Asia reported. "Look, I love Manny Pacquiao," Arum told reporters.
Arum reflected on Pacquiao's legacy and what he sees happening to boxers when they reach their 40s, an age bracket in which the fighters are already past their prime.
"I have a whole history with Manny Pacquiao. I'm really rooting for Manny Pacquiao, but you've gotta realise that he's 41 years of age, and when a fighter has been around so long passes his late 30s and goes into his 40s, he's not gonna be as good as he was in his prime," Arum explained.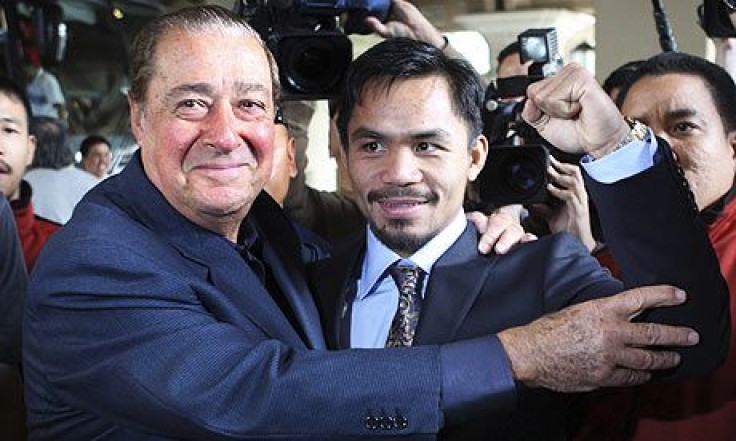 The veteran promoter wished Pacman all the best but revealed more factors to be concerned about, including the possibility of incurring brain damage. "I wish him the best and I hope he wins the fight but I am concerned, as I would be for any fighter, that when they get to a certain age that they probably should not be fighting anymore," Arum pointed.
"You know, I mean, the doctors will tell you that the cranium as you get older, thins out. So a guy that's younger gets hit and the cranium absorbs the blow so that it doesn't affect the brain matter," Arum continued. "When they get older the cranium is thinner, and when you get hit it affects ? that would be the worst thing in the world if Manny Pacquiao suffered brain damage at this point. Zab Judah is a perfect example of how dangerous it is for a guy to continue fighting into his 40s."
Arum is the second person in the boxing industry who recently expressed concern over Pacquiao's status. Gennady Golovkin previously said in an interview with Sports Illustrated that Manny should be careful with Thurman in their upcoming bout as one punch can change his life.
© Copyright IBTimes 2023. All rights reserved.