Pacquiao vs. Thurman Update: Thurman Hits Like A Girl, Freddie Roach Says
Freddie Roach has taunted Keith Thurman, saying he hits like a girl, and vowed that Manny Pacquiao will knock the young champ out.
The fight between two welterweight champs Manny Pacquiao and Keith Thurman is fast approaching. As expected, things are starting to get a little more heated, and the latest jab came from Manny's longtime trainer, Roach.
Roach is not known as a trash-talker in the boxing industry, but compared to Pacquiao, the 59-year-old trainer has done more damage to Pacman's opponents in terms of talking smack in the past. And now, Roach seems to joining Thurman's trash-talking game as he fired shots at the undefeated champ during his recent media scrum, Bad Left Hook reported.
Roach first talked about the current condition of Pacquiao in training and provided a statement that he will never let the icon over-train. "We're just on our second day. Manny has suffered a bit from jet lag. Today was a much better day than yesterday, and it's gonna get better and better as we go and as he gets that jet lag under control. It's a 16-hour flight from the Philippines, it does happen. We boxed eight rounds yesterday and did six rounds of mitts. Today we did 10 rounds of mitts and I put my chest protector back on just to get him to be able to throw punches like I want them thrown in the fight. Today was a great day," Roach said.
"I'll never let him come into a fight overworked. I want Manny Pacquiao to walk to that ring with the confidence he has, big smile on his face. I know when that happens, he's ready," Roach added.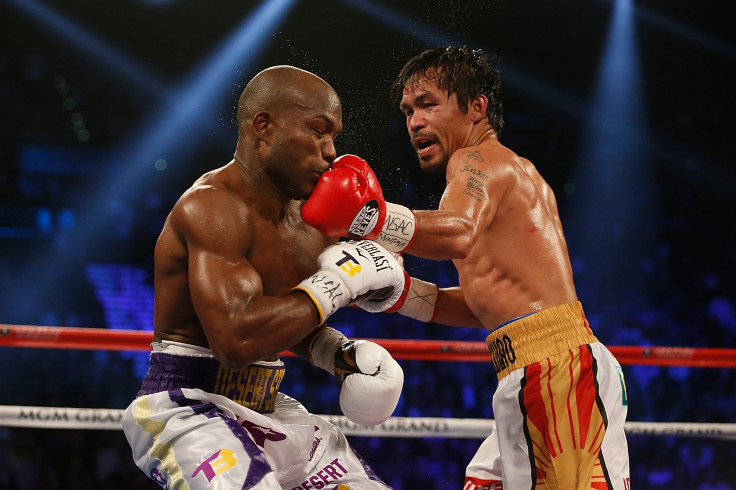 Things got more exciting as Roach opened up about Pacquiao being angry at Thurman and him swearing to knock out the young champ.
"The fire is there. I love when fighters talk about Manny, because Manny takes it to heart, and he'll make him pay for it. At the press conference, Thurman said a few things about Manny, and Manny just let it go. I had to open my mouth and say, 'We're gonna knock you out.' I thought I was gonna get a response back, but I didn't," Roach revealed.
Roach went full blast when he commented on the how hard the two fighters hit. "I saw a little video where Manny was hitting the heavy bag, and Thurman was hitting the heavy bag, and it was almost like a man hitting the heavy bag and a girl hitting the heavy bag, and (Thurman) is the girl," Roach emphasized.
© Copyright IBTimes 2023. All rights reserved.