Pakistan Court Drops Arrest Warrant Against Ex-PM Imran Khan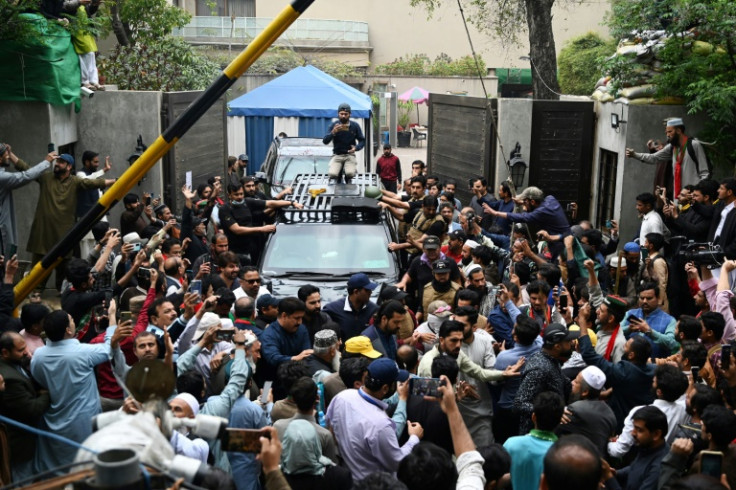 A Pakistan judge dropped an arrest warrant against former prime minister Imran Khan on Saturday, his lawyers said, after the ex-cricketing star, who had skipped several hearings, travelled to court.
The 70-year-old has been tangled in a slew of court cases since he was ousted in a no-confidence motion last year and has been pressuring the fragile coalition government which replaced him to hold early elections.
Earlier this week Khan's supporters fought pitched battles with police sent to arrest him in the eastern city of Lahore after he failed to appear in court over graft charges, citing security concerns.
"The court has cancelled the arrest warrant after marking Imran Khan's attendance. The hearing has been adjourned till March 30," one of Khan's lawyers, Gohar Khan, told AFP.
After days of legal wrangling, Khan travelled more than 300 kilometres from Lahore to the Islamabad court complex, but was unable to get out of the car.
Around 4,000 supporters mobbed the complex, pelting stones and throwing bricks at police officers who fired back with tear gas.
The court however accepted Khan's attendance, his lawyers said.
The case has been brought by the Election Commission of Pakistan which has accused Khan of not declaring gifts received during his time as premier, or the profit made from selling them.
Pakistan's courts are often used to tie up lawmakers in lengthy proceedings that rights monitors criticise for stifling political opposition.
Khan claims authorities want to throw him in jail so he is unable to campaign for upcoming elections.
Some 4,000 security officials including elite police commandos, anti-terrorism squads and paramilitary rangers have been deployed around Islamabad with hospitals put on high alert.
Police meanwhile raided his house in a plush Lahore neighbourhood after blocking nearby roads and suspending mobile services in the area.
As the political drama unfolds, Pakistan is in the grip of a stark economic downturn, risking default if help cannot be secured from the International Monetary Fund.
The security situation is also deteriorating with a spate of deadly attacks on police, linked to the Pakistan Taliban.
Last year Khan was shot in the leg during a political rally, an assassination bid he blamed on Prime Minister Shehbaz Sharif.
© Copyright AFP 2023. All rights reserved.