Pakistan Polio Vaccination Fear: 471 Parents Arrested For Refusing Kids' Vaccine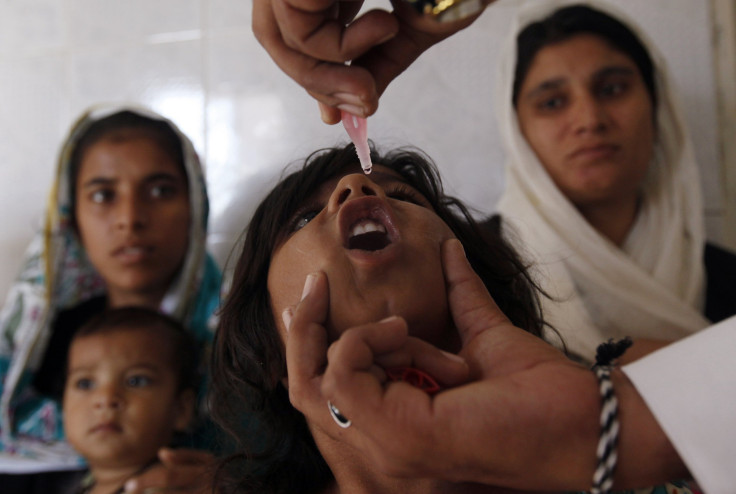 Pakistan police arrested and jailed 471 parents on charges of endangering public health after they refused to vaccinate their children against polio, officials said Monday. Shakirullah Khan, a senior police officer in Peshawar, said that the parents were arrested over the weekend and those who agreed to vaccinate their children were released, according to Associated Press.
"This is the first time such drastic action was taken," Feroz Shah, a Peshawar district spokesman said. The parents were jailed in the city and surrounding villages under government orders. "This shows determination of the government to eradicate polio," Shah said. Polio is still endemic in Pakistan, where most of the reported cases worldwide last year occurred.
Public suspicions about vaccines remain high, especially after the Taliban banned vaccinations. The Taliban also attacked medical workers seeking to deliver vaccines -- 11 people were killed in March last year when a polio vaccination team was hit by a roadside bomb. The Pakistani Taliban claims polio vaccines are part of a U.S. plot to sterilize their children.
While most of Pakistan is polio-free, according to the Global Polio Eradication Initiative, polio is particularly intense in the Federally Administered Tribal Areas, and it has spread to parts of the country and internationally from there.
Polio is a highly infectious viral disease that invades the nervous system and can cause paralysis or even death within hours of infection. Children under 5 years old are primarily at risk of catching the virus, and there is no current cure. Multiple dosages of the vaccines can immunize people against polio for life. There are 9.7 million children in Pakistan identified to be in high-risk districts for polio, according to End Polio Pakistan, a government polio website.
Saira Afzal Tarar, Pakistan's minister of state for national health services, said last Friday that the government will eradicate polio from the country, and pledged greater security to polio vaccination teams against attacks, according to a press release. Provincial governments have also been directed to come up with best practices to expedite the vaccination of residents, Tarar said.
© Copyright IBTimes 2023. All rights reserved.