Pakistan's Lahore Ranked World's Most Air-Polluted City In 2022 - IBT Graphics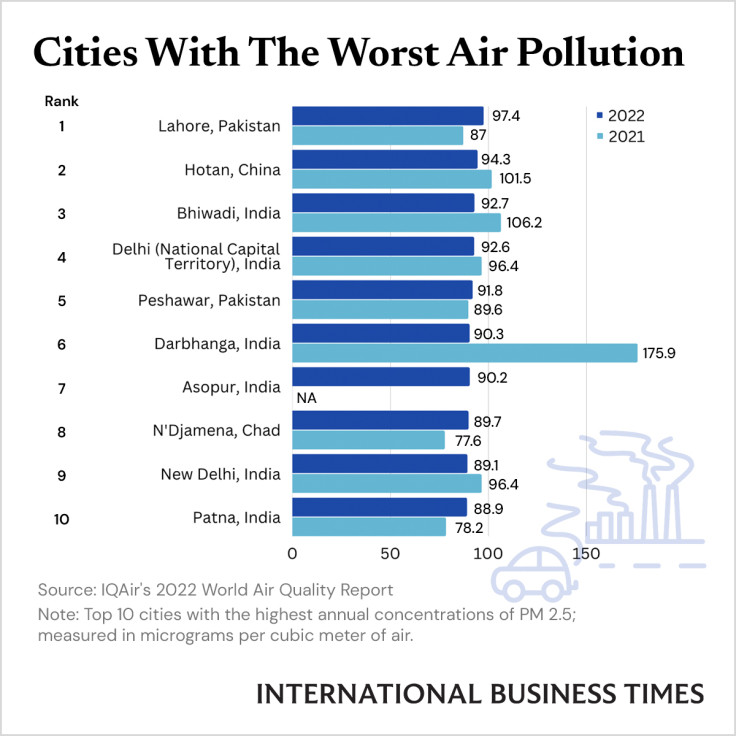 About 99% of the world's population breathes in air that exceeds the World Health Organization (WHO) air quality limit, a report by the UN agency stated in April 2022.
According to IQAir's 2022 World Air Quality Report, most of the world's 20 top air-polluted cities are in Asia, particularly India and Pakistan. The primary sources of air pollution in these cities include residential pollution from cooking and heating using biomass and transportation.
IQAir measures air quality levels on the basis of the concentration of lung-damaging airborne particles known as PM 2.5 (particulate matter). Exposure to such particulate matter can pose severe health damage, including heart attacks, asthma and premature death.
The city of Lahore in northeastern Pakistan suffered the highest air pollution in the world in 2022, with an average PM2.5 concentration of 97.4 micrograms per cubic meter of air (μg/m³). N'Djamena, the Chadian capital, was the world's most polluted capital city last year, with an average PM2.5 concentration of nearly 90 μg/m³. It was followed by the Indian capital of New Delhi at 89.1 average PM2.5 concentration. All these cities had PM2.5, which is more than 10 times higher than the WHO target of 10 μg/m³.
© Copyright IBTimes 2023. All rights reserved.