Workers In Argentina Suffered Most Number Of Non-Fatal Occupational Injuries In 2021 - IBT Graphics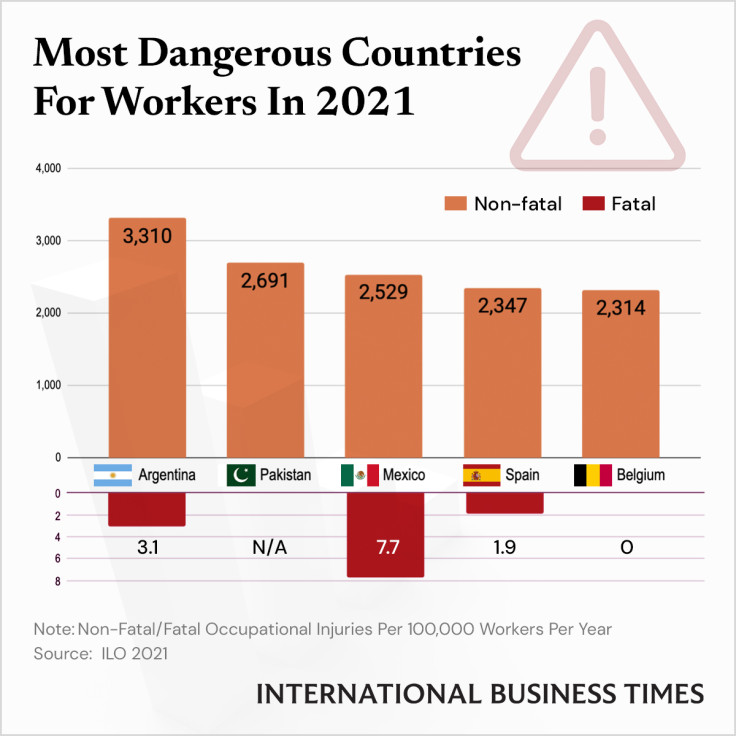 Around 2.3 million workers are victims of occupation-related accidents or diseases globally every year, corresponding to more than 6,000 deaths in a single day, according to data released by the International Labor Organization (ILO).
In 2017 alone, around 2.8 million people died due to workplace-related incidents, and an additional 374 million suffered non-fatal injuries.
Argentina leads in terms of the highest number of non-fatal occupational injuries per 100,000 workers per year at 3,310 in 2021, followed by Pakistan at 2,691, as per data compiled by the ILO. Burundi has the highest number of fatal occupational injuries per 100,000 workers at 13.8, followed by Mexico at 7.7.
In terms of economic activities, the fishing industry reported the highest global average fatality rate of 15.96, with Canada being the most dangerous nation for fishing at a fatality rate of 27.32 per 100,000 workers. The second most dangerous industry was mining and quarrying, with an average workplace fatality rate of 14.09.
Meanwhile, the ILO maintains many fatal and non-fatal occupational injuries remain unreported across industries, particularly in several developing nations.
© Copyright IBTimes 2023. All rights reserved.