Panama Canal May Be Overshadowed By Nicaragua's Plans To Build A Canal; Panama Says It Is Not Feasible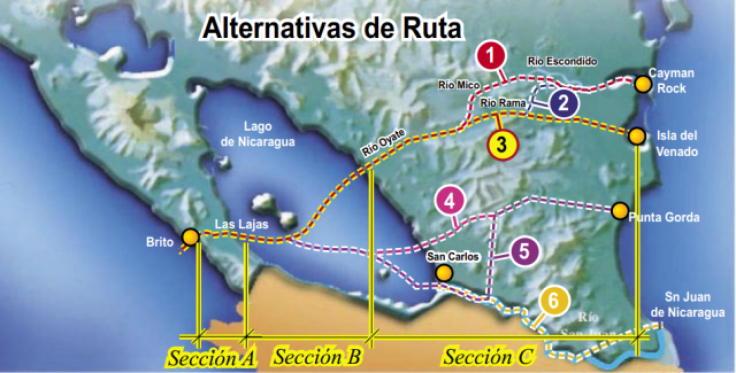 How many global shortcuts does a hemisphere need? How many is one too many cross-continental canals? And who gets to decide?
With the help of a Hong-Kong based company, Nicaragua has just approved contracting to build a transoceanic waterway, a project that the Central American country has been dreaming of for centuries and which could radically change the geopolitics of the region.
Newly formed HK Nicaragua Canal Development Investment Co. Ltd. signed an agreement with the Nicaraguan government on the canal project, which could take up to 11 years to complete, cost more than $40 billion, and require the excavation of about 130 miles of manmade waterway through jungles, lakes and protected lands.
The new route is designed to provide an alternative to the historic Panama Canal, until now the unrivaled transoceanic conduit for trade in the Americas. According to the bill submitted to the Nicaraguan congress, the proposed canal would be bigger than both the Panama and Suez canals in every dimension.
"This is a historic moment that we had been waiting for for centuries," said President Daniel Ortega on Wednesday at the official presentation of the project, which had as guests investors from Brazil, Switzerland, Canada, Kuwait and Saudi Arabia.
The waterway that divided a country
The government says the waterway would create 40,000 jobs and basically double the GDP of Nicaragua, now the poorest country in the region, according to think tank Indexmundi. The project itself would be given to HK Nicaragua for a 50-year concession, renewable for another 50, after which the infrastructure would be turned over to the Central American country.
"The project is being given top priority," said René Núñez, the president of the National Assembly and one of the project's biggest proponents.
But not everybody in Nicaragua is excited with the project. Opponents argue that it is being rushed to fruition, that little is known about the investors, and that the route, still undecided, would have to cross protected areas, including some that are occupied by indigenous populations who have not been consulted.
"The Nicaraguan people have the right to know what company this is, what interests move them," said the Sandinista Renovation Movement (or MRS, the acronym for its name in Spanish), which split from Ortega's policies in 1995 and currently has two members in Congress. "We cannot give sovereignty of Nicaragua to an unknown company, particularly without permission from the citizens."
Manuel Coronel, vice president of foreign relations, defended HK Nicaragua, saying that it is a legitimate company with "some of the best professionals in the world." He also denied the MRS' accusations that building the project wold cede political power to China. "Sovereignty is never discussed; it is always defended weapon in hand," he said.
Beyond those issues, there remains the question of how viable building a waterway would be for Nicaragua, when the historic Panama Canal is a mere 700 miles away.
The Panama Canal
The Panama Canal has connected the Caribbean Sea to the Pacific Ocean since 1914, and now, at the century mark, accommodates more than 14,000 cargo ships every year, encompassing 5 percent of the world's maritime trade. The canal generated $1 billion in fees for the government of Panama in 2012, according to the Canal Authority – an increase of 8.6 percent from the previous year. Given that the canal costs about $600 million to maintain, the revenues are important: It's estimated that since the U.S. handed the canal to Panama 13 years ago, the country has earned more than $7 billion in revenue from it.
Under world scrutiny and criticism that tolls were too high and the infrastructure obsolete, the canal began being renovated in 2007 with a budget of $5.25 billion. Currently, ships are required to be less than 110 feet wide, 1,050 feet long and 41.2 feet deep to go through the canal. When the renovation is complete, ships as wide as 180 feet, as long as 1,400 feet and drafting as deep as 60 feet will be allowed.
Alberto Alemán Zubieta, president of the Panama Canal Administration from 1998 to 2012, overlooked the passing of hands of the canal from the U.S. to Panama in 1999 and was in charge of the canal's expansion -- now under the supervision of Jorge Quijano, who replaced him last September. When asked about the Nicaragua project, Alemán Zubieta was adamant that it won't work.
"It is completely unfeasible," he said in a televised statement. "The stakes are too high, and furthermore, it would be twice as long as Panama's canal."
Panama's canal is 50 miles long, whereas Nicaragua's would have to stretch 120 miles to connect both shores.
"I just don't think it's going to be of any benefit as an alternative to Panama's," added Alemán Zubieta. "Infrastructure in Central America is necessary, but this investment in Nicaragua is neither worth it nor needed."
Eduardo Lugo, a Panamanian consultant who worked on the Panama Canal expansion, agrees with Alemán Zubieta. "Forty billion dollars is an extremely high amount. The amount of traffic that would be needed to pay for a project of this size does not exist," he told CSMonitor.
But that kind of traffic might be on its way and might have reached Nicaragua by the time the canal is done. Jason Bittner of the Center for Urban Transportation at the University of Southern Florida thinks the demand in trade will not decrease. "If you make this large public sector investment, it will be used," he said.
Bittner compared the project to the U.S. interstate highway and the Three Gorges Dam in China, mega-construction projects that took years and huge investments to complete. "These massive projects, that if we were trying to put a lens to it and say, 'We can't get this because they're so massive,' we wouldn't have done them. And there they sit."
Difficult times lie ahead
Before worrying about whether the project will be profitable, HK Nicaragua will have to figure out how to build a waterway in a country that doesn't even have a highway connecting both its shores.
The canal will have to transect jungles, lakes and swamps, as well as watering holes that in Nicaragua are reserved for human use. The jungle, crisscrossed by many rivers, is environmentally too fragile to be dredged. Such restrictions did not exist when Panama built its canal in the early 1900s, noted CSMonitor. The canal took 10 yeas to build and reportedly cost the lives of 5,000 workers.
There are six possible routes for the Nicaraguan project. According to the government, the builders will probably settle on one that crosses Lake Nicaragua – a strategy that would seriously reduce the amount of digging required. The government estimates that 1.7 billion gallons of water per day would be needed to run Nicaragua's future locks, and tens of millions of tons of excavation would be required. When complete, the Nicaragua canal is expected to accommodate ships of up to 25,000 tons, double the size of ships the Panama canal will be able to handle after the upgrade is finished.
Skeptics point out that this is not the first time Nicaragua has tried to build a canal. Simone Foxman writes on Quartz that Nicaragua was the first option, before Panama, for a canal in the 19th century. German scientist Alexander von Humboldt argued that Nicaragua offered a route at sea level, which would not need locks like Panama does. The project was fought over by France and Great Britain, who wanted to gain a foothold in Latin America, but it ultimately went to the U.S., which chose Panama for the simple reason that it was the narrowest bit of the continent.
Enter China
The Panama Canal was the projection of a growing U.S. power at the beginning of the 20th century and marked its influence in Latin America and the world. Similarly, China's investment in Nicaragua's plan marks the increasing global financial clout of the Asian giant.
President Xi Jinping has made his intentions of expanding China's presence in Latin America clear, from hosting Mexican President Enrique Peña Nieto in Beijing to his six-day trip to the region, when he signed a highway construction project in Costa Rica and reached trade agreements with leaders in Trinidad and Tobago and Mexico.
Some analysts see China's rising involvement in the region as a loss of U.S. dominance. Vice President Joe Biden's trip to Colombia, Brazil and Trinidad, right before Xi's journey, was met with less enthusiasm than that of the Chinese leader. And Mexico's Peña Nieto has announced on more than one occasion his intention of getting closer to China – a bold move from the U.S.' biggest trade partner to date.
Nicaragua's canal could be more than the latest in a series of trade agreements between China and Latin America. It could represent a shift in geopolitical power throughout Latin America and -- because it provides a transoceanic route -- the world.
This story has been corrected to reflect that the current Panama Canal Administrator has been Jorge Quijano since September 2012. A previous version listed Alberto Alemán Zubieta as still in charge.
Follow me on Twitter: @PReyMallen
© Copyright IBTimes 2023. All rights reserved.