Paris Attack 2015: Amid Security Concerns At Home, Arab Leaders Condemn Terror In France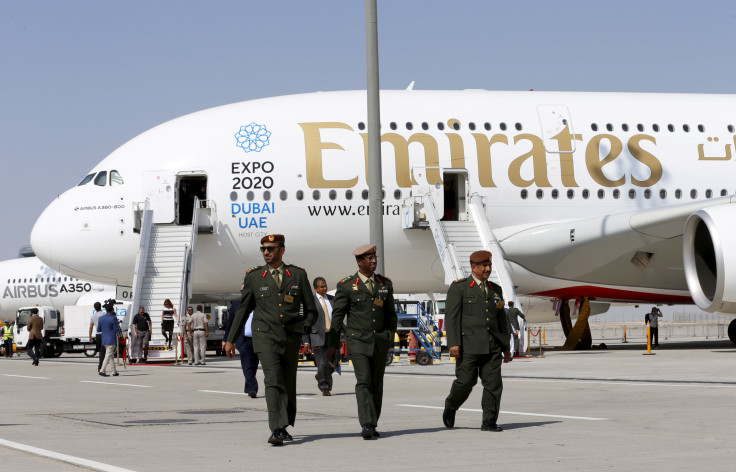 The string of deadly attacks in Paris on Friday for which the Islamic State group claimed responsibility added to mounting concerns for governments throughout the Arab region. They were already ratcheting up security measures in the wake of a deadly plane crash in Egypt and twin bombings in Beirut, for which the militant group, also called ISIS or ISIL, also claimed responsibility. Egypt, Turkey, Saudi Arabia and neighboring countries offered a slew of condolences to France on Saturday while also demanding a united global response to terrorism.
Saudi Arabia called Saturday for "a concerted effort by the international community to eradicate these dangerous and destructive threats" and condemned the attacks, the state-run Saudi Press Agency reported. Sheikh Khalifa bin Zayed al-Nahyan, president of the United Arab Emirates, called the attacks "heinous crimes" and vowed to "spare no effort" to fight terrorism, the Saudi news outlet Al Arabiya reported.
King Abdullah II of Jordan sent condolences to French President Francois Hollande and called the attacks a "cowardly terrorist incident." It was only days before that Jordan had marked the 10-year anniversary of the most devastating recent attack on its soil, when on Nov. 9, 2005, 57 people were killed in coordinated attacks on three hotels in Amman, the capital.
Even before the attacks in Paris, Arab countries and airlines had already been heightening security and scrutiny following other deadly attacks for which the Islamic State group claimed responsibility, including the crash of a Russian charter plane in the Sinai Peninsula on Oct. 31 that killed 224 people and a twin suicide bombing Thursday killed at least 46 people in southern Beirut.
Lebanon had announced Friday, before the Paris attacks, that it would boost security after Thursday's bombings. Prime Minister Tammam Slaam ordered the police and army to "fortify security and stability" and said the bombings should be "a motive for further coordination between security forces."
At the Dubai Airshow on Thursday, Sheikh Ahmed bin Saeed al-Maktoum, CEO of Emirates Airline, said that security at Dubai International Airport was of "utmost priority" for Emirati officials. Earlier in the week, spurred by the Russian plane crash, the airline began reviewing security measures at airports throughout the region and beyond, Aviation Week reported. Its president, Tim Clark, called the crash "a game changer in our industry," adding that "there are many airports in the world where if people wanted to do bad things, they could." Now, the airline has said it will add the Sinai Peninsula to the list of airspaces it avoids, including those of Syria and Iraq.
Akbar Al Baker, CEO of Qatar Airways, said that airlines and airports had to be vigilant but that "there is only so much we can do."
After the attacks in Paris, alarm and concern about potential threats and attacks spread further. Authorities in cities and countries around the world, from New York City and Boston to Belgium and Germany, said they would be on heightened alert, reviewing threat levels and bolstering security in public venues.
© Copyright IBTimes 2023. All rights reserved.