Paris Attack 'Elements' To Be Part Of UK Counterterrorism Drills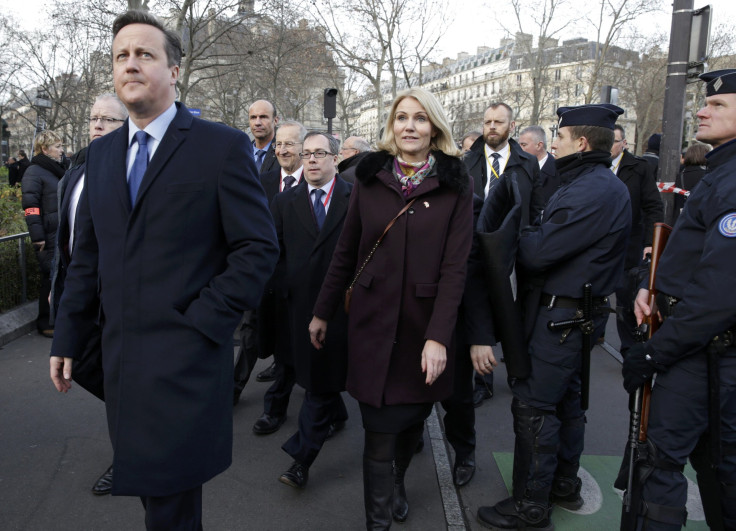 British security agencies will include "specific elements of the Paris attack" in future counterterrorism exercises to ensure their readiness in case similar attacks are carried out in the country, a spokesperson for the British government said, in a statement released Monday. The comments come after Prime Minister David Cameron held a security briefing at Downing Street early Monday after returning from what he described as an "inspirational" unity march in Paris on Sunday.
"The relevant police and agencies regularly carry out exercises to test their response to a terror attack, including scenarios similar to the incidents in Paris. The meeting agreed that for future exercises, the relevant agencies should identify whether there are any further specific elements of the Paris attack that should be built into the exercise scenarios," the British government spokesperson said, in the statement.
The spokesperson added that steps to clamp down on illegal smuggling of weapons across the country's borders had also been discussed in the meeting, which was reportedly attended by the country's security and intelligence chiefs.
Earlier on Sunday, Cameron had said that intelligence agencies had warned of the threat posed by "marauding attacks" -- roaming gun attacks carried out by "lone-wolf" attackers -- within the country, according to media reports.
"I remember going back to when I first became prime minister we held a whole series of meetings to examine how we'd respond to the sort of attack that took place in Mumbai -- a sort of roving firearms terrorist attack, not totally unlike what we saw in Paris," Cameron reportedly said on Sunday. "These are incredibly difficult situations to prepare for."
Cameron had also stressed on the importance of providing more powers to the country's security forces to intercept the communications of suspected militants and had reportedly spoken in favor of the Communications Data Bill -- reportedly dubbed the "snooper's charter" by critics -- that would allow security agencies to have greater access to emails and social media accounts.
Although plans to introduce the bill have so far been blocked by Liberal Democrats who are a part of the ruling coalition, Cameron, who heads the Conservative Party, has reportedly said that he will reintroduce the legislation if the conservatives secure an overall majority in the country's next general elections, scheduled for May.
© Copyright IBTimes 2023. All rights reserved.