Paris Attacks: Terror Concerns Top Economic Ones At G20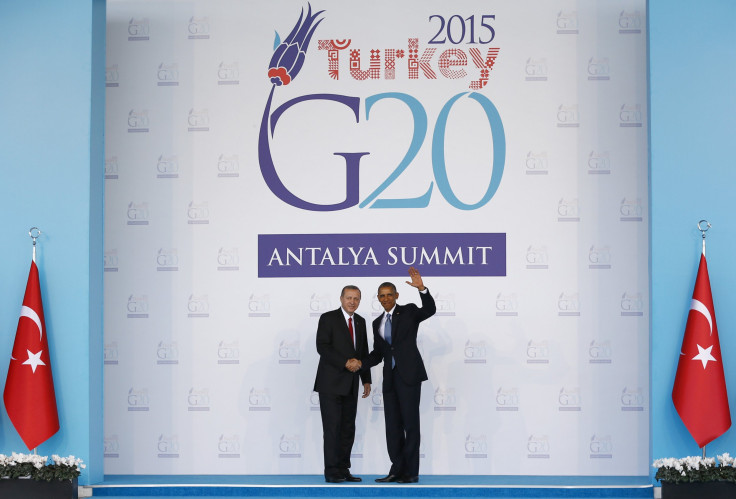 U.S. President Barack Obama has vowed to help France hunt down the perpetrators of the Paris attack ahead of the G-20 summit in Antalya, Turkey, on Sunday as several western leaders came together with a renewed urgency to fight the spread of international terrorism.
Many leaders expressed solidarity with France and are expected to discuss the threat of Islamic State group infiltrators among migrants and refugees in Europe -- an issue that has taken center stage after reports emerged that at least one of the attackers had made his way into Europe through Greece -- a typical refugee route.
"European Union countries should not give in to base reactions of rejecting refugees after the Paris attacks because the shooters were criminals, not asylum-seekers, European Commission head Jean-Claude Juncker said Sunday.
However, Polish and Slovak officials, who have long opposed the influx of refugees into the EU, said Friday's attack had underlined their security concerns.
"Hopefully, some people will open their eyes now," Slovak Prime Minister Robert Fico said. But Juncker stressed that there is no need for a rethink on refugee policies after the Paris attack.
While the G-20 summit is traditionally meant for economic issues, state leaders are under increased pressure to curb the influence of ISIS, which has grown beyond its strongholds of Syria and Iraq.
"As we I'm sure each said to (French) President Hollande and the French people, we stand in solidarity with them in hunting down the perpetrators of this crime and bringing them to justice," Obama said at a news conference with Turkish President Tayyip Erdogan ahead of the meet. He also condemned an ISIS-linked double bombing in Ankara last month.
"We are now at a point where words end in the fight against terrorism," Turkish President Tayyip Erdogan told reporters. "We will of course carry on with our discussions in the G-20 summit within the predetermined agenda, however we will put strong emphasis on having a firm stance on international terrorism," he added.
"Events such as the attacks in Paris made it crucial for the world's top economies to stand shoulder to shoulder at the summit," China's vice finance minister told Channel News Asia Saturday.
G-20 leaders will meet at a working dinner on Sunday to discuss terrorism and migration and a statement on fighting terrorism is to be issued after the dinner.
On Sunday, a suspected terrorist linked to ISIS blew himself up in southeastern Turkey, around 500 miles from Antalya, injuring four police officers. The terrorist activated explosives attached to his body when police raided an apartment in a 10-storey building in the town of Gaziantep, said reports, citing the local governor's office.
© Copyright IBTimes 2023. All rights reserved.
FOLLOW MORE IBT NEWS ON THE BELOW CHANNELS