After Paris Attacks, Will Obama Fight ISIS With Ground Troops In Iraq Or Syria? How National Security Could Change After France Death Toll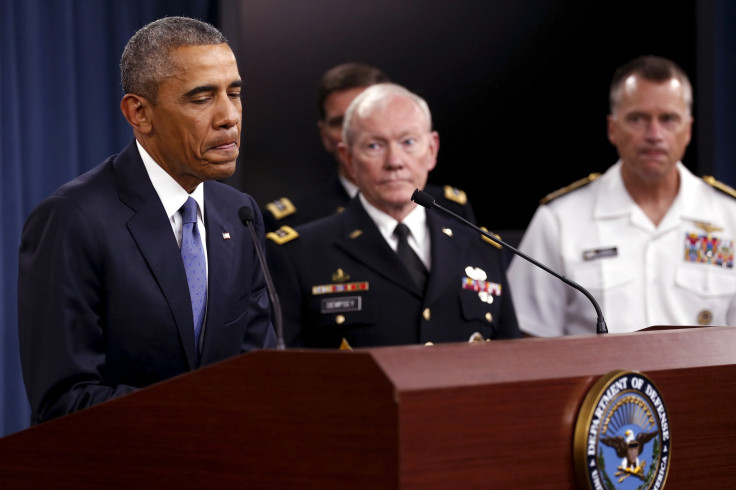 Hours after the Islamic State carried out its promise to fill the street of Paris with dead bodies, it appeared certain Saturday that U.S. officials would have to ramp up efforts to eradicate the militant group after a year-long airstrike campaign has failed to stop ISIS from recruiting new fighters or terrorizing citizens across the globe, lawmakers and national security experts said. The horrific assault in Paris Friday night left more than 500 injured or killed after ISIS radicals carried out multiple assaults in a series of shootings and explosions that unfolded at a bar, restaurant, stadium and concert venue.
"Truthfully, I can't imagine how it doesn't change their approach," Michael E. Leiter, the former director of the National Counterterrorism Center, told the New York Times of the Obama administration. "When you give this kind of organization this much freedom of movement and go after it this incrementally, people shouldn't be surprised by things like the aircraft bombing."
Matthew G. Olsen, another former director of the counterterrorism center, also predicted the recent major attacks would push the White House to increase its efforts against ISIS. "All of this raises the stakes for the U.S. and increases pressure on the U.S. and the West to respond more aggressively," he told the Times.
French President Francois Hollande said Saturday ISIS was behind the massacre and declared the violence an act of war. The Paris attack came more than a year after the Islamic State began seizing territory in Syria and Iraq. The group later demonstrated its growing reach by kidnapping U.S., British and Japanese citizens, among others, to showcase them in chilling beheading videos that warned of future bloodshed. More recently, ISIS fighters have carried out attacks against Russia, Lebanon, Egypt and Libya. The group carried out a bombing in Beirut this week and claimed responsibility for the downing of a Russian passenger jet in Egypt last month.
President Barack Obama called the Paris shootings an "outrageous attempt to terrorize innocent civilians" and offered the government's assistance to France. He met with national security aides Saturday before traveling to Antalya, Turkey, where he was to expected to discuss with other world leaders at a Group of 20 summit meeting a plan to curb ISIS' reach. At the same time, Secretary of State John Kerry said the Paris attacks would "stiffen our resolve" to fight back.
National security officials began steps Saturday to ward off domestic attacks by probing manifests on airliners bound for the United States and reviewing surveillance findings for details about potential plots. But national security experts predicted Obama would go further and soon announce coordinated attacks against ISIS after consulting with other world leaders.
"You're going to see several things," said Steven Simon, a former Middle East adviser to Obama, told the New York Times. "Tighter border controls, more intensive surveillance in the U.S. and more outreach to local communities in the hope that extremists will be fingered by their friends and family. And a tightening of already intimate cooperation with European intelligence agencies."
Obama launched airstrikes against the Islamic State in Iraq and then Syria last year and vowed to defeat the militant group. But Obama has been reluctant to involve American ground troops in the campaign after prolonged wars in Afghanistan and Iraq against Islamic radicals. Critics argue Obama's approach has been too cautious and has not deterred ISIS from carrying out an international plan to terrorize Western citizens.
"ISIS is absolutely a threat beyond the region," Frances Fragos Townsend, the top White House counterterrorism adviser under President George W. Bush, told the New York Times. "We must not continue to assume that ISIS is merely an away threat. It clearly has international ambitions beyond its self-proclaimed caliphate."
David Deptula, a retired Air Force lieutenant general, called the campaign "anemic." Deptula, who directed the air campaigns in the first Gulf War and the invasion of Afghanistan, said daily airstrikes were not enough to stop ISIS from growing its ranks. "The administration's incomplete strategy places U.S. commanders in an untenable situation," he told NPR in August during the first anniversary of the ISIS airstrike campaign. "It's not unlike the failed strategy that was employed in Vietnam."
Obama officials, however, have so far been defensive of their policies against the Islamic State. Defense Secretary Ash Carter told a group of U.S. airmen and women who fly bombing raids against the Islamic State this summer that the campaign was going well. "This enemy has to be defeated," he said at the time. "They will be, because you know the barbarians are always defeated by civilization and the few by the many, the evil by the good — so I don't have any doubt that we will win."
The Paris attacks quickly saw lawmakers from both sides of the aisle urge a stronger campaign against ISIS. Rep. Adam B. Schiff of California, the ranking Democrat on the Intelligence Committee, said the killings demonstrated a need to adopt a more aggressive approach in the Middle East. "It will add another sense of urgency to defeating" it, he said, "and that will be very hard to do without eliminating its sanctuary. If this doesn't create in the world a fierce determination to rid ourselves of this scourge, I don't know what will."
South Carolina Sen. Lindsey Graham, a GOP presidential candidate who has previously urged more ground troops to combat ISIS, renewed his call after the Paris attacks for the U.S. to amplify its fight against the militant group. "There is a sickness in the world that has to be dealt with and the civilized world must come together to confront it. America should lead that unity," he said in a statement.
© Copyright IBTimes 2023. All rights reserved.