Paris Climate Change Summit Live Stream: World Leaders Discuss Global Approach On Opening Day Of COP21 [PHOTOS]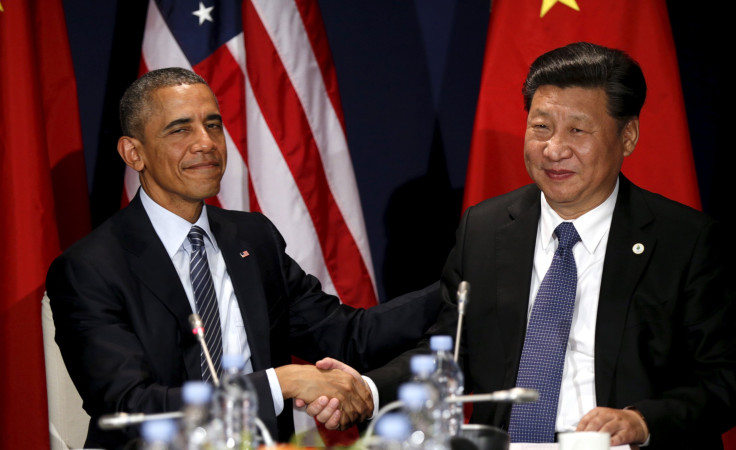 UPDATE: 7:30 a.m. EST -- The Paris climate conference "is not a finish line, but a new starting point," Chinese President Xi Jinping said Monday.
"Addressing climate change should not prevent the legitimate attempts of developing countries to grow their economies," Xi said, adding that "tackling climate change is a shared mission for all of humanity."
In his speech during the COP 21 Leaders Event, Xi also reiterated China's pledge to peak its carbon dioxide emissions by 2030.

"As the two largest economies in the world and the two largest carbon-emitters, we have both determined that it is our responsibility to take action," U.S. President Barack Obama said in remarks before a group of reporters, adding, "And so our leadership on this issue has been absolutely vital, and I appreciate President Xi's consistent cooperation on this issue."
UPDATE: 7:05 a.m. EST -- U.S. President Barack Obama addressed the U.N. Climate Change Conference in Paris Monday, stating: "I've come here personally as the leader of the world's largest economy and second largest emitter [of greenhouse gases] to say the United States not only recognizes our role in creating this problem, we embrace our responsibility in doing something about it."
"We can show the world what is possible when we come together. Let there be no doubt: the next generation is watching what we do."
Obama also warned that the world is almost at the point of being too late to tackle climate change, and "that hour is almost upon us."
"America confirms our strong and ongoing commitment to the Least Development Countries fund. And tomorrow we'll pledge new contribution to risk insurance initiatives that help vulnerable populations rebuild stronger after climate related disasters," he said.
Original story:
A United Nations conference aimed at arriving at a new global approach to climate change kicked off Monday in Paris. Over 150 world leaders, including U.S. President Barack Obama, are attending the meeting, known as COP21 -- the 21st session of the Conference of the Parties.
On the opening day of the summit, Laurent Fabius was elected as president of COP21. French President François Hollande and U.N. Secretary-General Ban Ki-moon greeted the heads of state and government from around the world as they arrived for the talks, which come on the heels of the Nov. 13 Paris attacks claimed by the Islamic State group. On Monday, the world leaders gathered for the summit held a moment of silence in honor of the people killed in recent attacks in Paris, Beirut, Baghdad, Tunisia and Mali.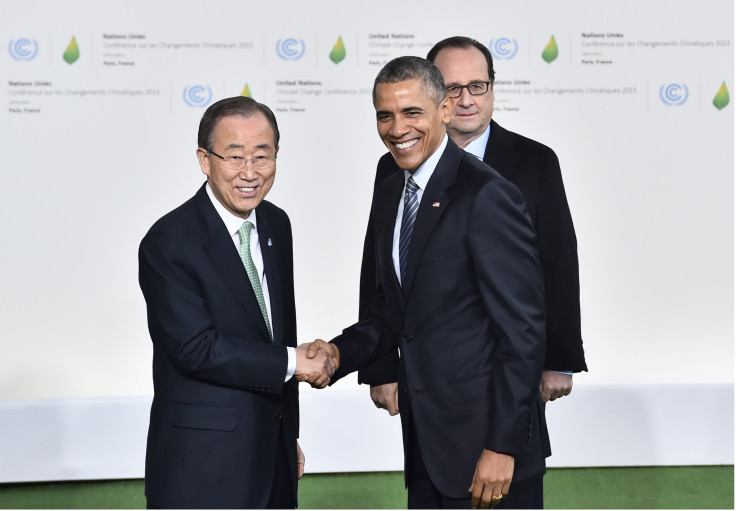 French President François Hollande said:
What is at stake is the future of the planet, the future of life... Two weeks ago it was death that a group of fanatics brought to the streets. I am not choosing between the fight against terrorism and fight against global warming. We must leave our children more than a world free of terror, we owe them a planet protected from disasters, a viable, liveable planet.
All world leaders at the conference will give a three-minute speech about what their countries are doing to reduce emissions and fight global warming.
Fabius, the president of U.N. Climate Change Conference, said that the "stakes are far too high for us to make do with a minimalist agreement."
Prince Charles, the Prince of Wales, said at the conference:
May I just begin by expressing my profound horror at what happened in Paris two weeks ago, together with untold sympathy for the grieving families and loved ones of those whose lives were so brutally extinguished? My heart is with the courageous French people in their hour of anguish... On an increasingly crowded planet, humanity faces many threats – but none is greater than climate change. It magnifies every hazard and tension of our existence. It threatens our ability to feed ourselves; to remain healthy and safe from extreme weather; to manage the natural resources that support our economies, and to avert the humanitarian disaster of mass migration and increasing conflict. In damaging our climate we become the architects of our own destruction. While the planet can survive the scorching of the earth and the rising of the waters, the human race cannot. The absurd thing is that we know exactly what needs to be done; we know we cannot adapt sufficiently to go on as we are, nor can we build ourselves a new atmosphere. To avoid catastrophe we must restrict climate change to less than two degrees, which requires a dramatic reduction in carbon emissions.
U.N. Secretary-General Ban Ki-moon said:
This is a pivotal moment for the future of our common home, our planet. You can no longer delay... The future of the people of the world, our planet is in your hands. We cannot afford indecision, half-measures or merely gradual approaches. Our goal must be a transformation.
You can watch the world leaders speak live here.
© Copyright IBTimes 2022. All rights reserved.
FOLLOW MORE IBT NEWS ON THE BELOW CHANNELS