Live Updates: At United Nations COP21 Climate Change Summit In Paris, China Urges Europe, US To Lead In Fight Against Global Warming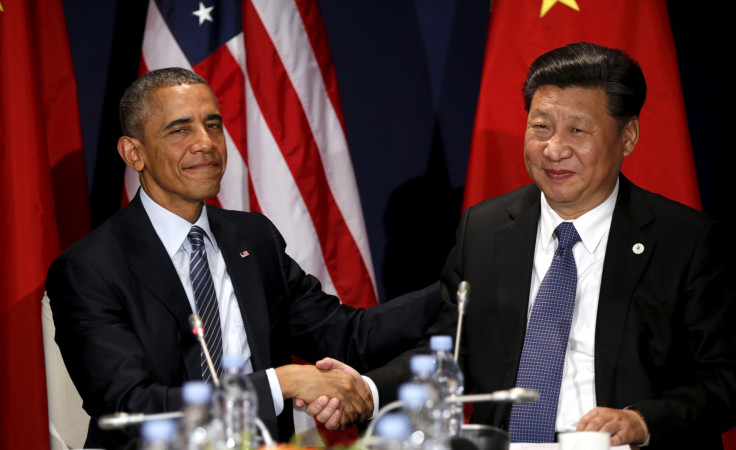 UPDATE: 3:15 p.m. EST -- A familiar topic Monday from speakers at the U.N.'s COP21 climate change summit in Paris was showing the close relationship between climate change and armed conflict. Iran's vice president made the same comparison Monday, saying that the connection between the two should be examined thoroughly.
"I wish to urge the UN system to initiate an assessment on the carbon footprints of war, conflicts, security and terrorism," Masoumeh Ebtekar said, the Guardian reported. "Those perpetuating conflicts are in fact accomplices of the global warming process."
Ebtekar quoted the Quran as a way to show how the needs of developing nations should take precedence when looking into the correlation between climate change and conflict:
"We did not create the heavens and earth but in truth he raised the heaven and established the balance so that you would not transgress the balance. Give just weight – do not skimp in the balance. He laid out the Earth for all living creatures," Ebtekar said.
UPDATE: 2:25 p.m. EST -- While many of the other featured speakers at the U.N.'s COP21 climate change summit in Paris used the international stage to push for the best ways to save the earth by confronting global warming, Israel's prime minister set his sights on Palestine.
"Those who are committed to peace must fight incitement, must speak the truth," said Benjamin Netanyahu, reported Reuters. "If President Abbas is committed to peace he must stop inciting his people against Israel and start condemning the murder of innocents in Israel. Today we must focus on the security, not just of the nations of the world, but of the world itself."
Netanyahu called climate change a "pivotal issue of our times" and said, "As Israel is playing a leading role in fighting climate change, we are also playing a leading role in addressing climate change."
UPDATE: 1:25 p.m. EST -- Bill Gates thanked U.S. President Barack Obama Monday for his "leadership" at the U.N.'s COP21 climate change summit in Paris. Gates, who is typically ranked among the wealthiest people on earth, announced earlier the Breakthrough Energy Coalition, a group of billionaires who are advocating for reliable, affordable energy that doesn't produce carbon.
"Our primary goal with the Coalition is as much to accelerate progress on clean energy as it is to make a profit," Gates wrote on his website Sunday.
UPDATE 1:10 p.m. EST -- The prime minister of the Bahamas said Monday that his nation is especially at the mercy of climate change because it "threatens the very existence of the Bahamas as we know it." It should be a priority to keep global warming below a temperature of 1.5 degrees Celcius, lower than the 2-degrees benchmark other countries aspire toward, Perry G. Christie said during the U.N.'s COP21 climate change summit in Paris, the Guardian reported.
"The Bahamas and other small developing island states are seeing unprecedented drought, extreme weather events, accelerating sea level rise and other life threatening impacts and the science tells us we can only expect more intense impacts over time," Christie said.
UPDATE: 12:45 p.m. EST -- British Prime Minister David Cameron, while addressing the U.N.'s COP21 climate change summit Monday in Paris, said a solution to the global warming crisis must be met with both the poor and wealthy in mind, Reuters reported. "Will we really argue that it was too difficult to transfer technologies to poor and vulnerable countries?" Cameron asked. "So why didn't we do it?"
UPDATE: 12:10 p.m. EST -- U.S. President Obama met with Russian President Vladimir Putin Monday during the United Nations COP21 global climate change conference in Paris. The two discussed topics that included last week's downing of a Russia jet by Turkey's military, as well as Russia's ongoing military operation in Syria.
The full "readout" of the meeting follows as provided by the White House:
UPDATE: 11:25 a.m. EST -- U.S. President Barack Obama urged other world leaders to move forward on policies to slow the pace of climate change during a global conference in Paris Monday. "What greater rejection of those who would tear down our world than marshaling our best efforts to save it," Obama said in his speech, in a reference to Nov. 13 terror attacks across Paris carried out by Islamic State group supporters.
Many world leaders said the stakes were high. "A political moment like this may not come again," U.N. Secretary-General Ban Ki-moon told leaders gathered for the conference. "We have never faced such a test. But neither have we encountered such great opportunity."
UPDATE: 8:25 a.m. EST -- French President François Hollande Monday at the opening day of the United Nations climate change summit in Paris linked the fight against terrorism to climate change initiatives. His comments came as France continued to deal with the aftermath of a series of terror attacks Nov. 13 that rocked the capital, killing 130 and wounding hundreds more.
"I can't separate the fight with terrorism from the fight against global warming," said Hollande, as reported by Reuters. "These are two big global challenges we have to face up to, because we have to leave our children more than a world freed of terror, we also owe them a planet protected from catastrophes."
Original Story:
China urged the United States and Europe Sunday to take the lead when it comes to international climate initiatives, ahead of a United Nations climate change summit that began Monday in Paris. As a rapidly developing country, China is the world's leader in production of carbon emissions, one of the greenhouse gases that contributes to global warming.
"[We] hope the outcome of the summit will underscore the principle of common and differentiated responsibilities," Chinese President Xi Jinping told French President Francois Hollande Sunday, the South China Morning Post reported, citing a state news agency. He encouraged richer, developed countries to make higher sacrifices than developing countries when it came to limiting emissions.
The United Nations COP21 summit on climate change is expected to yield a legally-binding agreement concerning initiatives to stem the problems of climate change by Dec. 11. The conference was being held in Paris despite security concerns following a Nov. 13 terror attack that killed 130 people and wounded several hundred more.
Chinese industries developed at a breakneck speed in the past two decades, and much of the country's factories and machinery have been powered by coal, one of the dirtiest forms of energy, as it produces high amounts of carbon dioxide. Problems of pollution in China have become so great that a northern region of China including Beijing was covered in a cloud of smog larger than the area of Spain for three days.
As a result of these pollution problems, China finds itself at a unique crossroads as one of the world's worst offenders when it comes to pollution as well as one of pollution's greatest victims.
China was not the only developing country to suggest that wealthier nations should carry a heavier burden when it comes to climate change initiatives. Indian Prime Minister Narendra Modi said developed nations that built their wealth on cheap and dirty fuel should make the largest sacrifices concerning emission caps. "The principle of common but differentiated responsibilities should be the bedrock of our collective enterprise," Modi wrote in an op-ed for the Financial Times Monday.
© Copyright IBTimes 2023. All rights reserved.
FOLLOW MORE IBT NEWS ON THE BELOW CHANNELS