Paris Live Updates: Abdelhamid Abaaoud, Alleged Mastermind Of Terror Attacks, Confirmed Killed In Saint-Denis Raid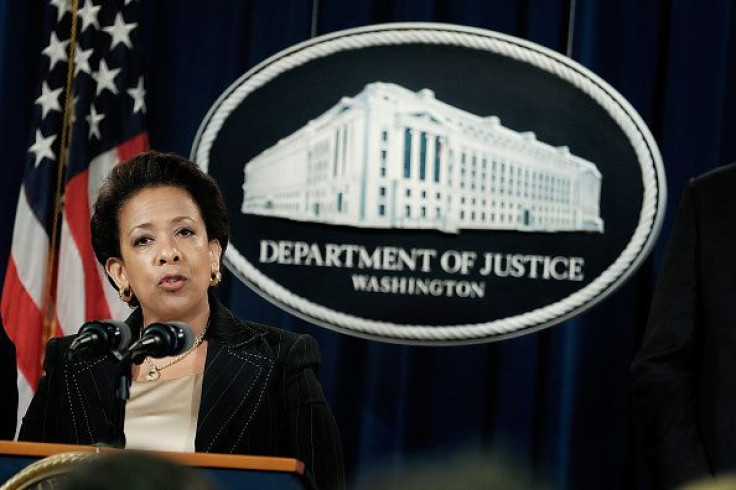 UPDATE: 4:25 p.m. EST -- U.S. Attorney General Loretta Lynch and FBI Director James Comey assured Americans in a press conference Thursday that they should not live in fear of an impending attack on United States soil, according to ABC News. "Do not let fear become disabling," Comey said. "That is what the terrorists want."
Lynch reminded those concerned about the capabilities of American intelligence. "We are operating around the clock as we have since 911 and even before to uncover and disrupt any plot that takes aim at our infrastructure and our way of life," Lynch said. "We take all threats seriously we are acting aggressively to diffuse plots as they emerge."
Several purported Islamic State group videos have circulated threatening an attack on New York City and Washington D.C., following the series of attacks purportedly carried out by ISIS Friday that gripped Paris and killed at 129 people. Lynch does not anticipate the United States facing a similar fate as Paris.
"We see no connection between Paris attacks and the United States," Lynch said
UPDATE: 3:24 p.m. EST -- Prime Minister Manuel Valls told France 2 television Thursday night that France would never be fully protected from terrorists. "There is no such thing as zero risk," he said. "One can always cross borders. There are no sealed borders nor zero risk. We have to do everything we can to protect our borders, and each country must play it's role."
UPDATE: 2:38 p.m. EST -- The U.S. House of Representatives approved Thursday a bill that would halt the admission of Syrian and Iraqi refugees into the U.S. unless their backgrounds are thoroughly vetted by national security agencies. The 289-137 vote sends the bill to the Senate, where it was also expected to go up for a vote. For live updates on the U.S. refugee debate, check here.
UPDATE: 1:58 p.m. EST -- Kuwaiti police have launched a raid on an extremist cell that was believed to be affiliated with the Islamic State group, the country's Interior Ministry said Thursday. Police said five Syrians and citizens of Australia, Lebanon, Egypt and Kuwait were arrested, the Associated Press reported. Kuwait suffered a terrorist attack in June that was claimed by an ISIS-affiliated group. In that attack, a suicide bomber targeted a Shiite mosque, killing 27 worshipers inside.
UPDATE: 1 p.m. EST -- Last Friday's attacks in Paris are expected to place a heavy burden on France's fund to compensate terror victims, according to a new report. More than 2,000 people are reportedly eligible to receive compensation from the Guarantee Fund for Victims of Terrorist and Other Criminal Acts, according to Reuters.
Each victim's family will likely receive up to $32,235, and an additional amount will be given to the families of those who were killed. Compensation will be paid to as many as 10 of each victim's family members, including spouses, children, parents, siblings, grandparents and grandchildren.
UPDATE: 12:45 p.m. EST – A Syrian woman in possession of a Greek passport was detained in Costa Rica, according to the government there, Reuters reported. One day earlier, five Syrians were detained in Honduras for having forged Greek passports, putting a spotlight on Central America as perhaps the latest route to be taken by Syrians traveling from their war-torn homeland.
UPDATE: 12:30 p.m. EST -- Several Italian landmarks as well as other establishments in the country may be targeted by terrorists, the U.S. has warned officials in Italy, according to a new report. St. Peter's Basilica in Rome and the Duomo cathedral and La Scala opera house in Milan were named as "potential targets," as well as other houses of worship, hotels, restaurants and other places where people congregate, CBS News reported Thursday.
"The Italian authorities are aware of these threats," according to the U.S. Embassy in Rome, which distributed the alert. It was immediately unclear if the "terrorists" referenced in the alert were affiliated with the Islamic State group, which claimed reponsibility for last Friday's deadly terror attacks in Paris.
UPDATE: 12:15 p.m. EST -- Those who have condemned last week's terrorism in Paris but have not acknowledged the violence in Israel as such are hypocrites, Prime Minister Benjamin Netanyahu's declared on Facebook Thursday, the Jerusalem Post reported.
"Almost all the terrorists who have attacked us during this wave of terrorism have either been killed or arrested," the statement said in part. "There is no immunity for the terrorists. We will settle accounts with them, extract a price from their families, destroy their homes and revoke their residency."
UPDATE: 11:45 a.m. EST -- A new raid in northern France was reportedly underway Thursday evening, local time, where authorities used explosives to open a door at a private residence. There has been one reported arrest near the Belgian border in Charleville-Mézières, according to a tweet in French from a journalist, but details were not immediately available.
UPDATE: 11:30 a.m. EST -- The five Syrians who were detained Wednesday in Honduras have been identified by authorities there. The suspects, who were all in possession of forged Greek passports, from the cities of Homs and Hasaka, were identified by the Honduran migration department as: Majd Ghanout Kousa, Fady Freej Shehada, Mazen Mikhail, Lourans Samaan and William Ghanem, Reuters reported. They were scheduled to appear in a local court, though it was unclear when.
UPDATE 10:50 a.m. EST -- The world needs a "comprehensive counterterrorism strategy that is bigger than any one group," Democratic presidential candidate Hillary Clinton said Thursday in reference to the recent spate of global terrorism that has been claimed by the Islamic State group. "This is a worldwide fight, and America must lead it," Clinton said as she delivered a speech on national security at the Council of Foreign Relations in New York City.
"Now it's our turn to stand in solidarity with France and all of our friends," she continued, adding that "time is of the essence" to "defeat and destroy ISIS." Part of the strategy to do so, Clinton said, was "to break the group's momentum, and then break its back."
UPDATE: 10:25 a.m. EST – French police are now authorized to be armed when they are off duty, according to a new report. As long as officers wear an armband to identify themselves as police, they will be legally permitted to draw and fire their weapons should another terror attack take place during hours outside of their normal work shifts, Agence France-Presse reported Thursday.
UPDATE: 9:23 a.m. EST -- The man identified as the ringleader of last week's Paris terror attacks had some level of involvement in four other planned attacks in France this year before they were foiled, reports Agence France-Presse. Abdelhamid Abaaoud was "implicated" in all but two of the planned attacks that were ultimately prevented by French authorities.
UPDATE: 9:15 a.m. EST – The eastern Mediterranean island of Cyprus has offered France the use of its primary airbase for strikes in Syria targeting the Islamic State group, which has claimed responsibility for launching last Friday's terror attacks in Paris. Cyprus is "very glad to provide them with this solidarity and assistance," Foreign Minister Ioannis Kasoulides said Thursday, according to the Associated Press.
UPDATE: 8:50 a.m. EST -- The former longtime owner of the Paris concert hall that was targeted in last Friday's terror attacks hopes it will continue to host concerts, according to a new report. Gunmen stormed the Bataclan live music venue, shooting patrons and ultimately blowing themselves up.
"I have huge hope that with the enormous outpouring of solidarity in France and worldwide there is a human desire to make sure that this place is not assassinated," Joel Laloux told Agence France-Presse from Israel. Bataclan has been putting on live music shows for nearly 40 years, Laloux said.
(The Spanish tweet below reads: "The Bataclan in Paris belonged until September to the French Jew Joel Laloux, who sold it to move to Israel.")
UPDATE: 8:30 a.m. EST -- Certain websites and social media networks will be blocked in France after a parliamentary vote Thursday, reported Agence France-Presse. The move follows a related vote earlier approving a three-month extension of the state of emergency in France.
UPDATE: 8:20 a.m. EST -- The woman killed Wednesday during an early morning raid in the Parisian suburb of Saint-Denis has been identified as a cousin of Abdelhamid Abaaoud, the man authorities named as the mastermind behind last Friday's deadly terror attacks in Paris. Hasna Aitboulahcen blew herself up with a suicide bomb vest as police launched the raid, local law enforcement confirmed Thursday, reported the Associated Press.
UPDATE: 8:10 a.m. EST -- Police in Belgium raided six locations near Brussels Thursday that they say have been tied to one of the suicide bombers in last Friday's deadly attack in Paris, the Local reported. Bilal Hadfi blew himself up outside of the French national stadium, officials said. The raids took place in the Brussels suburbs of suburbs of Uccle, Jette and Molenbeek. It was not immediately clear if the raids yielded any significant findings.
UPDATE: 7:44 a.m. EST -- The suspected ringleader of the Paris attacks, Abdelhamid Abaaoud, was killed Wednesday in a police raid in Saint-Denis, outside Paris, French prosecutors said. His body was found riddled with bullets and shrapnel. Abaaoud, 27, of Belgium, was identified from his fingerprints.
Original story:
The French Parliament unanimously approved a three-month extension of the state of emergency Thursday, as authorities continue to investigate last week's terrorist attacks in Paris that killed 129 people and wounded hundreds of others. President François Hollande is scheduled to with U.S. President Barack Obama in Washington on Nov. 24 and then with Russian President Vladimir Putin in Moscow on Nov. 26 to discuss cooperation in the fight against the Islamic State group, which claimed responsibility for the Paris attacks.
Meanwhile, Belgian authorities arrested one person from the Laeken area of Brussels, where authorities launched six raids in connection to Paris suicide bomber Bilal Hadfi. Police were interrogating the detainee, however, there was no indication about what connection the person has with the attacks.
Spain's blockbuster clash between Real Madrid and Barcelona soccer teams on Saturday will see an unprecendented series of security measures in place. The exact number of security personnel will be decided in a meeting Thursday among between representatives of Spanish police, local and national government as well as the two soccer clubs.
"Security will be greatly reinforced. There will be a lot of security personnel to control not only the access to the stadium, but also the outskirts and the transport that will bring fans to the stadium," Spanish Interior Minister Jorge Fernandez Diaz told AFP news agency Thursday.
Muslim students at Florida State University in Tallahassee on on Wednesday handed out some 150 bags of candy tied with a peaceful verse from the Quran. The saying, from chapter 5 verse 32, reads: "Whoever kills an innocent life, it is as if he has killed all of humanity. And whoever saves one life, it is as if he has saved all of humanity."
Florida State senior Lamia Araa said the students are giving out the candy bags to "come out and articulate the true message of Islam in a warm, compassionate, Islamic way," and to show that the Islamic State group and its ideology is not representative of the religion.
"In light of the Paris attack, we, as Muslims, are just trying to reach out to the general public and explain that despite their name, ISIS has absolutely nothing to do with Islam," Arafa told USA Today. "In fact, Islam completey forbids their acts. It's not just disagreement, Islam absolutely, completely 100 percent prohibits their actions. They're using a religion to justify an action that's completely forbidden by that religion."
FOR FREE to continue reading
✔️ Unlock the full content of International Business Times UK for free
offer available for a limited time only
✔️ Easily manage your Newsletters subscriptions and save your favourite articles
✔️ No payment method required
Already have an account?
Log in
© Copyright IBTimes 2023. All rights reserved.