Paris Saint-Germain Gains Interest For Real Madrid's Former World Cup Top Scorer
KEY POINTS
Real Madrid's lineup is considered deep with multiple stars on their roster
James Rodriguez has been underutilized for Real Madrid in the past few months
It has been reported that PSG has gained interest for Rodriguez
The roster of Real Madrid is considered elite with several top players across the world in their lineup. But as deep as their squad is, there are stars that are not as utilized as expected. This is the case for James Rodriguez who has garnered interest from Paris-Saint Germain.
The relationship between Zinedine Zidane and Rodriguez hasn't been the smoothest as PSG has been attracted to the two-time Champions League winner. While Real Madrid remains to be overpowered with great offensive players, it's often questioned on how Rodriguez's future looks like with the team.
The 28-year-old has had his share of victories throughout his career and he knows what it takes to perform at an elite level on the field. It was a telling sign that someone of Rodriguez's caliber only had eight La Liga appearances this season. In his entire stay with Real Madrid, Rodriguez showed up for 125 appearances, 37 goals and 42 assists.
With all of Rodriguez's accomplishments, he is definitely an asset any club could benefit from in the near future. While PSG is also considered a deep squad, it also won't affect the team's chemistry if they insert him into the lineup, per Fansided's The Real Champs. Having an older attacking player for PSG can be beneficial for their club to complement their young stars with an experienced veteran.
It will be vital to see how Real Madrid moves forward with Rodriguez and if PSG can find the right deal for the Colombian star. Expectations are high for both organizations and it'll be important how they will build their team for the years to come.
The manner of how key players have constantly stepped up for Real Madrid has been evident in their recent La Liga title run. Tallying 11 trophies as a manager for Real Madrid, Zidane knows how to maximize every player he puts on the field. With how Rodriguez has been barely used for Los Blancos, moving out of the club may prove to be a good move for the former World Cup top scorer.
Boasting multiple Champions League titles under Zidane's leadership, Real Madrid is looking to continue on winning moving forward. With players such as Rodriguez attracting top-tier suitors, it will be interesting to see how the Santiago Bernabeu-based squad adjusts in the near future.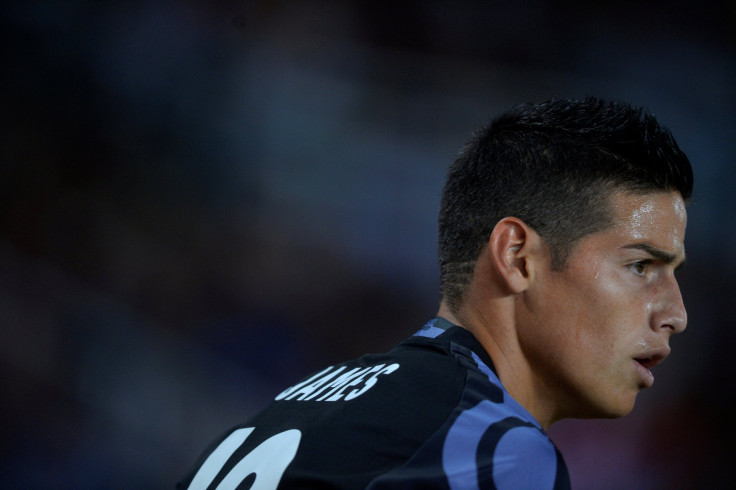 © Copyright IBTimes 2023. All rights reserved.