Park Geun-hye Scandal Update: South Korean President Will Not Resign In April, To Wait For Court Verdict Over Impeachment, Report Says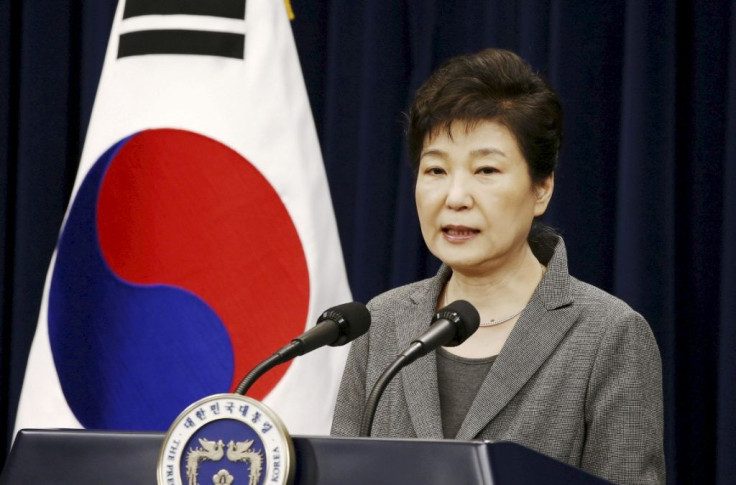 Embattled South Korean President Park Geun-hye will not resign in April, as reported earlier, and instead wait for the constitutional court's decision on her impeachment if the parliament votes for it later this week, Yonhap News Agency reported Tuesday, citing leader from the ruling Saenuri Party. Park faces the impeachment motion Friday over a political influence scandal that triggered uproar in the country.
Chung Jin-suk, the chairman and floor leader of ruling Saenuri Party, said Tuesday that Park agreed when the party decided to shelve the original plan to have her resign in April and hold the presidential election in June, Yonhap News Agency reported.
If Park is impeached by the parliament, the constitutional court's six of nine judges will have to vote in agreement to support the impeachment. Her powers will be suspended till the court gives its verdict, which may take as long as 180 days, according to Yonhap.
On Sunday, 29 lawmakers of the ruling Saenuri Party agreed to support the impeachment even though Park offers to step down, party member Chang Je-won reportedly said on a Facebook post. The decision was made after seeing large protest against the president Saturday. These lawmakers would provide the opposition with almost enough votes to achieve the required bar of 200 to pass the impeachment in the 300-seat National Assembly.
Park has about 15 months left in the office. She was hit with the political influence scandal after her close aide Choi Soon-sil was arrested over allegations of interfering in government affairs and influencing the president. Choi also faces accusations of pressing companies into giving a combined 77.4 billion won ($65.5 million) to two nonprofits, which were run by her — the Mir and K-Sports foundations.
In impeached, Park will become second president after Roh Moo-hyun who was impeached in 2004 over allegedly calling on voters to support his party during parliamentary elections — a violation of his neutrality.
© Copyright IBTimes 2023. All rights reserved.