South Korean President Resignation: All You Need To Know About Scandal Surrounding Park Geun-Hye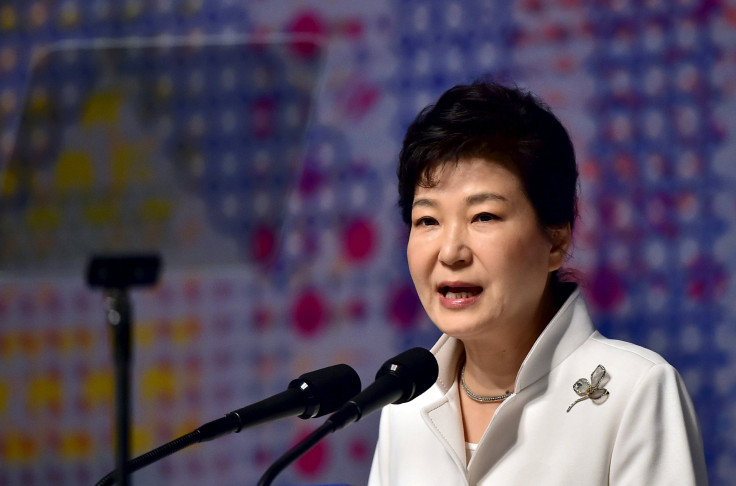 Following protests by thousands of people over five weeks in South Korea, scandal-hit President Park Geun-Hye said Tuesday she will step down from office once the parliament puts a plan for a "safe transfer" of power in place.
Park, who has about 15 months left in office, found herself in the middle of a political influence scandal after her close aide and confidante Choi Soon-sil was arrested for allegedly meddling in government affairs and exerting influence over the president. Choi has also been accused of pressurizing companies into giving a combined 77.4 billion won ($65.5 million) to two nonprofits that were under her control — the Mir and K-Sports foundations.
"I will leave the matters about my fate, including the shortening of my presidential term, to be decided by the National Assembly," Park said Tuesday in a live address to the nation. "If the ruling and opposition parties discuss and come up with a plan to reduce the confusion in state affairs and ensure a safe transfer of governments, I will resign from the presidential position under that schedule and by processes stated in law."
The opposition, however, has referred to the announcement as an attempt to delay impeachment, after prosecutors said they believed the president conspired in the criminal activities of Choi, her so-called spiritual adviser.
But who exactly is this Choi Soon-sil?
After Park's father and former military dictator Park Chung-hee was assassinated in 1979, Choi's father Choi Tae-min, leader of a religious cult, reportedly acted as a mentor for Park, establishing a strong relation between the two families.
Other than being Park's close friend, Choi was also the president's spiritual advisor and her former husband, Chung Yoon-hoi, served as an aide to the Park when she was a lawmaker. Choi, who has been indicted by South Korean prosecutors, rarely made public appearances and was relatively unknown before the political scandal — the biggest scandal to hit South Korea in recent times — surfaced.
Earlier this month, prosecutors charged two of Park's former aides in connection with the wide-ranging scandal. The president's former senior advisor for policy, Ahn Jong-beom, is facing charges of abuse of power and attempted extortion and ex-private secretary Jeong Ho-seong was arrested earlier this month on suspicion of leaking confidential documents to Choi.
Cha Eun-taek, a pop music video director in the country, has also been charged with abuse of power, coercion and embezzlement and will be tried for allegedly using his ties to the president's confidante to win major projects.
Last week, Lee Young-ryeol, chief prosecutor of the Seoul Central District Prosecutors' Office said evidence showed "the president was involved as a conspirator in a considerable part of the criminal activities by suspects Choi Soon-sil, Ahn Jong-beom and Jeong Ho-seong," referring to the two former presidential aides.
"However, because of the president's impunity from prosecution stated in Article 84 of the constitution, we cannot indict the president. The special investigation headquarters will continue to push for an investigation of the president based on this judgment," Lee added, saying Park would be questioned soon.
Despite her presidential immunity, Park is liable to be investigated, the Associated Press reported.
While Park's term ends in February 2018, she is facing immense pressure from the public and the opposition to resign or face impeachment. The 300-member National Assembly, or parliament, was expected to vote on an impeachment bill before Dec. 9, which is the date the legislative session ends. If 200 members vote for the motion, Park would be impeached.
The likelihood of the impeachment to go through is high as there are 172 opposition and independent lawmakers who want Park removed. In addition to this number, they will need 28 of the 128 lawmakers from Park's conservative Saenuri Party to break ranks. While some of them have already said they support the impeachment, 30 to 40 of Park's lawmakers are reportedly set to change sides.
If the National Assembly votes to impeach Park, Prime Minister Hwang Kyo-ahn — an unelected official — will serve as the acting president till the Constitutional Court takes its decision on ratifying the impeachment vote, a process that could take up to six months. Hwang, however, is deeply unpopular with the masses.
If Park steps down, she will be the first South Korean leader to resign since the country's first president Syngman Rhee quit and fled to Hawaii during a popular uprising in 1960. On the other hand, if the president is impeached, she will again be second to former president Roh Moo-hyun who was impeached in 2004 after allegations of calling on voters to support his party during parliamentary elections, a violation of his neutrality.
© Copyright IBTimes 2022. All rights reserved.
FOLLOW MORE IBT NEWS ON THE BELOW CHANNELS