Pathankot Air Base Attack: Indian Forces Prepare For Final Assault As Siege Enters Third Day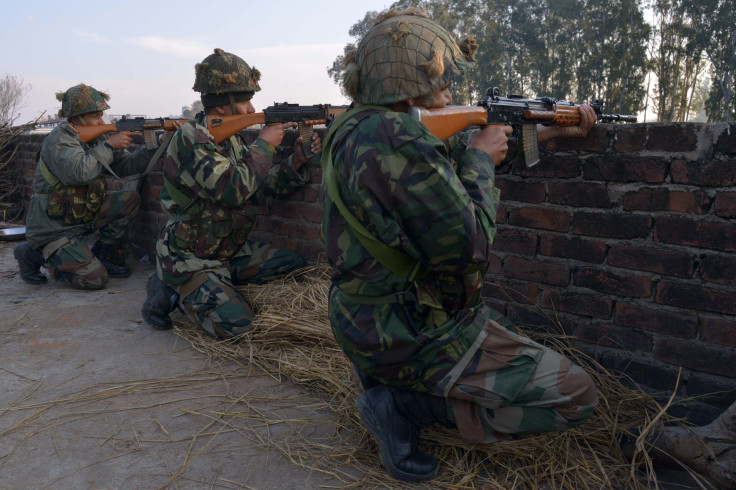 The siege at an Indian air force base entered its third day as security forces prepared for a final assault Monday against the remaining terrorists who, along with four others, charged at the base early Saturday, killing seven military personnel. India's Home Secretary Rajiv Mehrishi said Sunday that two gunmen were still holed up at the Pathankot airbase in the northern state of Punjab, near the Pakistan border.
A senior Indian army officer said that the gunmen, hiding at a two-storey building that served as accommodation for air force personnel, opened fire on security forces Monday, NDTV, a local news channel, reported. Troops from India's elite National Security Guard, however, said the situation was "under control." Four militants have been reportedly killed so far.
Manish Mehta, an Indian army spokesman, told Reuters that the military was working at a "very fast pace" to defuse live hand grenades and collect the remains of the militants. "The air base is large and we have been working all night to ensure that the base is totally in our control," Mehta said.
Indian Prime Minister Narendra Modi reportedly held a meeting with top authorities Monday morning and the National Investigation Agency is likely to register a case over the incident Tuesday.
While no group has claimed responsibility for the attack, authorities said the siege resembled previous suspected assaults by Jaish-e-Mohammed — a terrorist outfit that India accuses Pakistan of supporting. According to the Hindu newspaper, a top government official said the attackers were trained by a professional armed force in Pakistan. The attack, condemned by Pakistan, came a week after Modi visited Pakistan, and was seen as an attempt to strain recently improved ties between the two nuclear-armed rivals.
Indian intelligence reportedly traced phone calls made by the terrorists to handlers in Pakistan. "Pakistan is our neighbor, we want peace, but any terror attack on India will get a befitting response," India's Home Minister Rajnath Singh said Saturday.
© Copyright IBTimes 2023. All rights reserved.