Patriots QB: Will Mac Jones Or Bailey Zappe Start Against Jets? Bill Belichick Won't Say
There's no more denying that the New England Patriots have a quarterback controversy. Mac Jones lasted just three series in his first game back from an ankle injury before he was replaced by Bailey Zappe Monday night.
The quarterback change didn't stop the Patriots from suffering an embarrassing 33-14 loss at home against the Chicago Bears. Following the contest, head coach Bill Belichick was unwilling to name a starting quarterback for the team's upcoming game against the New York Jets.
"We just finished the game," Belichick told reporters when asked who would start in Week 8.
Jones started for the first time since suffering a sprained ankle in Week 3. Last year's first-round draft pick completed just three of six pass attempts for 13 yards. Jones's third and final drive ended with an interception, which would be his final pass of the night.
Reports before the game suggested that Jones and Zappe could both see time under center. Belichick refuted the idea that Jones was benched because of his poor play, indicating that the plan had always been for Zappe to play because of Jones' health.
"That's not what it was, but you can write whatever you want to write," Belichick said in regard to the idea that Jones was benched. "That's not what it was."
Zappe appeared to inject new life into a listless New England offense. Trailing 10-0 when Jones threw his final pass, the Patriots quickly took a 14-10 lead after Zappe's first two possessions. Zappe hit a wide-open Jakobi Meyers for a 30-yard touchdown pass just 132 seconds after coming into the game. Less than four minutes of game-time later, the Patriots completed a second touchdown drive.
That was New England's last score of the game. The Bears ended the contest with 23 unanswered points. Zappe threw a pair of interceptions. The rookie completed 10 of his final 18 passes for only 88 yards.
Prior to losing against Chicago, New England won both of Zappe's starts. The fourth-round pick completed 74.5% of his passes for 497 yards and three touchdowns in those wins. The Patriots totaled 67 points, and Zappe's only interception was the result of a dropped pass.
The Patriots went 1-2 in Jones' first three starts of the season. Jones averaged 262 passing yards per game. He had two touchdown passes and five interceptions. Jones' turnovers played a key role in both of New England's losses.
It was only a season ago that Jones was the runner-up for the Offensive Rookie of the Year award. Jones was the top quarterback performer of last year's draft class, going 10-7 with 3,801 yards, 22 touchdowns and 13 interceptions. Jones was even selected to the Pro Bowl after leading the Patriots to the playoffs.
"I think we had a good plan, as always, just to go throughout the week and figure out what we want to do for the game," Jones said Monday. "Coach Belichick was very good about communication and felt like I was good to play, and we had a good plan there, and obviously didn't play well enough there."
The Patriots visit the Jets Sunday afternoon as the last-place team in the AFC East.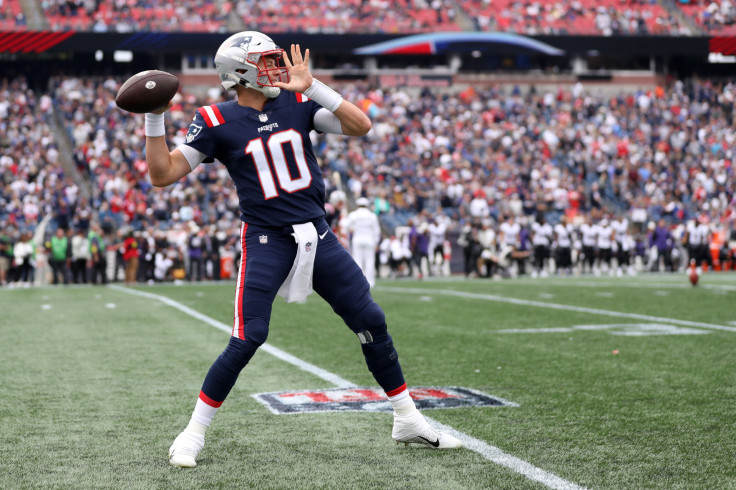 © Copyright IBTimes 2023. All rights reserved.