A Pause In Canada-India Trade Negotiations Could Have 'Dicey Repercussions,' Experts Say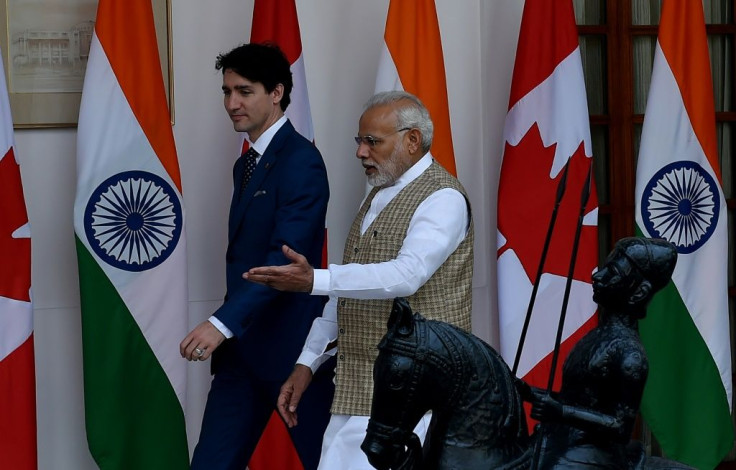 Ahead of the crucial G20 summit in New Delhi, Canada unexpectedly halted talks on a proposed trade treaty with India on Friday. Experts say the unprecedented pause in the negotiations will benefit no one and could have major repercussions.
The latest development comes just months after the two countries said they were aiming to finalize the interim agreement, officially dubbed the Early Progress Trade Agreement (EPTA), this year in order to expand trade and investment between each other.
Sanjay Kumar Verma, India's envoy to Canada, said Ottawa sought a pause on the negotiations for the trade agreement "within the last month." He, however, didn't reveal the reason for it.
"Trade negotiations are long, complex processes. And we've paused to take stock of where we are," the government official told reporters ahead of Canadian Prime Minister Justin Trudeau's visit to New Delhi to attend the G20 Summit on Sept. 9-10. "There is an honest request from the Canadian side, and we have no reason not to accept it."
New Delhi had planned to hold bilateral free trade talks with Canada and other nations on the sidelines of a G20 summit.
"The Canadian side conveyed that they were taking a pause in India-Canada negotiations on the Early Progress Trade Agreement. This will enable us both to take stock of progress and next steps. We will decide by mutual agreement when negotiations will resume," the official told Press Trust of India.
Abhishek Verma, a research analyst at New Delhi-based Manohar Parrikar Institute for Defence Studies and Analyses (MP-IDSA), pointed out that the halt in the negotiations is "overblown disproportionately," adding it will benefit none.
"Trade negotiations are a complex procedure that requires a thorough assessment from the perspective of various stakeholders involved. Although the Indo-Canadian relationship sometimes hits thorny grounds (especially on Khalistan issues), making preposterous assumptions and linking the decision to halt trade talks with the 18th G20 Summit, will benefit none," Verma told International Business Times.
The two nations have been in talks on and off since 2010 on a comprehensive economic partnership agreement. In 2022, they resumed the negotiations after abandoning the plans for the deal in 2017. No decision has been finalized even after more than half a dozen rounds of talks.
"Having 10 rounds in 13 months is a huge deal," Verma told IBT. "Sometimes it progressed so fast that stakeholders were not able to imbibe the outcome."
While India's interest lies in duty-free access to textile and leather products, Canada wants an easing of trade norms for dairy and agricultural goods.
"The very recent halt in the trade negotiation between India and Canada will probably have a lot of unpalatable and dicey repercussions. India may not be able to access duty-free export of textiles and leather to Canada, which is 17%, as it was concluded in the previous ministerial meeting," Utkarsh Chauhan, a New Delhi-based independent trade expert, told IBT. "Delays in removing certain trade barriers between the two countries may also impact exports from Canada to India. Moreover, it will tarnish the efficacy of the $6.5 billion trade plan between the countries."
According to Goldy Hyder, president of the Business Council of Canada, the talks may have been paused due to tensions over the Khalistani movement in Canada, which has been demanding the creation of an independent Sikh state called Khalistan in India.
"I don't think any country would want the sovereignty, of internal affairs of a country, to be interfered with by a third party. There are some elements that I would describe as mischievous to want to disrupt the trade deal," Hyder told Global News Canada.
Pro-Khalistani demonstrations outside the office of the Indian High Commission in Canada have increased in recent months, flaring tensions in Indo-Canada ties. In June, Hardeep Singh Nijjar, a prominent Sikh leader, was murdered outside a temple in Canada's British Columbia. Weeks later, hundreds of Sikh separatists took to the streets in Toronto and other parts of the U.K. and the U.S. to protest against the Indian government.
Meanwhile, the bilateral trade between the countries has increased significantly by 25% from $7 billion in 2021-22 to $8.2 billion in 2022-23.
© Copyright IBTimes 2023. All rights reserved.