Payroll Tax Negotiations Mired in Election-Year Politics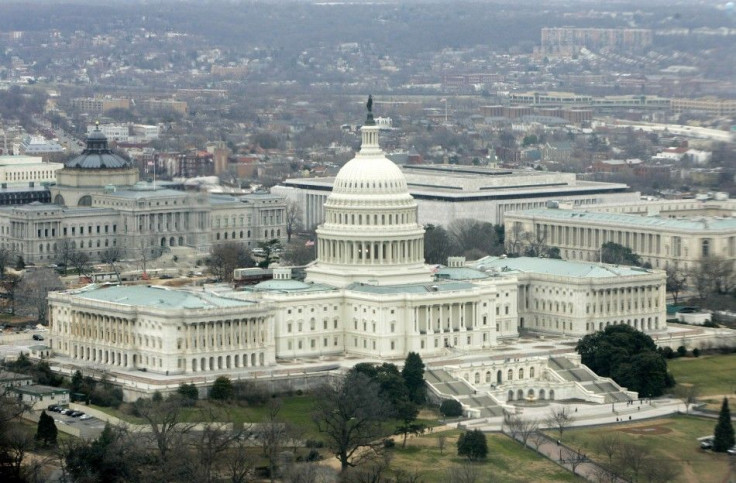 (Reuters) - Republican and Democratic leaders accused each other of bad faith negotiations on Tuesday, as both parties played hardball in talks to extend a tax cut for 160 million workers.
Both sides agree the payroll tax cut should be renewed for a full year before it expires on February 29, and its extension has been seen as a foregone conclusion. Moody's Analytics chief economist Mark Zandi told Congress that the U.S. economic recovery could easily be derailed if the payroll tax cut was allowed to expire.
But the parties are far apart over how to pay for it and the rancor of election-year politics complicates lawmakers' work.
We are right back to where we were last December, when negotiations broke down during a previous payroll tax battle, Senate Majority Leader Harry Reid complained to reporters.
One Republican negotiator, House Ways and Means Committee Chairman Dave Camp, said that the harsh rhetoric of both Democratic and Republican leaders, who accuse one another of standing in the way of a deal, was not helpful.
Both parties are betting that the other side will blink first, a replay of the brinkmanship during last year's budget battles that brought the U.S. government to the edge of a shutdown three times and cost the country its coveted AAA credit rating from the Standard & Poor's rating agency.
Reid criticized Republican efforts to roll back some environmental regulations as part of the payroll tax cut effort.
He characterized the Republican strategy as: 'We'll give you a payroll tax cut ... if you will let us continue to put things like arsenic and mercury in the water.'
His Republican counterpart in the Senate, Mitch McConnell, retorted that if Reid was suggesting that Republicans were only willing to extend the tax cut if they're allowed to poison Americans' drinking water, then I think it's pretty safe to say that they (Democrats) are the ones who've veered away from good faith negotiations.
The fight, a continuation of last year's bitter dispute over President Barack Obama's payroll tax cut initiative, carries major ramifications for the U.S. economy and for Democratic and Republican re-election prospects in November.
Extending the lower tax rate through 2012 would give the average U.S. family about $1,000 more in spending power. That in turn would inject more than $100 billion into the U.S. economy at a time when it is showing signs of strengthening.
Some economists think the legislation could add as much as one percentage point to economic growth this year if it also extends long-term jobless benefits, as is planned.
TIME RUNS SHORT
Only three weeks remain before the 4.2 percent payroll tax ratchets up to 6.2 percent, but in fact the deadline is even closer because Congress is scheduled to begin a nine-day recess starting on February 18.
By next week, Democratic and Republican congressional aides are hoping that a bipartisan negotiating group will show progress toward a deal.
But Democrats, who feel they have the upper hand in the negotiations after scoring big with voters during last December's fight, could hold out, leaving it to House and Senate leaders to craft a final deal.
The fight in Congress is over how to cover the cost - roughly $170 billion - of continuing the tax cut for 10 more months, along with existing unemployment benefits and keeping Medicare doctor payments at current rates.
As Republican and Democratic leaders in the Senate and House of Representatives jousted with each other, a 20-member bipartisan panel of negotiators met for the fourth time.
They argued over whether to continue a pay freeze on federal workers for another year, saving around $26 billion, and whether to squeeze $31 billion out of the Medicare healthcare program for the elderly.
One negotiator, Democratic Senator Benjamin Cardin, warned that it could be a very tough month.
That outlook already was clear on Monday when Reid warned that he was preparing a backup plan in case negotiations stalled. His comments angered Republican leaders who accused him of failing to bring a credible plan to the negotiating table.
In the meantime, Republicans have sharpened their message and are pumping out statements of support for the payroll tax.
One can only wonder why Senate Democrats are dragging their feet and not coming forward with a plan, said House Speaker John Boehner, the top Republican in Congress. It's time for the Senate to come forward and put their plan on the table.
A senior Senate Democratic aide said Reid's backup legislation would include revenue increases, but it was undecided whether those could include a controversial millionaires' surtax or ending some tax breaks to the wealthy, such as oil companies enjoying high profits.
House Republican leaders urged Democrats to propose a new plan for covering the cost of the payroll tax cut and to do so with spending cuts, not tax increases.
But many Democrats think Republicans should be the ones taking steps toward compromise.
One Democratic aide, referring to last year's budget fights, said: They're (Republicans) so used to us coming to them and caving in. They haven't realized that things have changed and Democrats are now in the stronger negotiating position.
--
© Copyright Thomson Reuters 2023. All rights reserved.