Pennsylvania Fracking Bill Puts Gag Order On Doctors, Union Says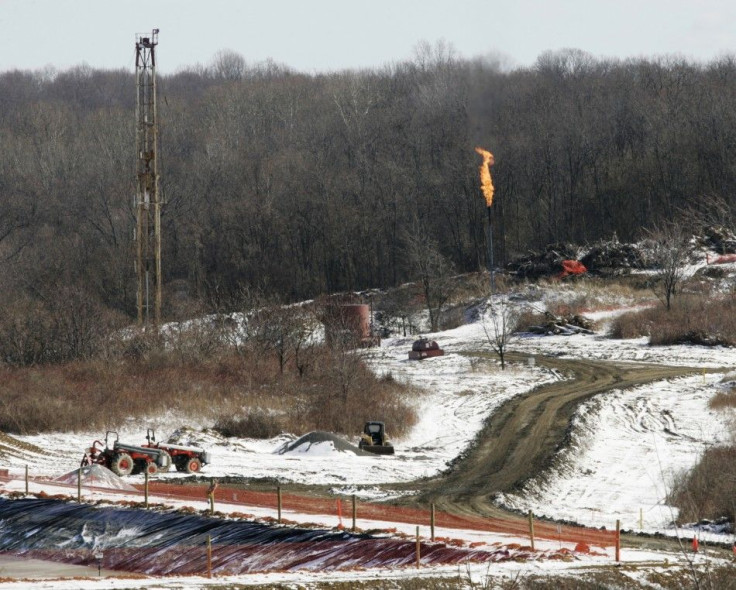 A new law on hydraulic fracturing in Pennsylvania, intended to protect the public against health risks some say the process known as fracking poses, could make it harder for doctors to relay that information to patients, health care professionals in the state claim.
Oil and natural gas companies will be required to give state regulators information about the chemicals used in drilling for gas. But according to the Pennsylvania Association of Staff Nurses and Allied Professionals, the new law also prohibits doctors from sharing that information with their patients.
The 5,000-member union -- the biggest group of registered nurses and paramedics in the state -- says that under the law enacted in February, doctors are barred from sharing information about the use or toxicity of drilling chemicals. The union is troubled by a confidentiality agreement doctors are legally obliged to enter into with drilling companies.
Under Act 13, sponsored by state Rep. Brian Ellis, a Republican, doctors must enter into a verbal acknowledgment [with drilling companies] that the information may not be used for purposes other than the health needs asserted and that the health professional shall maintain the information as confidential.
According to Jerry Silberman, a spokesman for the medical professionals union, the confidentiality clause acts as a gag order. The law is written in such a way, he said, that If a doctor suspects a patient suffers from symptoms brought about by fracking, the doctor isn't legally allowed to inform the patient of those suspicions.
The law's sponsor, Ellis, said this isn't the case. The legislation requires that drillers give the state's Department of Environmental Protection information about exactly what chemicals are being used in their drilling processes, Ellis said, adding that medical professionals will be allowed to obtain this information, which they could then use to help treat patients.
Stephen Miskin, a spokesman for the Republican caucus in Pennsylvania's House of Representatives, said the confidentiality agreement won't prevent physicians from disclosing information to patients.
The clause is designed to prevent proprietary information from reaching the general public, he said. A doctor informing patients, Miskin asserted, doesn't constitute public disclosure as outlined in the law.
Although it doesn't take effect until April 14, the law is already a source of controversy in Pennsylvania, where the introduction of fracking has triggered a boom in natural gas drilling. Fracking involves blasting underground rock formations with millions of gallons of water laden with toxic chemicals, including benzene and xylene, as well as sand, to extract gas inside the rock.
Silberman said the union is preparing an offensive against the confidentiality clause and will be speaking to doctors across the state about how to circumvent it.
We feel that this act imposes on doctors and nurses limitations that violate their moral and legal responsibilities, the spokesman said.
Health professionals have an obligation to treat patients, Silberman said. To do so, they need the ability to discuss freely with them. Otherwise, they may face legal consequences: Doctors can get sued here. I don't know that this act will protect them from that.
Details remain to be worked out before the law goes into effect next month, Ellis said.
Because the law was just recently signed, a disclosure agreement has not yet been completed, the legislator said. In the coming weeks, state agencies and the various medical societies and associations in Pennsylvania will be working together to develop one. And we will work to ensure that agreement puts patient safety first, while also making sure that no health care provider is permitted to release proprietary information for financial gain.
According to Ellis, the goal of the confidentiality clause is to prevent the sale or transfer of company-owned information about chemicals to competitors, or to environmental groups that could then use it against the industry.
Pennsylvania's Health Department, which supports Act 13, believes the bill gives doctors unfettered and fully informed communication with their patients, said Christine Cronkright, a department spokeswoman.
The law protects proprietary information from disclosure to the general public, but not from environmental or health officials, she said. The new law explicitly requires this information be disclosed to medical professionals so that they may provide treatment should the need ever arise.
According to John Suggs, managing director of Environmental Health Project, a nonprofit group, fracking is already making people sick. Almost 100 people from as far as Ohio, he said, have showed up at the group's facility seeking medical attention in the past month, alleging symptoms tied to fracking.
What would happen down the road, if several people who've agreed on nondisclosure have identical symptoms? Might that become a public health issue that might require additional disclosure? Suggs said.
Some communities in Pennsylvania, which is at the heart of the national debate surrounding fracking, contend the practice contaminates groundwater. The U.S. Environmental Protection Agency is reviewing those allegations but released preliminary data in early March that suggests the industry hasn't contaminated groundwater in the state.
© Copyright IBTimes 2023. All rights reserved.