People's Liberation Army Bans Alcohol: How China's Drinking Culture Hurts The Military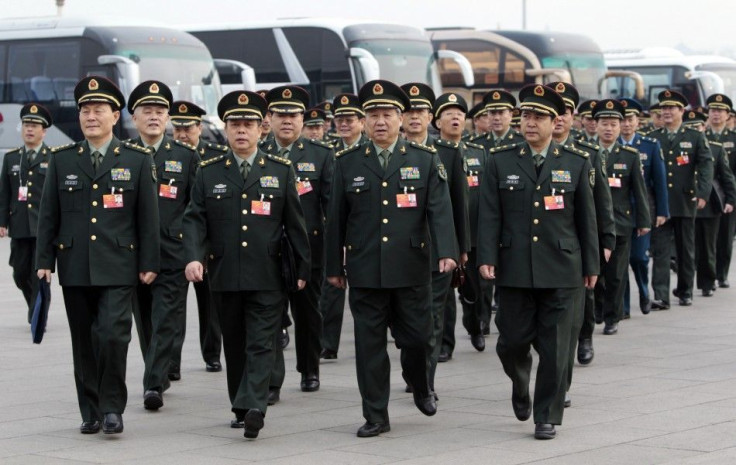 Even before officially assuming the office of China's president, Xi Jinping has already ordered several changes to the People's Liberation Army, the country's military. After being appointed president by last November's Communist Party congress, taking the place of Hu Jintao in early 2013, Xi ordered the army, air force and navy to focus on being combat-ready. Now, he has ordered a ban on alcohol at lavish banquets in the military.
Xi has good reason to enforce the ban: Drinking in the armed forces is so widespread that it is hurting China's military readiness. A large portion of PLA money has funded the recreational alcohol use of the military, and the problem is so bad that it's being acknowledged by official sources.
According to the PLA Daily, the official newspaper of the military, one airborne unit spent half of its "reception fees" on alcohol. "Reception fees" is Party jargon for money allocated for entertainment, official banquets, international lodging and other related fees.
Beyond that, the large intake of alcohol has seriously affected the health of PLA members. Several alcohol abuse cases have been found among PLA personnel, and are reflected in the military's regulation fitness tests: One armored division's tests returned a high rate of alcohol-related high blood pressure and liver disease among the troops.
Part of the problem is rooted in the drinking culture of the military. Lower-ranking officers will often toast their superiors at banquets with high-proof Maotai liquor, many times over, as a sign of respect. (The fermented-sorghum Maotai is China's most expensive domestic spirit, historically popular with Communist Party and military top brass.) Being able to consume copious amounts of alcohol is part of military politics and networking. According to the Washington Times, 20 percent of Maotai production is consumed by the PLA. The ban was announced on Dec. 23, and the following day the shares of Maotai maker Kweichow Moutai (SHA:600519) dropped more than 5.5 percent on the Shanghai stock exchange.
Xi's decision to ban alcohol use in the military is also an attempt to curb corruption. Receptions and banquets are typically lavish events with flowing alcohol, expensive flowers, red carpets and other luxurious amenities, often perceived to be a misuse of government money.
China has been cracking down on military corruption and bribery after several high-ranking officials were investigated, and eventually sacked, in 2012. According to Phoenix Magazine, a Hong Kong-based publication, a once-promising top officer, Lieutenant General Gu Junshan, was removed from office as deputy director of the PLA General Logistics Department for "economic issues," a euphemism for corruption. Gu's removal from office was a result of an investigation into his lavish estate in Beijing, which pointed to an illegitimate cash flow from bribery and other unlawful investments.
Xi Jinping's attention to the nation's military parallels China's progression as a military power, now able to field its first aircraft carrier and testing two stealth jet fighters that may rival America's. As tension with Japan mounted over the disputed Senkaku/ Diaoyu islands, Xi has ordered the PLA to increase combat awareness in an effort to be prepared for military action in case armed conflict breaks out.
© Copyright IBTimes 2022. All rights reserved.
FOLLOW MORE IBT NEWS ON THE BELOW CHANNELS