Peru Election 2016: Runoff Presidential Candidates Fujimori And Kuczynski, Key Issues And How To Get Results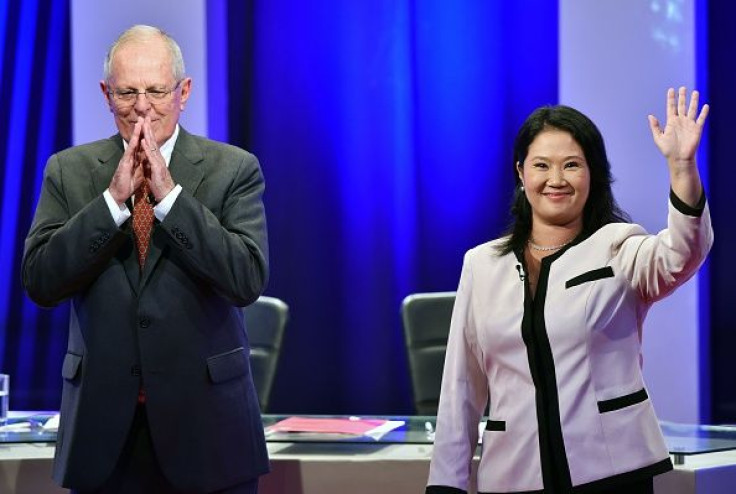 Peruvian voters will head to the polls Sunday in a tight and contentious presidential runoff election that has pitted Keiko Fujimori against Pedro Pablo Kuczynski.
No candidate broke the 50 percent barrier in the first round of voting in April. Fujimori garnered support from 38 percent of voters, followed by Kuczynski with 24.5 percent. A GfK poll released Saturday showed a tight race, with Kuczynski slightly ahead with 51.1 percent, followed closely by Fujimori with 48.9 percent. The poll had a margin of error of 1.6 percentage points, Reuters reported.
Incumbent President Ollanta Humala is stepping down because of term limits.
The election has triggered protests, with people carrying signs reading "Fujimori never again." Fujimori, 41, is the daughter of Alberto Fujimori, 77, a former Peruvian president and strongman who ruled the country 1990-2000 and is now serving a 25-year prison term for charges including corruption and crimes against humanity. He put an end to the Maoist Shining Path rebels and reduced hyperinflation during his presidency. While his daughter has embraced his economic legacy, she has tried to distance herself from darker aspects of his rule.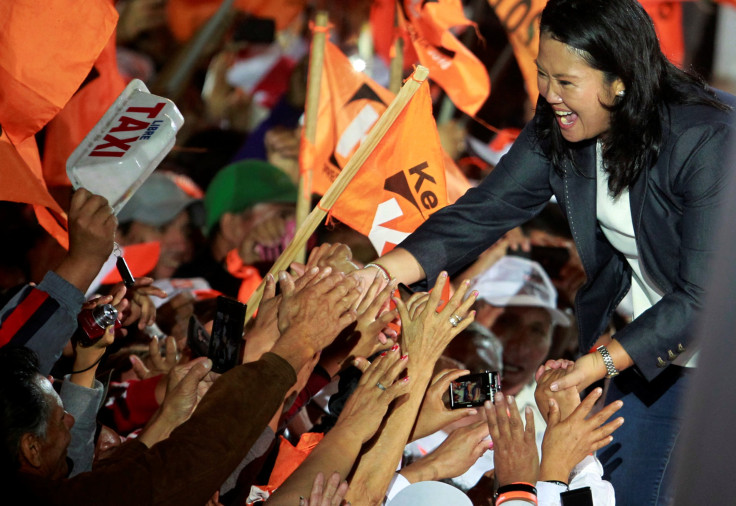 Fujimori has promised to protect human rights, fight crime and spend money on infrastructure to support poor communities.
"With this energy and this passion we can solve the country's immediate problems," Fujimori said at a recent rally, Agence France-Presse reported. "We represent change for our country."
Corruption scandals have plagued Fujimori's campaign with the U.S. Drug Enforcement Administration investigating the secretary general of her Popular Force party, Joaquín Ramírez, over allegations that he laundered her money, the Washington Post reported.
Fujimori is facing off against Kuczynski, 77, popularly known as PPK. He is a well-known economist and former prime minister who has also spent stints at the World Bank and in private investing. Both he and Fujimori share free market policies advocating for greater deregulation and free trade.
Peru's economy is expected to grow around 4 percent this year, making it one of the region's best-performing economies, the Economist reported. However, surveys show Peruvians are unhappy with levels of corruption and have low trust in government institutions.
Results from the hotly contested election will be available through TeleSur as well as Peru's English-language newspaper, the Peruvian Times. If Fujimori is elected, she would become Peru's first female president.
© Copyright IBTimes 2023. All rights reserved.