Pervez Musharraf: Pakistan's Prodigal President Returns Home As Reminder Of Past Military Rule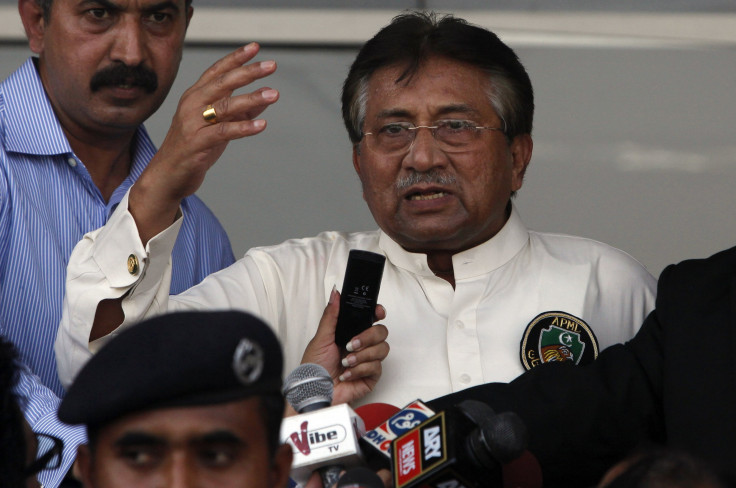 As Pakistan installs an interim caretaker government ahead of parliamentary elections due in May, a familiar old face has reared itself back into the country's endlessly chaotic politics.
The former military ruler, ex-President Pervez Musharraf, who reigned from 1999 to 2008, returned to Pakistan on Sunday, ending a four-year self-imposed exile in the Arab emirate of Dubai and London.
Touching down in Karachi Airport under extremely tight security, a mass rally in Musharraf's honor was subsequently canceled over safety concerns by local authorities.
"Where has the Pakistan I left five years ago gone?" Musharraf told his supporters at the airport.
"My heart cries tears of blood when I see the state of the country today. I have come back for you. I want to restore the Pakistan I left."
He plans to run for office under the umbrella of the party he founded in exile in 2010, the All Pakistan Muslim League (APML).
On his Twitter account, Musharraf declared: "Thrilled to be back home. Meeting with APML office bearers and workers. Pakistan first!"
The entry of Musharraf muddies an already confusing situation in a country that has never witnessed a peaceful transition of one democratic government to another.
Musharraf, who had vowed to return to Pakistan several times before his "exile," faces an uphill battle in his quest to re-enter the highest levels of political power. Not only has he been threatened with death by the Taliban, but his lengthy absence from the country has likely weakened any significant support he may once have enjoyed.
Virtually all the potential candidates for the presidency, including the very man he ousted from office in 1999, former Prime Minister Nawaz Sharif, the head of the Pakistan Muslim League-N (PML-N), and former cricket star Imran Khan of Pakistan Tehreek-e-Insaf (PTI), will present serious obstacles to Musharraf's quest.
The incumbent Pakistan People's Party (PPP), led by current president Asif Ali Zardari, is also expected to launch an aggressive campaign in elections, partly at Musharraf's expense.
There is also the little matter of the criminal charges Musharraf faces in connection with the assassination of former Prime Minister Benazir Bhutto in late 2007. Musharraf, then running Pakistan, has been blamed for the killing of Bhutto by withdrawing security forces that could have prevented her murder while campaigning in the city of Rawalpindi.
Bhutto, the former wife of Zardari, had just made her own triumphant return to Pakistan from exile.
Although Pakistani legal authorities granted Musharraf protective bail in connection with several charges outstanding (which meant that police would not arrest him when he stepped onto Pakistani soil), he will ultimately have to face some other very serious charges, including conspiracy to murder Nawab Akbar Bugti (the former governor of the restive province of Baluchistan) and committing treason by removing some of Pakistan's top judges in 2007.
It remains unclear if or when Musharraf will face justice in any of these ongoing cases.
To many in Pakistan, Musharraf, who seized power in a military coup in 1999, represents a negative, reactionary force in Pakistani politics that would only move the country backward.
A senior official of the PML-N party, Muhammad Mehdi, told the English language Dawn newspaper, that the number of people greeting Musharraf at the airport was "disappointing" -- only in the hundreds -- while thousands jammed the airport when Nawaz Sharif made his own return from exile in September 2007 (when Musharraf himself was in power).
Mehdi, whose party opposes Musharraf, is, of course, biased, but the British paper Guardian also described the reception for the former strongman as "lukewarm" -- estimating that only about 1,500 people greeted him at the airport. (APML members claimed, however, the police prevented more supporters from appearing at the airport to greet their leader.)
Raza Rumi, director of the Jinnah Institute think-tank in Pakistan, dismissed Musharraf's political ambitions as a minor sideshow.
"He truly does not have much of a support base," he told the Guardian.
"Some of the urban, middle-class people may like him who say his rule was good for the economy, but historically you have to have a real political party and supporters organized around a manifesto."
Musharraf may have even more things to worry about than small, lackluster crowds and impending criminal charges -- over the weekend the Pakistan Taliban released a video warning that they are forming "death squads" to target the former president.
A former air force officer named Adnan Rashid, who has already tried to kill Musharraf, appeared on the video and boasted that the Taliban will employ suicide bombers and snipers to try to assassinate him again.
Musharraf earned the eternal wrath of the Taliban by supporting the U.S. war on terror in the wake of the Sept. 11 attacks and by his subsequent crackdown on militants in Pakistan. In 2007, state security forces under Musharraf's rule killed more than 100 militants when they stormed the sprawling Red Mosque in Islamabad to remove recalcitrant Taliban officials.
Rashid himself was one of 400 militants who broke out of prison in 2012.
"The Pakistani Taliban is fully prepared to deal with this pharaoh [Musharraf]," said Taliban spokesman Ehsanullah Ehsan in the video.
"If God is willing, we will give this devil what he deserves and give satisfaction to the victims of the Red Mosque."
© Copyright IBTimes 2023. All rights reserved.