Peter Kassig Beheading Video Is Real, Says Times Foreign Correspondent, Citing US Official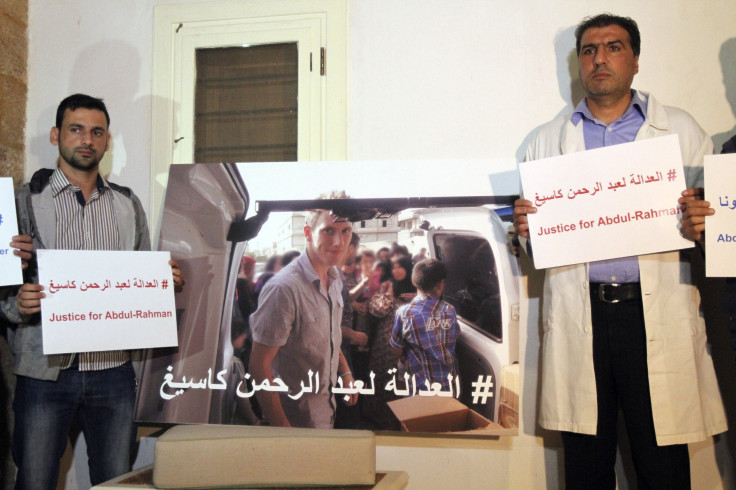 Update, 12:32 p.m. EST: White House spokesman Josh Earnest said Sunday the U.S. intelligence community is working to establish whether a video of Peter Kassig's execution by the Islamic State group is authentic. Earnest said national security adviser Susan Rice briefed President Obama on the situation during a flight aboard Air Force One from Brisbane, Australia, to Joint Base Pearl Harbor-Hickam outside Honolulu. The plane landed at 6:03 a.m. local time (11:03 a.m. EST).
Original Article Appears Below
Video footage that purports to show American Abdul-Rahman Kassig being beheaded by an Islamic State militant is real, according to New York Times foreign correspondent Rukmini Callimachi, who cited confirmation by a U.S. official. Born Peter Kassig, the 26-year-old American was working with refugees in Syria at the time of his kidnapping by the group formerly known as ISIS last year.
Callimachi delivered the news via her verified Twitter account Sunday morning:
Callimachi has since posted an article to the New York Times website noting a "senior United States official" said the government believes the footage is authentic, but no agency has officially confirmed it. The video claiming to show Kassig's death "is significantly different from the execution videos of four other Western hostages, whose televised deaths were carefully choreographed," the Times reported.
Posted online early Sunday, the video depicts members of the Islamic State group beheading Kassig in an area a man identifies as Syria. Sky News reported the video appears to show so-called Jihadi John, a militant responsible for previous hostage beheadings, who was believed injured after a recent U.S. airstrike targeted senior ISIS members.
The authenticity of the video has not yet been publicly confirmed by the U.S. State Department or any other government agencies, and Callimachi did not identify the U.S. official who confirmed the video's authenticity.
Leaders of Australia and the U.K., as well as a representative of the U.S. National Security Council, have publicly denounced the contents of the video.
"We are aware of a video that claims to show the murder of U.S. citizen Peter Kassig. ... The intelligence community is working as quickly as possible to determine its authenticity. If confirmed, we are appalled by the brutal murder of an innocent American aid worker and we express our deepest condolences to his family and friends," National Security Council representative Bernadette Meehan said in a statement.
The clip is more than 15 minutes long. It shows a dozen or more other men also being beheaded. They are identified by the masked man in the video as Syrian officers and pilots from Bashar Assad's forces, according to Al Jazeera. The masked man also identifies Kassig by name.
Kassig was a former U.S. Army Ranger from Indiana who founded a group to help Syrian refugees called Special Emergency Response and Assistance, or SERA, after serving with U.S. forces in Iraq in 2007. He was detained in Syria in October last year. During his captivity, he converted to Islam, and took the first name Abdul-Rahman.
© Copyright IBTimes 2023. All rights reserved.