Peyton Manning to Dolphins? Dan Marino Golfs with Manning, Tries to Convince Quarterback to Sign with Miami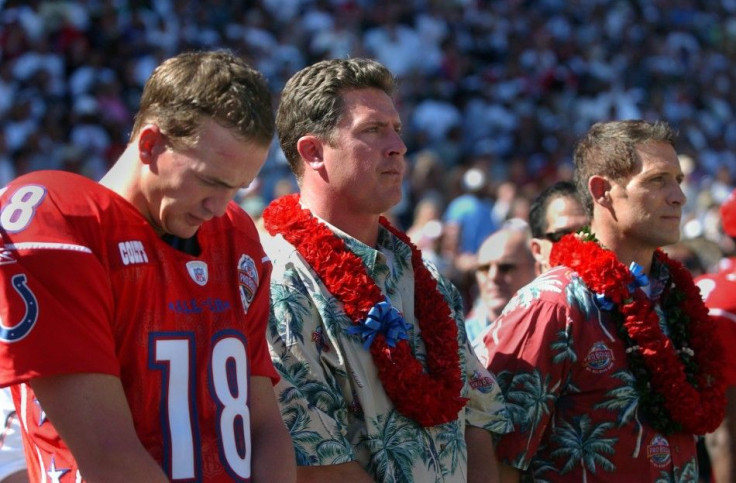 Miami has been listed as one of the most likely destinations for Peyton Manning.
The quarterback has a home in Florida, and many people feel the Dolphins have the best shot at signing him.
Former Dolphins quarterback Dan Marino said on Thursday that he wouldn't go out of his way to recruit Manning to Miami.
I probably wouldn't do that unless he asks for some advice, Marino said. And he has plenty of people that he's working with to help him make the right decisions.
But Marino may not have been completely upfront.
Craig Carton of WFAN in New York reported on Twitter Thursday that Marino and Manning were playing golf together.
The talk show host tweeted, the woooing has begun Dan Marino playing golf w/Peyton Manning right now. Dolphins trying hard to get it done on the quick @7BOOMERESIASON.
Marino played Thursday at a charity tournament hosted by Miami Heat announcers Eric Reid and Tony Fiorentino.
If Marino and Manning were indeed speaking, it's hard to believe that the subject of coming to the Dolphins was not discussed.
The Hall of Famer claimed he wouldn't try to push Manning toward Miami, but he did say the former Colt would be a good addition to the Dolphins roster.
I think he fits with anybody. He's one of the best that ever played the game at that position. So wherever he ends up playing, if he's healthy he'll be a huge impact for that team.
Rumors have circulated that wide receiver Reggie Wayne will go where Manning signs. The former University of Miami standout says he wouldn't mind if that place is with the Dolphins.
Wayne told Michael Irvin that he would love to join Manning in Miami.
I mean, I can see it and I'm definitely not opposed to it. He's a great worker and I consider myself a great worker, and when you put great workers together good things happen. So me being in his trail onto Miami? I would love it. I would definitely love it.
Miami is just one of several teams that would like to sign Manning for next year. Reports say that 12 teams have already contacted him about the 2012 season.
Wherever Manning plays this coming season, expect a decision to come shortly. Reports say he would like to make a decision on his future within the next week.
© Copyright IBTimes 2023. All rights reserved.