Pfizer CEO Calls Out COVID Vaccine Misinformation Spreaders As 'Criminals'
Pfizer (PFE) CEO Albert Bourla had some harsh words for anyone that spreads misinformation about the COVID vaccine, comparing these individuals to "criminals" that have "cost millions of lives."
Bourla made the comments on Tuesday at the Atlantic Council – a Washington, D.C.-based think tank.
Here, Bourla said there is a "very small" group of people that are purposefully spreading misinformation about the COVID vaccine, which is misleading individuals that are already hesitant to get vaccinated, CNBC reported.
"Those people are criminals," Bourla said, as reported by CNBC. "They're not bad people. They're criminals because they have literally cost millions of lives."
COVID-19 has claimed the lives of more than 5 million people globally and over 755,000 in the U.S., according to data from Johns Hopkins University.
The comments from Bourla come as an estimated 70 million Americans remain unvaccinated.
According to the Centers for Disease Control and Prevention, only 58.4% of the U.S. population is fully vaccinated against COVID-19.
Bourla maintained that the only way that people's lives can go "back to normal" is if many of the unvaccinated get vaccinated.
He said, "The only thing that stands between the new way of life and the current way of life is, frankly, hesitancy to vaccinations," according to CNBC.
Health officials say misinformation is likely the cause of vaccine hesitancy.
A new survey from the Kaiser Family Foundation seems to support this idea, as it indicated that 78% of adults say they believe one of eight different false statements about COVID or are unsure if it's true or false.
False statements ranged from the government exaggerating the number of COVID deaths to vaccines causing infertility, containing a microchip or changing DNA.
Republicans were also more likely to believe the misinformation compared to vaccinated adults and Democrats, the survey said.
As of Tuesday at 12:59 p.m. EST, shares of Pfizer were trading at $47.35, down 98 cents, or 2.02%.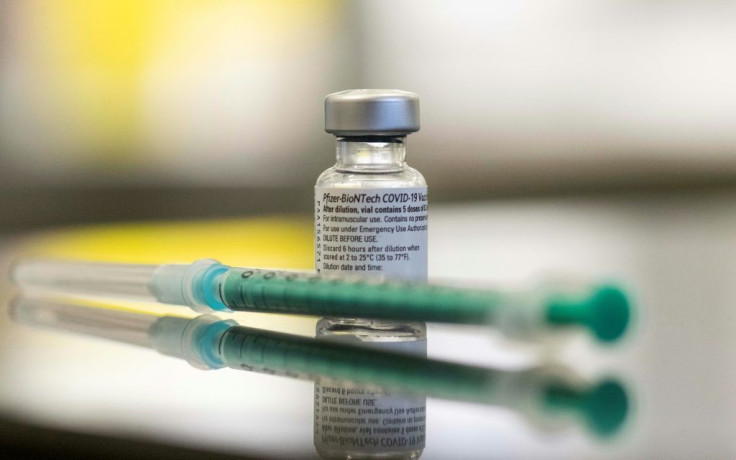 © Copyright IBTimes 2023. All rights reserved.