Phemexia: Empowering Decentralized Society and Expanding Web 3.0
* This is a contributed article and this content does not necessarily represent the views of IBTimes.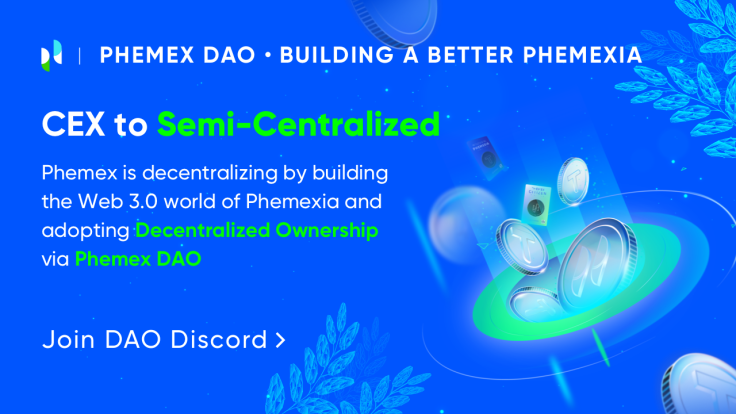 The blockchain industry is constantly developing and expanding as time continues to unfold. Many startups keep unveiling amazing products to solve various problems within the industry. However, while Phemex's original focus was on financial applications like cryptocurrency, the company now realizes that Web 3.0's long-term viability requires it to broaden its focus. As a result, the team is setting out on a mission to hasten the growth of many aspects of a decentralized society, such as verifiable digital identity, trust establishment, and collaborative endeavors devoid of restrictions.
Phemex, the well-known crypto exchange, is at the head of innovation with its semi-centralized platform model that combines decentralized processes with current centralized exchange (CEX) operations. The company has worked hard to make Phemexia, a complete and open platform that is based on the Web 3.0 model. At the same time, the creation of the Phemex DAO set up an autonomous control system that allows the platform's growing community of makers, partners, and users to make important decisions together.
Notably, the team took a page out of Vitalik Buterin's futuristic playbook with his idea of non-transferable "soulbound tokens", and has developed a revolutionary new product called the Phemex Soul Pass. This token, created only for a chosen few, acts as a permissionless passport to special benefits in the expansive Phemex Web 3.0 environment.
Hence, by bringing together the strengths of both centralized (CeFi) and decentralized (DeFi) approaches, Phemexia is crucial in maximizing the potential of both approaches to financial management. Phemex also has all the features of a top-tier CEX, including easy onboarding and exiting, a pleasant trading experience, and deep liquidity.
Stella Chan, Phemex CMO mentioned "Semi-Centerlized is a theory she believes will be the future of the industry, we want to provide security, lots of good product functions and at same time to be more transparent. I know it is Trilemma but we will try the best as Web3 always need to break through."
Unleashing the Power of Decentralized Governance: Exploring the Phemex DAO
Phemexia crosses traditional limits to raise its users' journey to unimaginable heights by immersing them in an exceptional Web3 experience. Surprisingly, the Phemex DAO, a decentralized governance organization that empowers a vibrant community of developers, partners, and stakeholders with the capacity to define the platform's direction, is rooted inside this dynamic Web3 ecosystem.
Additionally, Phemex's mission revolves around delivering an exchange platform that epitomizes decentralization, security, and transparency. These foundational principles resonate throughout every facet of the company's operations, underpinned by a community-driven ethos that guides the governance structure and processes. Also, by upholding these core values, the team ensures unwavering alignment with the principles that define its mission and vision.
Introducing the Innovative Phemex Soul Pass
The revolutionary Phemex Soul Pass (PSP) is an Ethereum network-mineable Soulbound Token (SBT). It is a catalyst for decentralizing ownership and cultivating a vibrant grassroots community of collaborators.
Phemex Soul Pass can be stored securely on any Ethereum-compatible wallet, such as Metamask, Portis, or a newly constructed wallet on the Phemex platform. As a non-transferable SBT, the Phemex Soul Pass has no inherent value for trading. It grants access to pre-mined Phemex Tokens and vital credentials linked to users' Phemex accounts, such as their xPT balance. Accounts that qualify for a Phemex Soul Pass can further empower users within the ecosystem.
Through pioneering innovation and using the Phemex Soul Pass SBT, Phemex aims to realize this vision through its innovative Soul Pass SBT framework. This framework enables the processing of verifiable data for trading, community engagement, and contributions to the DAO, laying the foundation for a Web3 credential system that enables platform ownership and decentralized lending. The overarching goal is cultivating a flourishing ecosystem embodying decentralization's fundamental principles.
Empowering Users for the Future of Decentralized Governance
The inauguration of the Phemex Token is a significant milestone in its unwavering mission to revolutionize decentralized governance and advance the genuine Web 3.0 movement. At the core of this initiative is a carefully crafted tokenomics system that incentivizes long-term staking, fostering active participation in Phemex DAO and molding the platform's future. Users would gain full autonomy to verify, interact with, and thrive within the ecosystem by adopting Phemex's transparent and self-proving Proof-of-Reserve and Proof-of-Solvency mechanisms.
Interestingly, Phemex Token, PT, will be released in the third quarter of 2023 as an on-chain ERC20 utility token with an assortment of compelling benefits and use cases. Holding PT grants users an incontrovertible stake in the ownership of Phemex and enables them to stake the token for vePT (vote escrow Phemex Token), facilitating direct participation in governing the decentralized platform. vePT holders gain access to various exclusive benefits, such as lucrative staking rewards and enhanced trading incentives, further incentivizing participation in the Phemex ecosystem.
Evidently, introducing the Phemex Token paves the way for a dynamic future in which decentralized governance is harnessed, ensuring the active participation and prosperity of its valued community. Phemex embarks on a transformative voyage, reshaping the Web 3.0 landscape and revolutionizing the operation of decentralized platforms.
Phemex's Path to Collaboration and Stakeholder Empowerment
Phemex Collaborator Program is also a ground-breaking initiative that is designed to cultivate stronger relationships with its esteemed partners, including influential affiliates. Through this initiative, essential contributors will receive xPT, which can be exchanged for Phemex Tokens, reinforcing their status as key stakeholders. The program aligns the platform's objectives with its affiliates by incentivizing all major contributors to prioritize the development and success of Phemex.
Noticeably, the Phemex Collaborator Program exemplifies the team's dedication to diversity, empowerment, and the success of its valued partners. Through this transformative initiative, we foster deeper ties and establish an ecosystem in which collaborators become stakeholders, accelerating the platform's expansion and solidifying Phemex's position as a pioneer in decentralized finance.
In a nutshell, Phemex stands out as a streamlined platform for trading more than 300 different cryptocurrencies because of its efficiency and simplicity. Margin trading, which allows users to leverage up to 5x on spot trading without liquidating assets, is a relatively new feature on the website. Furthermore, the team reflects the concepts of trust and security that are crucial to a successful cryptocurrency exchange by using cutting-edge technology, transparent processes, and user agency. This balanced combination fosters a business atmosphere that inspires trust and calmness among its clientele.