Philadelphia Amtrak Derailment: Train Exceeded Speed Limit, Moved At 100 mph For 50-mph Curve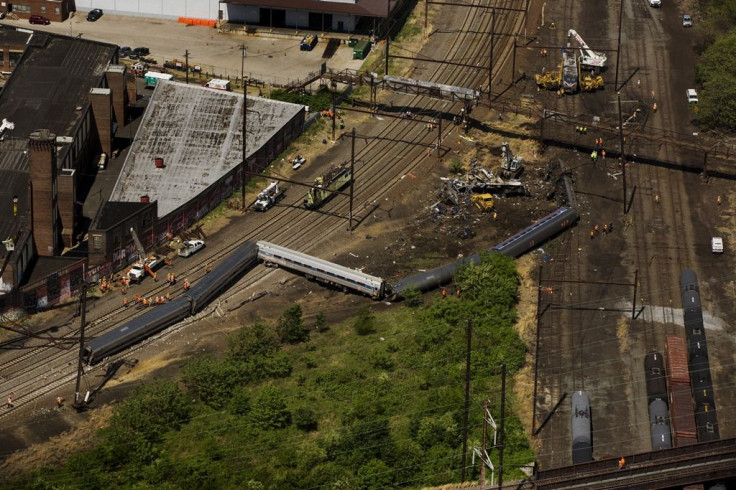 Authorities have not yet identified a reason for this week's deadly derailment of a crowded Amtrak train in Philadelphia. However, they have determined that the train was moving at more than 100 miles per hour -- or more than twice the lawful speed in the crash area.
Philadelphia Mayor Michael Nutter blamed the train's engineer for reckless driving. Preliminary investigations reveal that the train was moving at more than 100 mph just prior to the derailment. The speed limit for the curve was 50 mph.
"There's no way in the world he should have been going that fast into the curve," Nutter said, as CNN reported.
Robert Sumwalt of the National Transportation Safety Board was quick to criticize Nutter for his comments. Sumwalt said the mayor should have waited for more facts to emerge before making judgments about the situation.
The engineer operating the train was identified as Brandon Bostian, 32, of New York. Sumwalt said that Bostian had applied full emergency brakes moments before the derailment. One of Bostian's neighbors in the Forest Hills section of Queens, New York, called the engineer a responsible person who was happy with his job.
The engineer's profile on the LinkedIn social networking site says he has been an engineer for Amtrak since 2010 and previously worked as a conductor for four years. He also worked at a Target store as a cashier.
The train -- traveling from Washington, D.C., to New York City -- was moving at 106 mph when it approached the turn. The maximum allowed speed just before the left curve is 80 mph. The derailment has killed at least eight people and injured more than 200.
Sumwalt confirmed that the engineer was supposed to enter the curve at 50 mph. "As we know, it takes a long time to decelerate a train," Sumwalt said, as the New York Times reported.
According to Sumwalt, the crash could have been prevented with "positive train control," a train monitoring system that has not been installed on the Washington-Boston route. He said that a clearer picture about the reason for the crash would emerge over the next 48 hours.
Contact the writer: s.mukhopadhyay@ibtimes.com.au.
© Copyright IBTimes 2023. All rights reserved.