Amtrak Disaster: Republican Plan To Cut Rail Funding On Hold After Derailment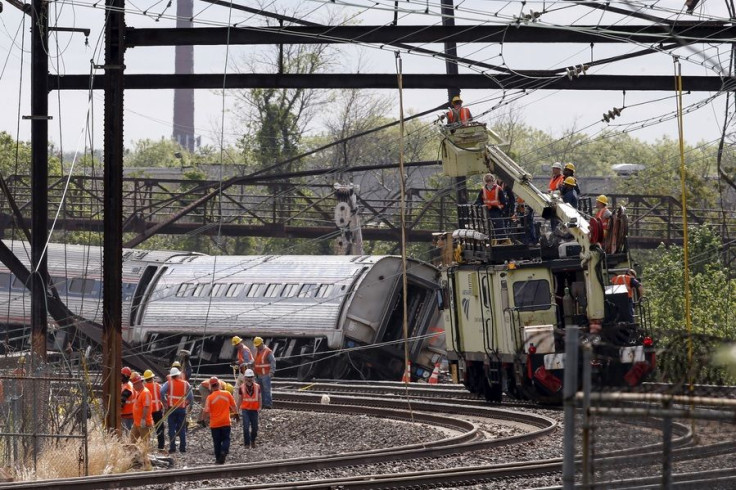 WASHINGTON -- Senate Republicans had planned to propose spending cuts and reforms to Amtrak this week, but after the derailment on Tuesday that killed at least seven people, the announcement of the proposal is on hold, Sen. Roger Wicker, R-Miss., told International Business Times.
"We were going to roll something out this week, and I think now is a time to be respectful of the families and maybe I'll talk about policy going forward," said Wicker, a member of the Senate Committee on Science, Commerce and Transportation, which oversees Amtrak. "But clearly we will not be rolling anything out today."
Established by the government as the National Railroad Passenger Corporation, Amtrak is government-owned and exists thanks to more than $1 billion in federal funding every year. It also receives assistance from a number of states for operating rails within their borders. So while it's not a traditional government agency, it is subject to the same oversight and control as a federal entity would be. For example, last year Congress capped the amount of overtime an Amtrak employee can receive and criticized food service losses.
At a preplanned committee meeting on Wednesday morning, House Republicans approved a bill that makes deep cuts for Amtrak in the next fiscal year. House Democrats made an effort to insert language into the bill that would have increased appropriations for Amtrak. House Republicans quickly voted down the measure. The move to cut funding has been pushed by Republicans as an effort to get the rails off government assistance entirely and institute reforms to make Amtrak self-sufficient.
That topic wasn't something that Republican presidential candidates were eager to discuss on Wednesday. Two presidential candidates in the capital declined to comment: Former Arkansas Gov. Mike Huckabee's staff cut off a question about Amtrak, insisting the 2016 hopeful needed to be at a meeting, and Sen. Ted Cruz referred an inquiry to his office, saying he was late to a committee hearing.
The GOP has become more aggressive in recent years in trying to stop funding Amtrak entirely -- a move that may be a result of the growing number of budget hawks put into office by the tea party. Republicans didn't mention Amtrak or rails at all in their 2008 platform. And they called for reforms in 2004 instead of total abandonment, saying, "Clearly the financial problems plaguing Amtrak cannot be solved simply by continued infusions of taxpayer dollars. Fundamental reforms should be enacted to transition Amtrak into operational self-sufficiency."
But the 2012 GOP platform approved at the nominating convention called for stopping federal funding of Amtrak, particularly along the Northeast Corridor. "Amtrak continues to be, for the taxpayers, an extremely expensive railroad," the party platform read in 2012. "The public has to subsidize every ticket nearly $50. It is long past time for the federal government to get out of way and allow private ventures to provide passenger service to the northeast corridor. The same holds true with regard to high-speed and intercity rail across the country."
Republican presidential nominee Mitt Romney told Fortune magazine he wanted to defund Amtrak entirely. That policy was part of a larger push to end government funding of publicly subsidized programs, which also included PBS public television (remember Romney "killing" Big Bird?), the National Endowment for the Arts and the National Endowment for the Humanities.
Several congressional Republicans, when asked Wednesday about the Amtrak budget cut in the party's 2012 platform, said they either didn't agree with the idea or weren't aware it was there. "I don't support that particular plank, if it's in fact in there, you know there are a lot of things in platforms that I don't agree with or pay much attention to," said Wicker, who also serves as the chairman of the National Republican Senatorial Campaign Committee.
Sen. Jeff Sessions, R-Ala., who previously served as the top Republican on the Senate Budget Committee and has been aggressive about cutting spending, said the key to changing Amtrak is allowing it to abandon routes that aren't frequently used.
"I'm sure there will be a real effort to use this tragedy to spend more money," Sessions said. "But I think the main view I have about Amtrak and transit is, let's focus on the areas where it makes sense, where Amtrak is making money, and if they didn't have to subsidize places where they are losing money, they would better off and able to take care of their tracks and their equipment."
Delaware Sen. Tom Carper was on the ill-fated train but exited before the accident. Fellow Delaware Sen. Chris Coons, who frequently takes the train back and forth between Washington and Wilmington, Del., predicted that Republicans will continue to push for cuts to Amtrak or privatization. But he said investments, not cuts, were the better choice.
"The Northeast Corridor has had year-over-year increases in ridership, in revenue, in performance, and if we would meet [Amtrak's] performance of the last five years with investments in the aging infrastructure, I think we would avoid comparable incidents in the future," he said.
FOR FREE to continue reading
✔️ Unlock the full content of International Business Times UK for free
offer available for a limited time only
✔️ Easily manage your Newsletters subscriptions and save your favourite articles
✔️ No payment method required
Already have an account?
Log in
© Copyright IBTimes 2023. All rights reserved.