Philadelphia Eagles vs. Detroit Lions 2016: Early Prediction, Betting Odds, Injury News, Preview For NFL Week 5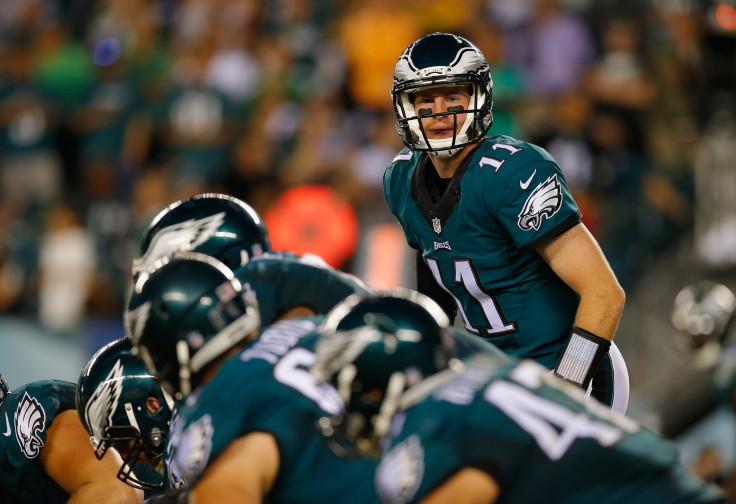 Behind the impressive start of rookie quarterback Carson Wentz, the Philadelphia Eagles (3-0) have been one of the surprise teams in the NFC. On Sunday, the Eagles hit the road to face a Detroit Lions (1-3) squad that has lost three consecutive games but by a margin of just 3.67 points.
Wentz, who stands among the NFL leaders with a 103.8 passer rating, has exceeded expectations with his poise in the pocket. The 23-year-old has yet to throw an interception and has a solid 64.7 completion percentage.
In a recent press conference, first-year head coach Doug Pederson praised Wentz's preparation.
"He loves watching tape. He and the quarterbacks, Chase [Daniel], they're in here at 5:30 in the morning watching film. They're exhausting the tape," Pederson said. "I hear him just even in the building talking to guys about plays and routes and protections. It's Peyton Manning-ish.
"You hate to label -- I don't want to put labels on guys -- but that's how Peyton prepared, that's how these top quarterbacks prepare each week. He has that now as a young quarterback, and that will just carry him throughout his career."
In a comprehensive 34-3 victory over the Pittsburgh Steelers, Wentz threw for 301 yards and two touchdowns, while the Eagles' top-ranked defense forced two turnovers and held the typically prolific offense to just 251 total yards.
Though the bye week certainly helps pad their stats, the Eagles lead the NFL in total yards allowed (823) and points allowed per game (9.0), and Philadelphia has yet to commit a turnover.
Wentz has hit four different Eagles receivers for his five touchdowns passes, and his proficiency in the pocket has also opened up the ground game for a quorum of running backs. Wendell Smallwood, Kenjon Barner, Ryan Mathews, and Darren Sproles are guiding Philadelphia's ninth-ranked rushing attack, generating 119.3 yards a game.
The Eagles are coming off their early bye week and the time off clearly helped the roster. Pederson told reporters Wednesday that he has a healthy squad and everyone was expected to participate in practice.
But Philadelphia may have a tough task ahead of them against Detroit. After failing to maintain their lead at home against the Tennessee Titans in Week 2, and then struggling on the road to overcome early deficits against division rivals, Jim Caldwell's squad is expected to play with more determination after their poor start. Another defeat would severely hurt the Lions' postseason hopes, and put Caldwell's job security in question.
Detroit fell to NFC North rival Chicago 17-14 last week. It was the Lions second loss by three points or less this season and was exacerbated by quarterback Matthew Stafford's two interceptions and the team's 10 penalties for a loss of 76 yards. The Lions currently lead the NFC with 39 total penalties at the expense of 370 yards.
Though Stafford has guided the Lions aerial attack to sixth in the league and the offense is averaging nearly 24 points a game, Detroit couldn't muster much of an attack early against Chicago. The Lions were forced to punt on their first four possessions and gained a total of only 46 yards on their first five possessions.
The Lions rush defense conceded 114 yards against Chicago, dropping them to No. 23 in the league against the run.
Unlike the Eagles, injuries have been a significant sore spot for Detroit. The Lions were missing star defensive end Ezekiel Ansah and linebacker DeAndre Levy due to injuries last week, while eight other players were listed as questionable.
On Tuesday, the injury woes got worse as Detroit placed defensive end Wallace Gilberry on injured reserve.
Game Time: Sunday, 1 p.m. EDT
Betting Odds: Philadelphia -3
Over/Under: 46 points
Prediction: Philadelphia over Detroit, 24-20
© Copyright IBTimes 2023. All rights reserved.