Philippine Terror Group Abu Sayyaf May Be Using ISIS Link For Own Agenda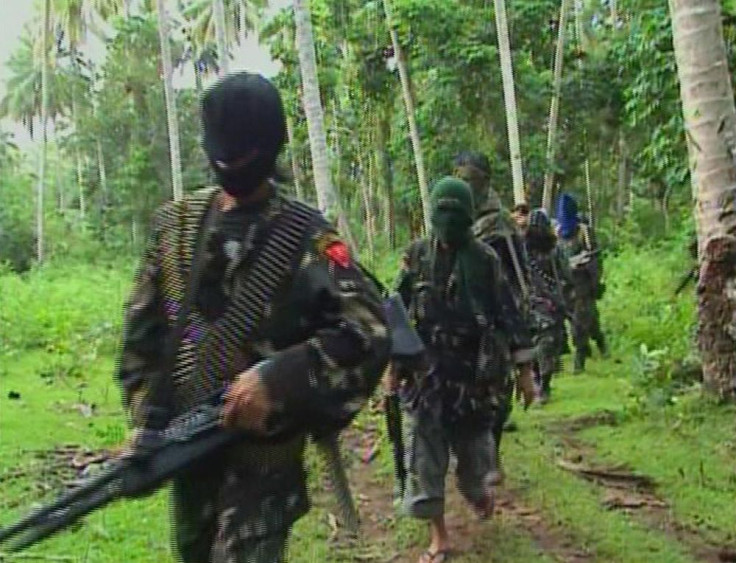 The Filipino militant group Abu Sayyaf has openly pledged their allegiance to the Islamic State's leader Abu Bakr al-Baghdadi, raising concern of an expansion of ISIS into the Philippines. In response to Germany's decision to support the U.S. call to action against the Islamic State, Abu Sayyaf threatened to kill one of two German hostages it holds, becoming the latest international militant group to express support for the Islamic State group.
Abu Sayyaf, based on the southeast Philippine island of Sulu, has been responsible for violence including bombings, kidnappings and assassinations, killing scores of Filipinos and foreign nationals in their fight for independence from the Republic of the Philippines for over 40 years. Abu Sayyaf began as an extreme offshoot of another Muslim separatist movement in the southern Philippines called the Moro National Liberation Front, and has so far been primarily focused on fighting for a separate Islamic state for the country's Muslim-minority population.
However, the group's most recent demand of 250 million pesos ($5.6 million) of ransom, and for Berlin to pull support from the U.S.-led fight against ISIS, marked what seems to be a commitment to a greater global cause.
In a video published this summer, senior Abu Sayyaf leader Isnilon Hapilon and other masked men swear their allegiance or "bay'ah" to the Islamic State caliph. "We pledge to obey him on anything which our hearts desire or not and to value him more than anyone else," Hapilon reads in a combination of Yakan, a native dialect, and Arabic. "We will not take any emir (leader) other than him unless we see in him any obvious act of disbelief that could be questioned by Allah in the hereafter."
Prior to that, a video surfaced on Facebook of people claiming to be Abu Sayyaf members, speaking in Arabic and saying they "sincerely support our mujahedeen brothers of ISIS," adding that they "extend to them our right hand when their left hand is lost."
Still, Michael Buehler, a lecturer in comparative politics at the University of London's School of Oriental and African Studies, said the threat of Abu Sayyaf becoming an ISIS outpost in Southeast Asia is not likely. "Is there a threat of bringing ISIS in the fold in the Philippines? I'm very doubtful," Buehler said in a phone interview.
Groups in Southeast Asia like Indonesia's Jemaah Islamiyah and Abu Sayyaf have used the publicity they can get from ISIS to further their own agendas, not necessarily the Islamic State's. "In a broader context, these radical groups that have responded to ISIS in the last weeks are not surprising or unusual. Whenever the international focus shifts on an extremist group, they pledge allegiance and use the publicity for their own agenda," Buehler said.
Lieutenant General Rustico Guerrero, the commander of the Philippine's military's Western Mindanao Command, is familiar with Abu Sayyaf's attention-seeking tactics. "They are taking advantage of the international attention ISIS is getting so that the ransom would increase," Guerrero said, as quoted by by Rappler, a Filipino news site.
"The attention will be short-term but they are not able to expand. [Abu Sayyaf] is still a local group with a local agenda ... This is not a sign of Abu Sayyaf becoming an international group [like ISIS]," he said.
For years, Al-Qaeda was also able to get the support of Abu Sayyaf through various connections, and was even suspected of funding some of the Philippine terror group's operations. Even with these connections, Abu Sayyaf still struggled to expand.
"These groups are rooted in a distinct class made up of closesly knit networks built through marriage of important families through socioeconomic backgrounds and family structures. It's not easy to expand in that kind of context," Buehler said. While this tight-knit, familial structure is responsible for the resilience of such groups in the region over many decades, "they are not growing in terms of numbers."
Still, in the face of potential threats from ISIS abroad and at home through proxies like Abu Sayyaf, Philippine President Benigno Aquino III told reporters in New York that the country was offering up support to the U.S. in taking down the extremist group, beginning with a meeting between Philippine Foreign Secretary Albert del Rosario and the U.S State Department. .
FOLLOW MORE IBT NEWS ON THE BELOW CHANNELS