Philippines Earthquake 2012: 43 Dead After Nation Shaken Yet Again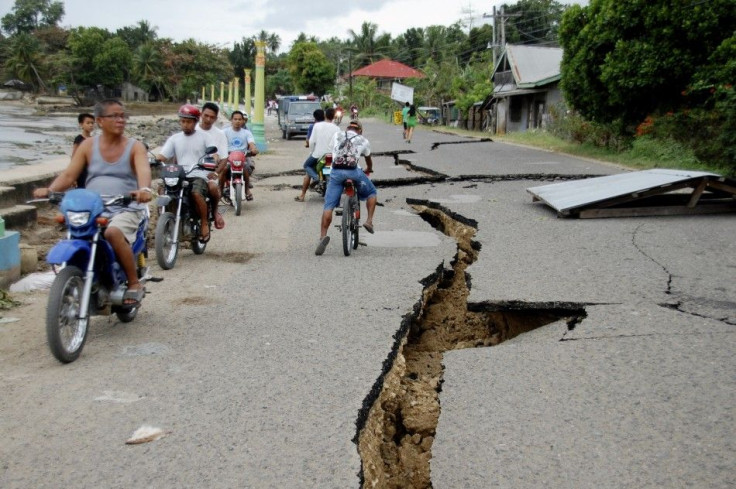 Dozens of people are missing and at least 43 dead after a 6.8-magnitude earthquake struck central Philippines on Monday.
The quake hit at 11:49 a.m. local time off of the island of Negros, according to the U.S. Geological Survey. Filipino officials issued a tsunami warning on Monday morning, but it has since been recalled.
The tremors triggered a mudslide near the city of Guihulngan, burying 30 houses and trapping 40 or more people under collapsed buildings.
"Their situation is bad because if you are covered by landslide for one hour, two hours, how can you breathe? But we just hope for the best, that there are still survivors," Guihulngan Mayor Ernesto Reyes told reporters.
Troops and rescue workers were dispatched with shovels and digging equipment Ten died in Guihulngan, including student at an elementary school that collapsed and people inside a market. An additional 100 were injured.
The damage was most severe in Negros Oriental's mountain region, where another landslide buried an unknown number of people in La Libertad.
We're now getting shovels and chain-saws to start a rescue because there were people trapped inside. Some of them were yelling for help earlier, La Libertad police chief Eric Arrol Besario told The Associated Press.
Aftershocks have continued to hit the area throughout the day on Monday. People were urged to stay away from their homes because the aftershocks posed dangers of further building collapses.
Sitting in the Pacific Ring of Fire, the country is no stranger to earthquakes. In the past 12 months, hundreds of minor to moderate quakes shook the country, as well as a number of more major earthquakes, such as a 6.0 magnitude tremor in March and a 6.2 magnitude in Negros in June.
The country was also hit by two subsequent typhoons in September. First, Typhoon Nesat killed 95 people in the Philippines and was followed by Typhoon Nalgae, which left another 55 casualties, tens of thousands of temporarily displaced people and massive property damage in its wake.
© Copyright IBTimes 2023. All rights reserved.