Philippines Leader Duterte Vents At 'Hypocritical' Catholic Church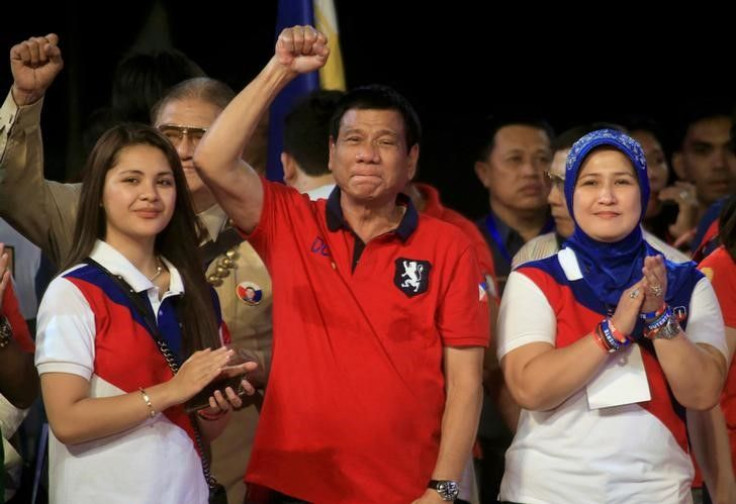 Philippines president-elect Rodrigo Duterte described the Catholic Church as the country's "most hypocritical institution" Sunday, and said he was ready to take on senior Filipino bishops to debate their wrongdoings before he takes office next month.
The tough-talking 71-year-old has yet to be proclaimed the May 9 poll winner, but an unofficial vote count by an election commission-accredited watchdog showed a huge lead over his rivals, three of whom conceded. He is due to take office June 30.
Duterte's often outrageous comments and no-nonsense approach have won him huge support and his tirades about killing criminals and even a joke about a murdered rape victim, appear not to have dented his popularity.
"I will lecture until June 29 the sins of the Catholic Church and whether or not you are still relevant," Duterte told reporters in Davao City, where he is the incumbent mayor.
"The most hypocritical institution is the Catholic church."
It was not the first time he has taken aim at the church and once chided Pope Francis for holding up traffic when he visited Manila, the capital city of a country where about 80 percent of the population is Catholic.
The Philippines has the largest Catholic concentration of any Asian country.
A video recording of Duterte's comments was carried on several news outlets and posted on the website of ABS-CBN, the country's biggest broadcaster.
His platform of crushing crime, corruption and drug abuse has won him major support, but his intention to reimpose a death penalty that was repealed in 2006 is expected to be opposed by the church.
A week ago Duterte said killers should get death sentences, and those who committed murder and rape together should be hanged.
In Sunday's comments, he alleged church leaders had enriched themselves at the expense of the poor and shown disregard for the separation of church and state.
Bishops had campaigned against him, but public opinion was on his side, he said.
" 'Fine,'I said. Let this election be a referendum between me and the Catholic church," Duterte said.
A spokesman for the Catholic Church in the Philippines did not immediately respond to a request for comment.
© Copyright Thomson Reuters 2023. All rights reserved.