Phone Companies In State Prisons Charge Inmates Exorbitant Prices, Give Jails Kickbacks, Group Finds
Telephone companies are operating unfair monopolies in state prisons, charging inmates exorbitant prices of more than $1-per-minute calls and giving kickbacks to the jails, according to a report released on Tuesday.
Researchers at the Prison Policy Initiative found that prison phone companies offer kickbacks of up to 84 percent of revenue to the prisons, and generate even more revenue by offering bad service, according the report, entitled "Please Deposit All Of Your Money."
"In the normal phone market, companies like Verizon and AT&T battle it out over who can lay claim to the largest, fastest and highest quality networks," Peter Wagner, one of the report's co-authors, wrote in a blog post. "But here, companies like Global Tel*Link, Securus and ICSolutions find revenue in dropping calls because each call has both a per-minute fee and a pay-call fee of up to $4.95."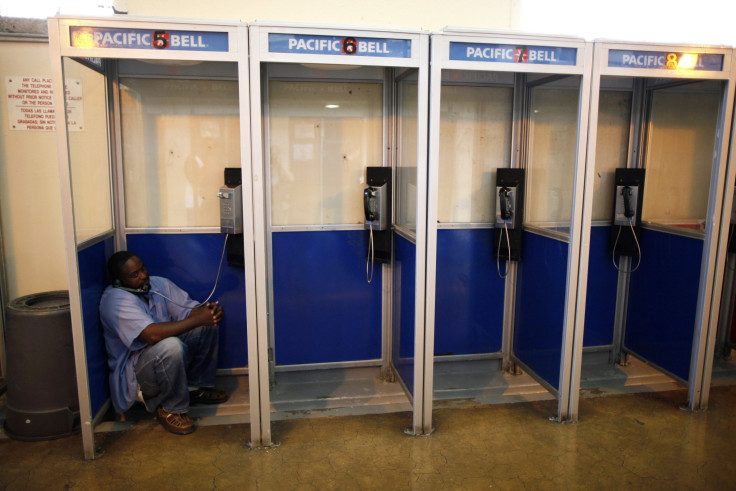 The advocacy group said the Federal Communications Commission should cap the rates and fees phone companies can charge in prisons, modeled on a similar law in New York State and in the federal prison system.
The FCC began probing advocates and companies in December to gather information to used for legislation.
"All too often the price of a single phone call from an inmate eclipses the cost of basic monthly service, and this weighs heavily on the economically disadvantaged," Clyburn said in a statement. "We must do everything we can to ensure a reasonable mechanism for families to stay in touch with loved ones."
The FCC is planning a workshop to discuss possible measures on July 10, a FCC spokesman told International Business Times. But Wagner said the Commission has already stalled too long.
"The prison phone companies have shown that they have no incentive to treat the people paying their bills like customers," Wagner wrote. "Until the FCC acts, we can be sure that the industry will ignore their customers and continue to look solely to their partners in contract and in profit -- the jails and state prison systems -- for approval."
© Copyright IBTimes 2023. All rights reserved.