Planned Parenthood Patients React To Colorado Springs Shooting: 'They Were There For Me'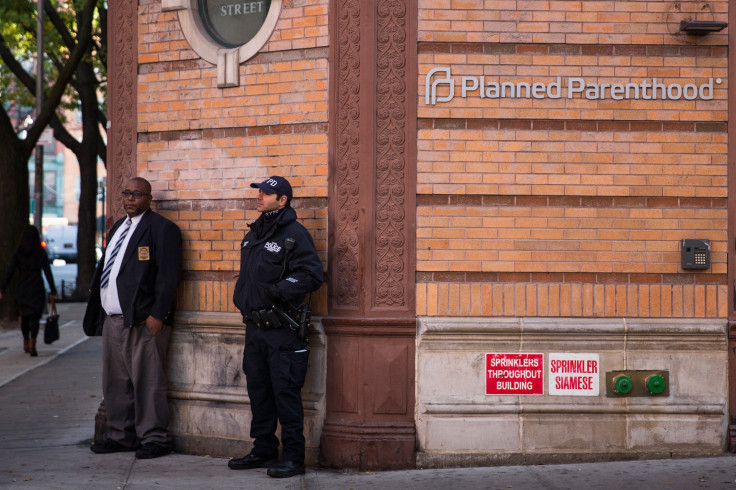 By now, Hadena James recognizes the faces of the protesters outside her local Planned Parenthood clinic in Columbia, Missouri. She knows the slogans they repeat over and over, like "Baby killer!"
"The protesters have always been verbally unpleasant," James said Monday, but "there's never been any violence." After the shootings of three people at a Planned Parenthood clinic in Colorado, however, James said she was keenly aware that "it only takes one for that to end."
When Robert Lewis Dear Jr. opened fired at the Colorado Springs Planned Parenthood clinic, reportedly screaming during the attack, "No more baby parts!" he ignited an outpouring of solidarity from patients and supporters of the nationwide health provider. Some were infuriated by the killings, while others, like James, were wary but uncowed. Above all, many were staunchly determined to stand by the organization, insisting they would continue as they always have, visiting local clinics for annual checkups, birth control and other medical issues.
"It makes me more determined to help educate those around us," said James, 35, who was diagnosed at age 11 with polycystic ovarian syndrome and needs birth control medicine in order to prevent ovulation, which would lead to excruciating cysts on her ovaries. The least expensive and most reliable place to get the one kind of birth control that works for her is Planned Parenthood, which she has visited every three months for the past eight years for a birth control shot.
"Planned Parenthood does so much more than abortion, and that's the only thing anybody ever talks about when they talk about Planned Parenthood," she said.
Planned Parenthood, the nation's leading healthcare provider for women, has been threatened in the past by conservative politicians and activists. The most recent firestorm of criticism to engulf the organization began in July, when an anti-abortion group published a series of supposedly undercover videos that purportedly showed a Planned Parenthood employee illegally selling parts from aborted fetuses. The videos were found to have been heavily and misleadingly edited. Still, Republicans cited the recordings when they tried and ultimately failed to cut federal funding to Planned Parenthood earlier this year by tying the legislation to a key government spending bill. The videos have also been blamed for inspiring Friday's suspected shooter.
Ninety-seven percent of Planned Parenthood's services have nothing to do with abortion. In 2013, Planned Parenthood clinics provided more than 865,000 breast exams and pap smears, detecting cancer early or other abnormalities in nearly 88,000 of them, doled out birth control and information that avoided 516,000 unintended pregnancies and tested for or treated nearly 4.5 million sexually transmitted infections, for women and men alike, according to the group's 2013-2014 annual report. Every year, there are 52 million visits to Planned Parenthood.
Violence against clinics whose services include abortions also has a long history, with eight murders and 17 attempted murders, along with 42 bombings, since 1977.
Planned Parenthood has pushed back as an organization against the shootings. In a petition that in part demanded "an end to the incendiary rhetoric from anti-abortion activists and lawmakers that demonizes Planned Parenthood doctors and patients," it said, "We aren't going anywhere. Planned Parenthood has been here for nearly 100 years, and we will keep being here as long as women, men, and young people need health care with dignity."
Patients have echoed those claims, especially among those for whom Planned Parenthood once meant the difference between life and death.
Tammy T. woke up one night in the winter of 1986 feeling sicker than she'd ever had before. Then a 20-year-old junior at Texas A&M University in College Station, Texas, she woke her boyfriend sleeping beside her and asked him to take her to the emergency room. Before they could leave, a thick gush of blood -- a soccer ball's worth, she estimated -- flooded from between her legs.
"I was terrified. It didn't stop," she recalled. Her boyfriend scooped her up, still in her pajamas, and drove her to a local hospital. Woozy from the loss of blood, she was examined by someone who told her she needed a D&C, or dilation and curettage, a procedure that is sometimes carried out after a miscarriage, to clear the uterus. Tammy, who took her Nordette-28 birth control pill at precisely 9 o'clock every night, hadn't even suspected she was pregnant, much less that she was miscarrying. All she knew was that a lot of blood was slowly seeping out of her, and she could feel herself withdrawing into shock.
But D&C is also a type of first-trimester abortion. "We don't do that here," she recalled the doctor at the ER saying. They gave her the largest feminine pad she'd ever seen and sent her and her boyfriend off to the nearby Planned Parenthood. "You're not in good shape," one of the staff said when they arrived. With icy fingers, Tammy scribbled her signature on some papers, and the procedure that saved her life began.
Planned Parenthood Medical Services | FindTheBest
Ever since then, for the past 30 years, Tammy, now a 49-year-old resident of Austin, Texas, has gone to Planned Parenthood at least once a year for pap smears, breast exams, birth control and general checkups. "I put my money where my gratitude is," Tammy, who doesn't have health insurance, said. She asked that her full last name not be used out of fear of retribution from an employer with conservative views.
After Friday's shooting, she said she would be no less afraid than she usually is when she goes to Planned Parenthood for her next visit, which is coming up in the next six weeks. The clinic is in a shopping mall, and whenever she goes, Tammy checks over her shoulder, to see who is around.
At the same time, the shootings had made her more determined to support the organization and push back against the fierce wave of anti-Planned Parenthood sentiment rooted in the misconception that it provides solely abortions.
"On a scale of zero to 10 -- zero being dispirited and terrified, powerless, and 10 being defiant and recommitted to choice -- right now today, I'm at about 60," she said. "I'm going to be there for them. They were there for me."
© Copyright IBTimes 2023. All rights reserved.
FOLLOW MORE IBT NEWS ON THE BELOW CHANNELS